An Iraqi refugee charged with shooting a Colorado Springs police officer last week was set for deportation in 2016 — that is, until federal prosecutors halted proceedings over a federal appeals court ruling that said a portion of the immigration law defining violent crime was too vague, CBS News reported.
CBS News cited a Department of Homeland Security official who spoke to The Associated Press on the condition on anonymity regarding the case.
What reportedly happened?
The Homeland Security official — who wasn't authorized to discuss the case on the record — told the AP on Monday that federal immigration authorities launched deportation proceedings against Karrar Noaman Al Khammasi after he violated probation terms of a felony trespassing plea in 2015, CBS News said. An immigration judge ordered his removal from the United States on June, 13, 2016, the official added, the network said.
But the DHS official said federal prosecutors halted deportation proceedings four months later, citing a ruling from the 10th Circuit Court of Appeals that declared a portion of the federal immigration law — defining what makes crimes violent and making it easier to deport those convicted of such crimes — too vague, CBS News said. The DHS official said Al Khammasi was released on Nov. 7, 2016, the network added.
More from CBS News:
In the appeals case, Moldova native Constantine Fedor Golicov was convicted in Utah of failing to stop at a police officer's command, prompting immigration officials to begin deportation proceedings against him. On appeal, Golicov argued that federal law outlining "classes" of immigrants who could be deported, including those convicted of a "crime of violence," was unconstitutionally vague and should not be used to justify his removal from the country.

The U.S. Supreme Court took up a similar case this year, striking down part of federal immigration law making it easier to deport immigrants convicted of "a crime of violence." Justice Neil Gorsuch, nominated by President Donald Trump, joined the court's four liberal justices in that 5-4 decision.

After the decision, Trump tweeted that "it means that Congress must close loopholes that block the removal of dangerous criminal aliens, including aggravated felons."
What happened in Colorado?
Colorado Springs Police Officer Cem Duzel, 30, was among several officers who responded to a call about shots fired near the U.S. Olympic Training Center, Chief Pete Carey said, CBS News reported.
Carey said the officers found an armed suspect, and Duzel was injured in an exchange of gunfire, the network reported. Duzel was shot in the head during the Thursday morning encounter, KRDO-TV reported, adding that he underwent surgery and had shown movement in the hospital. Police said Monday that Duzel remained in "critical, but stable, condition," CBS News reported.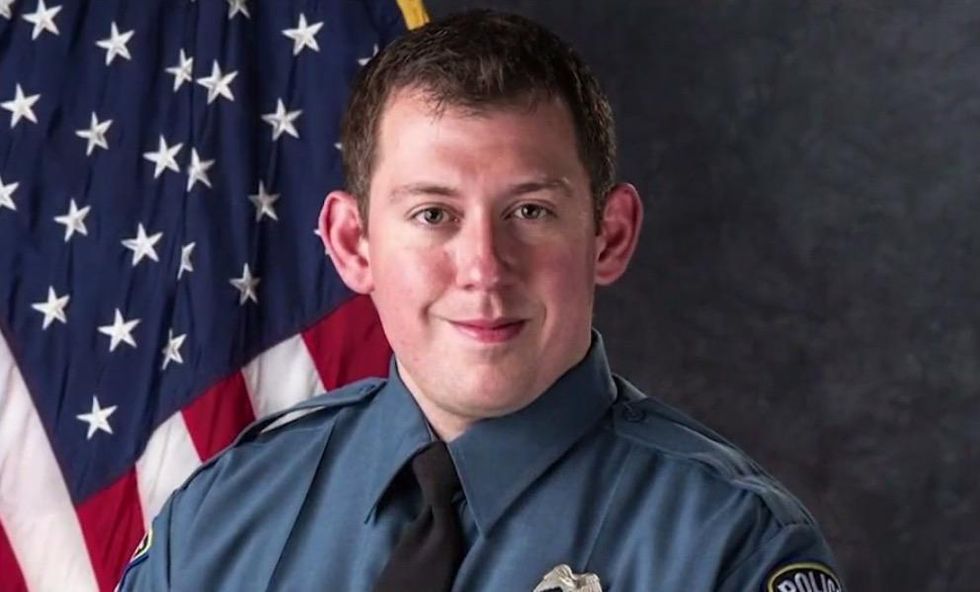 Colorado Springs Police Officer Cem Duzel (Image source: KRDO-TV video screenshot)
Al Khammasi, 31, was wounded and remained in a hospital Monday, the network said, adding that his attorney, Jennifer Chu, declined comment Monday when reached by phone. He was charged with attempted first-degree murder, KRDO added.
What else do we know about Al Khammasi?
Court records suggest Al Khammasi lived in the area for at least five years, CBS News reported, but it isn't clear what drew him to Colorado. The DHS official said Al Khammasi was granted refugee status and arrived in the United States in May 2012, flying to Chicago from Turkey, the network reported.
His first charge came in 2013 — drunken driving — followed a month later by a charge of criminal extortion over what police said revolved around a $25,000 business debt dispute, the Gazette in Colorado Springs reported, citing court papers.

Investigators suspect Al Khammasi threatened a man and his family and set a car on fire, the paper reported. The man told police Al Khammasi's "behavior began to change when he came into money and was drinking and possibly using drugs," the Gazette said, citing an arrest affidavit.

Al Khammasi pleaded guilty to a lesser felony — first-degree trespassing of a dwelling — and was sentenced to two years of probation, the paper said, citing court records.

But after he violated the terms of probation, a judge sentenced him to a year and a half in prison, the Gazette reported. Al Khammasi received credit for time served for almost half of it, the paper added, citing court records.

After Al Khammasi got out of prison, he picked up a traffic ticket and then was arrested in June 2017 for allegedly punching a person "in the face approximately three times," the Gazette reported, citing court documents.

He was arrested in January on a weapons charge, possession by a previous offender, the paper said, adding that a tip to cops indicated Al Khammasi's vehicle was outside a motel — and officers later found a stolen .38 Special revolver in his room.

In February, he entered a guilty plea on the 2017 case related to allegedly punching a person and put up $1,000 cash bail on the weapons case, the paper said, after which he was free to go.