Among the Nevada mayors who endorsed Republican gubernatorial nominee Adam Laxalt this week is one Democrat — Ely Mayor Melody Van Camp — who told TheBlaze she's "always and forever" voted for the "best person."
"I never follow the party line," Van Camp said, noting that she had some GOP signs in her yard recently.
Van Camp told TheBlaze she endorsed Laxalt because he's visited rural Ely "numerous times," and that she's met Laxalt "many times," and that he "does pay attention."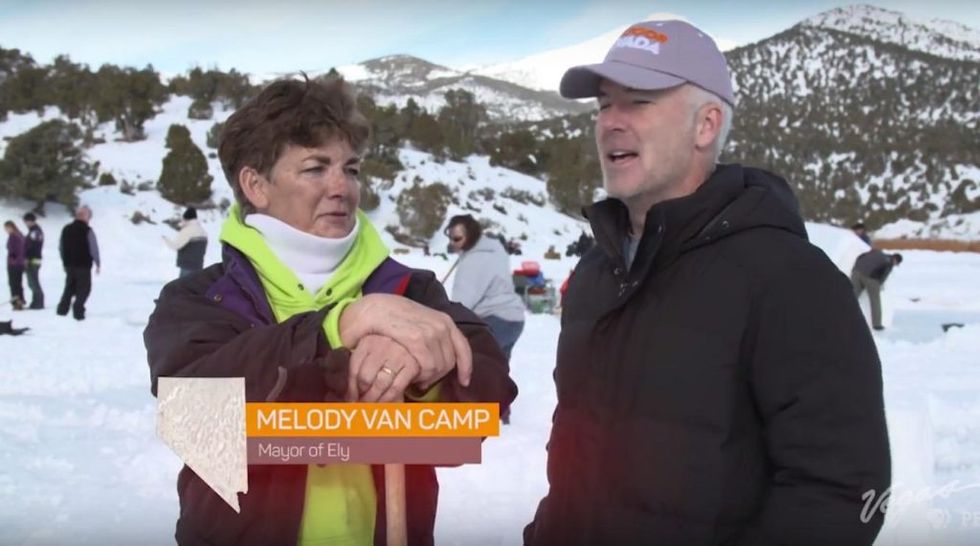 Melody Van Camp is being interviewed at Cave Lake's Fire and Ice Festival (Image source: YouTube screenshot)
"A lot of candidates never go to rural [areas]" but then suddenly "show up before the election," Van Camp told TheBlaze.
What did other mayors say?
Mesquite Mayor Al Litman — who holds a nonpartisan chair, a municipal staff member told TheBlaze — said Laxalt "represents everyone. It doesn't matter what their political party is or where they're from. He cares about them," a Laxalt campaign news release noted.
"Winnemucca Mayor Di An Putnam told TheBlaze she's "a registered Republican, but like all Nevadans" she votes her "heart."
"Adam Laxalt has stepped up to defend Nevada's unique identity over and over again," she added, the release said. "He's pushed back on the federal government when they go too far and defended our principles. I trust him to lead our state in the years to come."
Other mayors who endorsed Laxalt for governor include Republicans Ken Tedford of Fallon, Mike Giles of Lovelock, Roy Edgington Jr., of Fernley, Geno Martini of Sparks, and Rod Woodbury of Boulder City.
What did the Laxalt campaign have to say about the endorsements?
"We've been working with leaders in all zip codes and all political parties to get results for the people. It has been a privilege to serve alongside these mayors, protecting Nevadans as Attorney General," Laxalt said in a news release Monday. "As governor I'll keep working with everyone to improve education, create more prosperity, and keep people safe."
The announcement of multiple mayoral endorsements follows Laxalt endorsements from a pair of former mayors from prominent Nevada cities — Oscar Goodman of Las Vegas and Bob Cashell of Reno.
A recent poll indicated that Laxalt and his opponent, Democrat Steve Sisolak, are running neck and neck.