Sorta gives a whole new meaning to the term "walk-on player."
Indeed, one guy pulled out all the stops — well, almost all of them — to look as much like one of the Pittsburgh Steelers players so he could sneak on the field and practice with the team Saturday.
But his impossible dream turned out to be just that.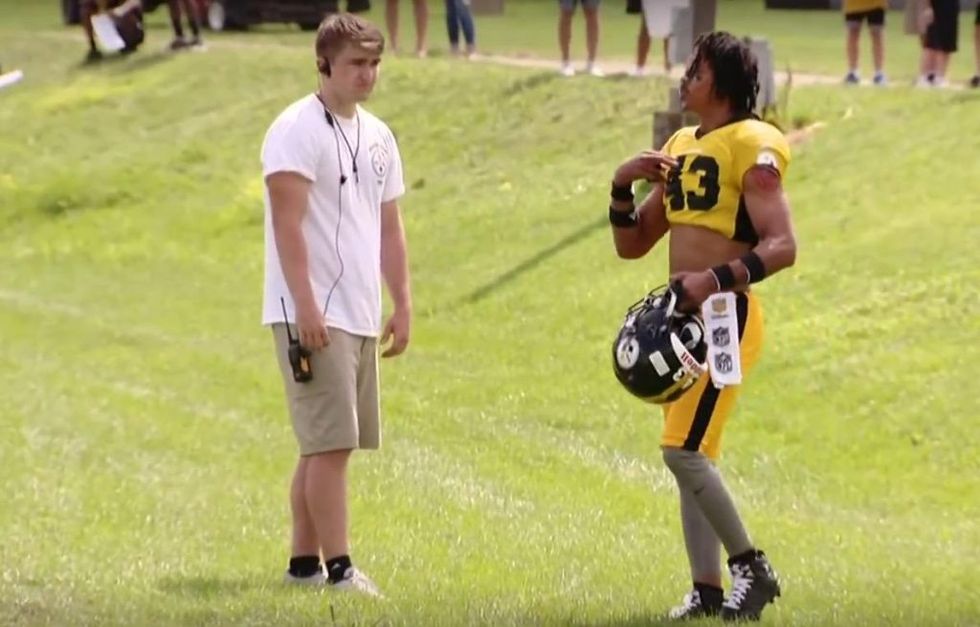 Image source: YouTube screenshot
What happened?
Still, the unidentified man managed to walk past the rope behind Field No. 4 at St. Vincent College, come down the small hill overlooking the field, and stand with defensive backs, PennLive reported.
"I'm here, I'm here," the man said, Steelers safety Jordan Dangerfield recalled to the outlet, adding, "Shoot, he was right with us! He was standing right next to us."
Steelers receiver Antonio Brown laughed and talked briefly with the intruder, TribLive reported.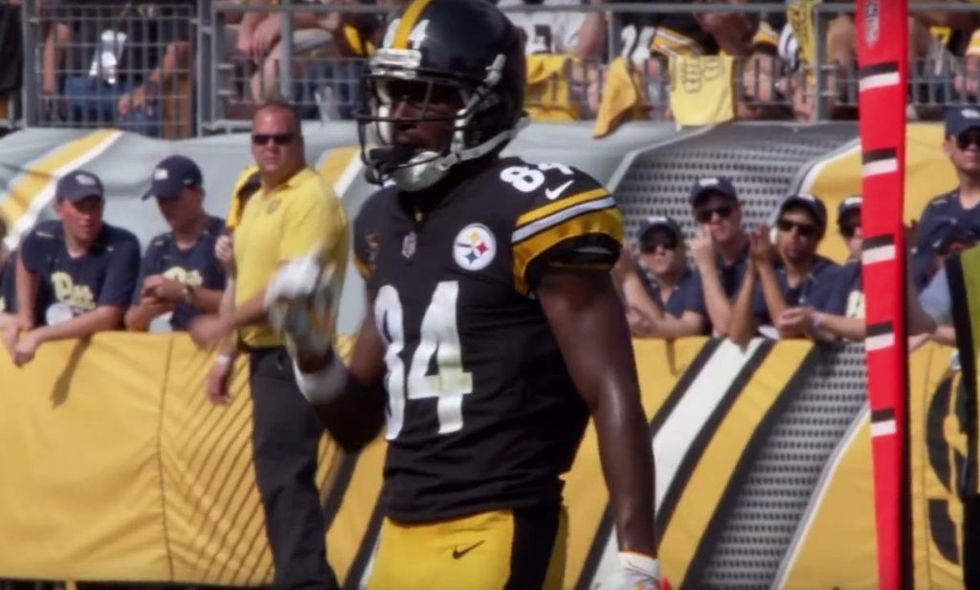 Antonio Brown (Image source: YouTube screenshot)
Although the stowaway begged players not to point him out to team staff, smarter heads prevailed.
Dangerfield told PennLive that he called over conditioning coordinator Garrett Giemont, who walked the imposter to the sideline without incident.
Later security removed him from the field.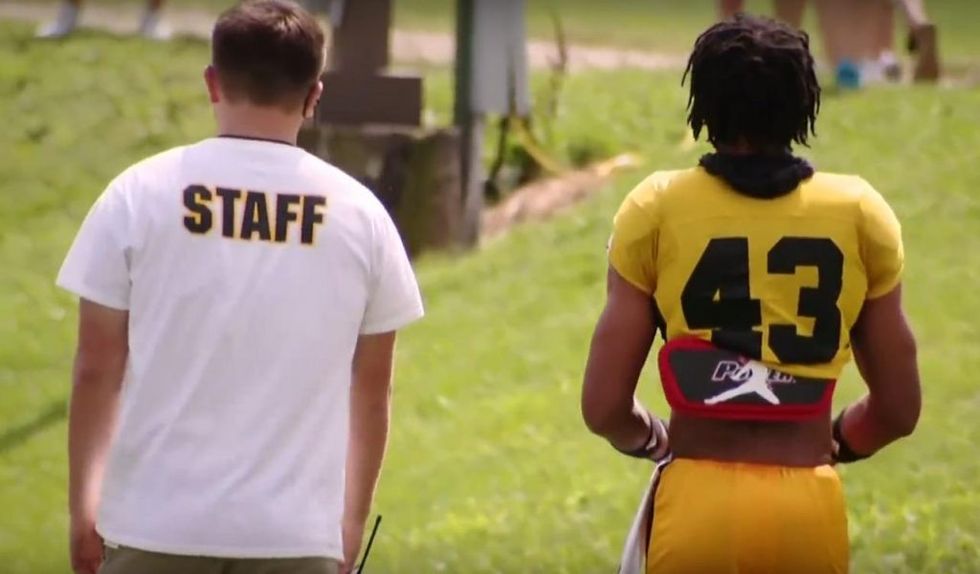 Image source: YouTube screenshot
"It could've been dangerous, you know, that's what I was worried about," Dangerfield told the outlet. "I wasn't worried about him being funny, but you think about the worst-case scenario in that situation."
An hour later, the man was in a chair in front of the camp office — and still in pads and his fake jersey, PennLive said.
Former Steelers cornerback and NFL Network analyst Ike Taylor was standing across the lobby, the outlet added, which inspired the guy to yell out, "Ike!"
"You're that guy," Taylor said.
"I am that guy," the man answered.
What gave him away?
Well, apart from the fact that a new body on the field will be picked out eventually, the guy was wearing No. 43, which had not been given out by the Steelers since safety Troy Polamalu retired after the 2014 season, TribLive reported.
In addition, his numbers looked wrong in block format, and his jersey was a slightly darker yellow than the Steelers' official jersey, the paper said, adding the guy was wearing pads and the rest of the players weren't.
What was the mood after the incident?
Steelers officials declined comment about the incident, PennLive said, while head coach Mike Tomlin said "I'll pass" and walked away when asked about the infiltrator in black and gold.
But Dangerfield laughed about the whole thing after practice, PennLive said, adding that it was easier to do so since no one got hurt.
"I think he wanted to last a little longer, but it didn't last too long," Dangerfield told the outlet. "It was a story I think everybody will remember forever now."