A concert poster for Pearl Jam, the iconic and sometimes politically charged Seattle rock band, depicts a dead President Donald Trump in front of a burning White House — and some of their fans aren't happy about it.
Controversial Pearl Jam show poster features dead Donald Trump: https://t.co/Jf3EWj2fq6

— Loudwire (@Loudwire) 1534291989.0
Trump's famous hair still sits atop his skull in the image as he reaches for a briefcase stamped with hammer and sickle and a bald eagle picks at his skeletal remains.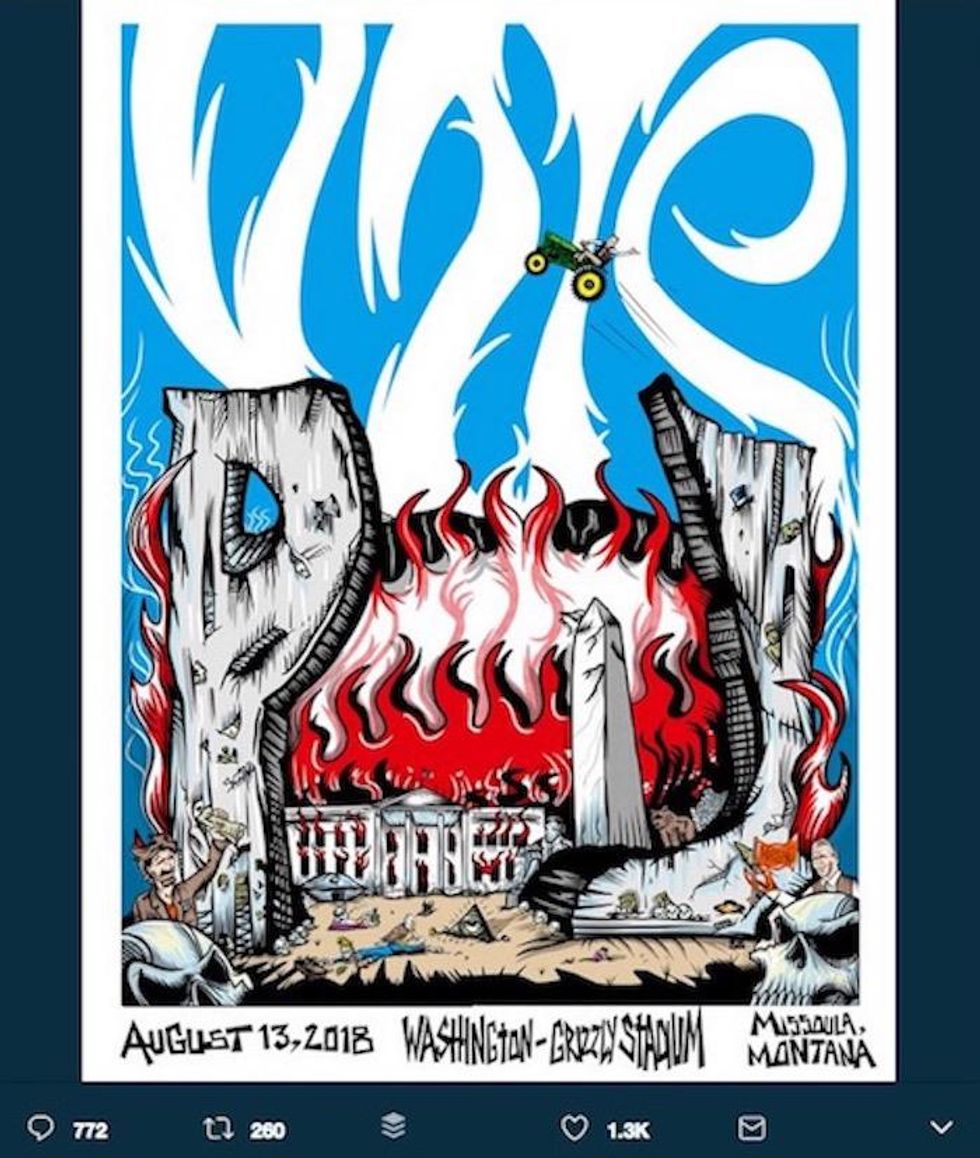 Image source: Twitter
The poster promoted the band's Monday concert in Missoula, Montana, and was a collaboration between Pearl Jam bassist Jeff Ament and artist Bobby Draws Skullz, KGVO-FM reported. The poster also features Democratic U.S. Sen. Jon Tester flying on a tractor overhead while his Republican challenger Matt Rosendale is off to the side with a lobster claw for a hand waving a Maryland flag, the station said.
Ament is a Tester supporter, the station said, noting they are longtime friends and Pearl Jam's appearances in the state are frequently associated with Tester's campaigns.
Great to hang with so many folks at the Wilma tonight with my old Big Sandy pal Jeff Ament.🤙 #pjmissoula2018 #mtpol… https://t.co/13DtIne9Ae

— Jon Tester (@Jon Tester) 1534133441.0
Rosendale wasn't pleased with the poster, tweeting that it's "disgusting and reprehensible" and that "it's time for [Tester] to denounce this act of violence and blatant display of extremism!"
Tester's campaign on Wednesday didn't immediately respond to TheBlaze's request for comment.
KGVO also referred to an apparent concept drawing and note by Ament that seemed to summarize what he wanted the poster to become. The station said the note reads:
D.C. Burning Tester Evel Knievel on Tractor...

Over The Cesspool Below

Russian Money, Golf courses, Hookers?

Maryland Matt Stars N Strips As Flames

Y'all Know The Deal, We're at a Tipping Point, And Its Time For Action.

Jon Tester is the Real Deal and Nobody cares More About our Country And Especially Montana.

So Here We Are...

This was a Fun Collab With One Of My Favorite Artists, Bobby Draws Skulls.

He Killed It!

—Jeff Ament
What did some fans have to say about the poster?
Given the devotion of Pearl Jam's fans — who also know where the band members stand politically and socially — a surprising number of fans took issue with the poster. Here are a few reactions from the comment section of the band's tweet showing off the poster:
"So disappointed with this. It's almost impossible to go a week without listening to your music but that all ends tonight. This is pathetic and I choose America and MY President over you. Should have stuck to music. Sickening. As many have said, that's it for me, no longer a fan."
"Even though I like PJ since the very beginning and know every song, I still don't like these kind of posters. I'm all for freedom of speech, but it doesn't mean I have to like it."
"C'mon, I love you guys and I know Eddie will always be who he is but let's not s**t on America in the process. We are 'the people.' Many of your fans are very patrioric [sic]. You don't have to like the man in office but you can still love your country and the citizens."
"Never thought PJ would promote violence. Was one of my favorite all time bands. Now I'm kinda bummed to see them in Chicago and not going to Ohana Fest now either."
"I listened intently to your your music and lyrics for decades; never once did ... I get the message so vile as this poster! You should have done better! Who do you stand with Pearl Jam?!?"