Surveillance video caught a crook aiming a gun sideways at Doyle Stinson and walking the businessman to a back room at his Indianapolis furniture store last month, WXIN-TV reported.
"I know you've got more money than that because this is a business," Stinson recalled the gunman telling him, the station reported, presumably after Stinson handed over $10.
But the gunman was about to lose this one.
What happened next?
"Once he gets me back to the back room that was a mistake," Stinson told WXIN. "I go back here, I hit my silent alarm emergency button."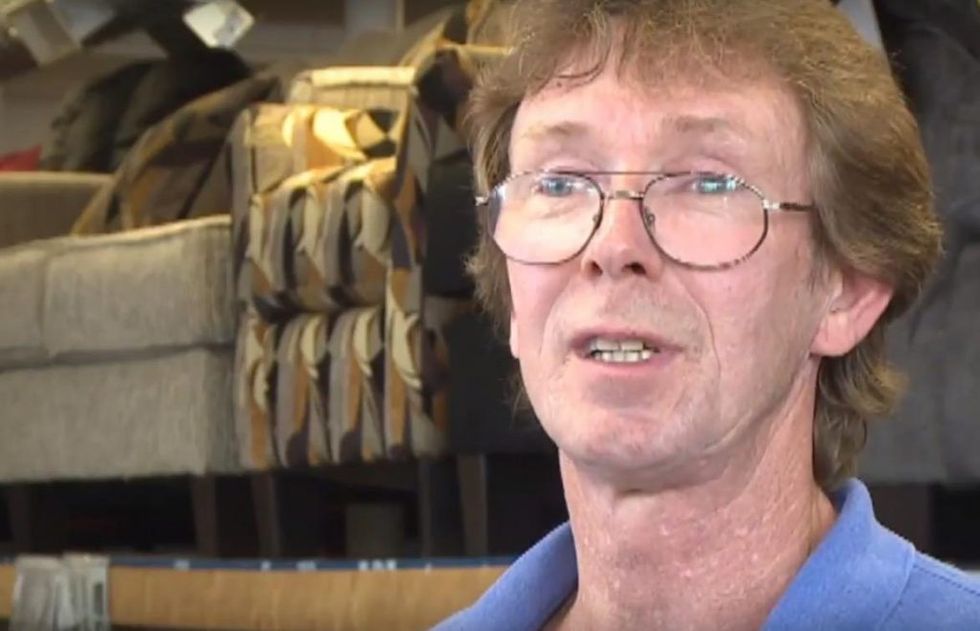 Doyle Stinson (Image source: YouTube screenshot)
The best part, though? The crook was trying to rob a man who knows a thing or two about guns — and had one of his own ready to go.
Stinson said he knew from the sound of the gunman pulling the hammer back that there wasn't a bullet in the chamber — and that's when the store owner took action and grabbed his loaded gun, the station said.
Seems the assailant must have plum forgot about a prior engagement, because the same surveillance camera showed the guy running for his life out of the store as Stinson gave chase.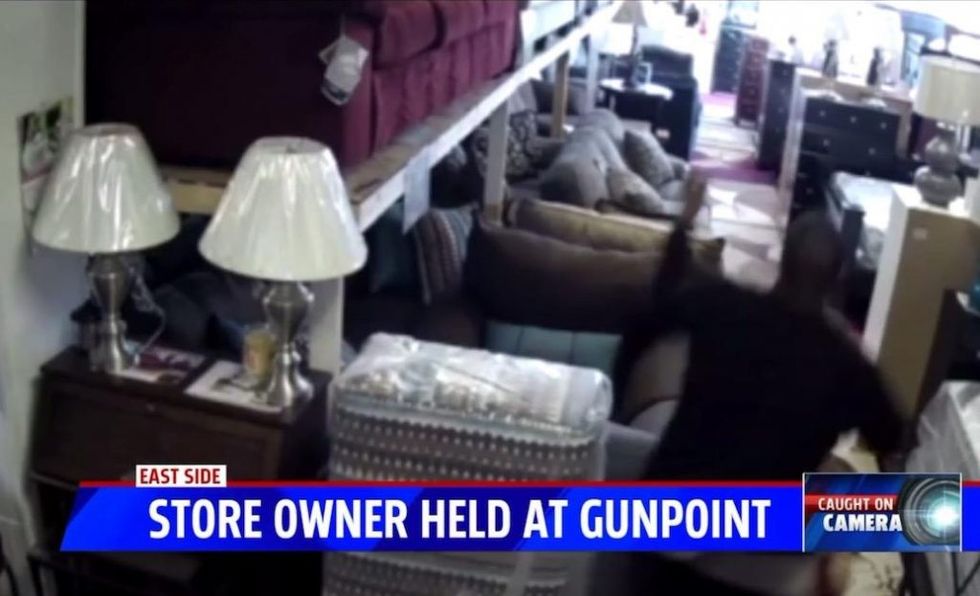 Image source: YouTube screenshot
Stinson didn't fire his gun because he saw a boy in the front of the store and didn't want to accidentally hit him, WXIN reported.
"If you're shooting a 40 caliber, it's going to go through him, through this merchandise, through that window, and what's beyond that window," he told the station. "He's got a lot more to live than me. That's true, that's a little boy there."
'I could have killed him for $10'
But Stinson did call 911 and continued chasing the gunman after a fellow store owner pulled up when Stinson ran out and let him in the car, WXIN said, adding that the pair gave chased until it became too dangerous.
"I could have killed him for $10," Stinson remarked to the station, noting the amount the gunman stole. He added that he hopes the guy "wises up" before he gets killed or kills someone else.
The gunman's getaway car is believed to be a dark blue Chevy Trailblazer with an Indiana "In God We Trust" license plate, WXIN said.