After dealing with a controversy over his foul-mouthed comment on an accusation of being a socialist, the campaign for Ben Jealous is now having to explain a social media gaffe that appears to support anti-police extremism.
Jealous is a Democratic candidate in the Maryland gubernatorial race.
'If you get killed...that's on you.'
The controversy arose from an action from the official Ben Jealous Twitter account that "liked" a tweet criticizing police officers.
The tweet was a response to a message from the Ben Jealous account, but it was decidedly against the police.
"Yet people still believe cops are saints," the tweet read, "and Freddie Gray killed himself."
Freddie Gray was arrested by the Baltimore police in April 2015, but died when his neck was broken in the police van. Black Lives Matter proponents took up the cause as a case of police brutality, but the officers involved were later acquitted.
"F**k #BlueLivesMatter and all these dirty C**t cops," the tweet continued. "You aren't a cop if you're dirty...you're a target to the criminal world. If you get killed...that's on you."
Here's the controversial tweet: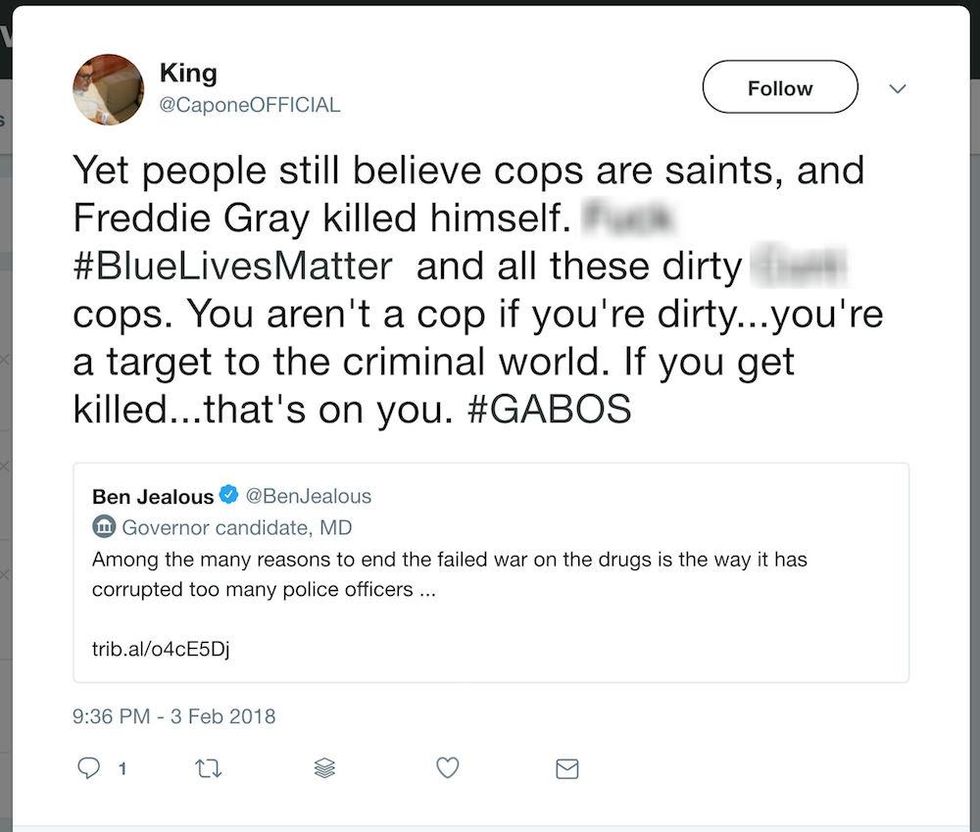 'Vulgar and divisive rhetoric'
Jealous is running against incumbent Republican Gov. Larry Hogan in Maryland in the gubernatorial race, and his opponent bashed him in a statement after the "like" was discovered.
"This sort of vulgar and divisive rhetoric is beyond troubling; it's dangerous," a Hogan campaign spokesman said to The Baltimore Sun.
"It's outrageously unbecoming for a candidate for governor and an insult to the brave men and women in uniform who put their lives on the line every single day," he added. "Ben Jealous owes the law enforcement community an apology."
The Jealous campaign responded to the furor saying that the social media action was an accident.
"This tweet was not liked by Ben and certainly doesn't reflect his views on law enforcement," said campaign spokesman Kevin Harris.
"As Ben has said on several occasions, he values and respects law enforcement," he added, "including the several members of his own family who have worn the badge or are currently serving."
The Jealous campaign had to answer tough questions after their candidate responded angrily to a reporter asking about the accusation that he was a socialist.
"Are you f***ing kidding me?!" exclaimed Jealous at the stunned reporter.
The campaign also demanded that Hogan's political attack adds on television be removed from broadcast.
Here's the latest in the Maryland gubernatorial race from a local news station: