Following Sen. John McCain's death Saturday, American and world leaders alike — both on the left and the right — shared heartfelt messages about the maverick senator's life.
One of the praiseworthy tributes will surprise many: that of Col. Trần Trọng Duyệt, the former director of the infamous Hỏa Lò prison, better known as the "Hanoi Hilton." McCain was held captive at the prison for more than five years.
What did he say?
Speaking with the Việt Nam News after McCain's passing, Duyệt admitted McCain's death saddened him, explaining he grew fond of McCain following the Vietnam War.
"I had a lot of time meeting him when he was kept in the prison," Duyệt said, the outlet reported. "At that time I liked him personally for his toughness and strong stance. Later on, when he became a US Senator, he and Senator John Kerry greatly contributed to promote Việt Nam-US relations so I was very fond of him."
"When I learnt about his death early this morning, I feel very sad. I would like to send condolences to his family," he said.
Duyệt explained he believes Vietnam as a whole feels the loss of McCain, considering the longtime Arizona senator's work to normalize relations between the U.S. and Vietnam.
"I think it's the same feeling for all Vietnamese people as he has greatly contributed to the development of Việt Nam-U.S. relations," he said.
Despite expressing sorrow for McCain's death, Duyệt — just like the Vietnam government — has never publicly acknowledged the well-documented torture that happened inside his prison, and others across North Vietnam. Indeed, the North Vietnamese were notorious for their treatment of POWs and made no bones over the fact that American pilots were considered war criminals, not POWS, and treated them accordingly.
North Vietnam considered captured American pilots as war criminals mostly for bombing raids on North Vietnam, both under then-Presidents Lyndon Johnson and Richard Nixon. It's well known that American pilots dropped considerably more munitions on North Vietnam and the "Ho Chi Minh trail" — remote roads through Cambodia and Laos the North Vietnamese and Viet Cong used to travel into South Vietnam undetected — than American pilots dropped during World War II.
Did other Vietnamese mourn McCain's death?
Yes. In fact, many Vietnamese, including Americans who live there, traveled to a monument in Hanoi commemorating the communists' capture of the naval aviator in 1967, who was shot down following a bombing raid on the Vietnamese capital city.
"On Oct 26, 1967, at Truc Bach Lake, the military and people of Hanoi arrested Major John Sidney McCain, a pilot of the American Navy's air force," reads an inscription next to a statue of McCain, re-enacting the moment he was captured.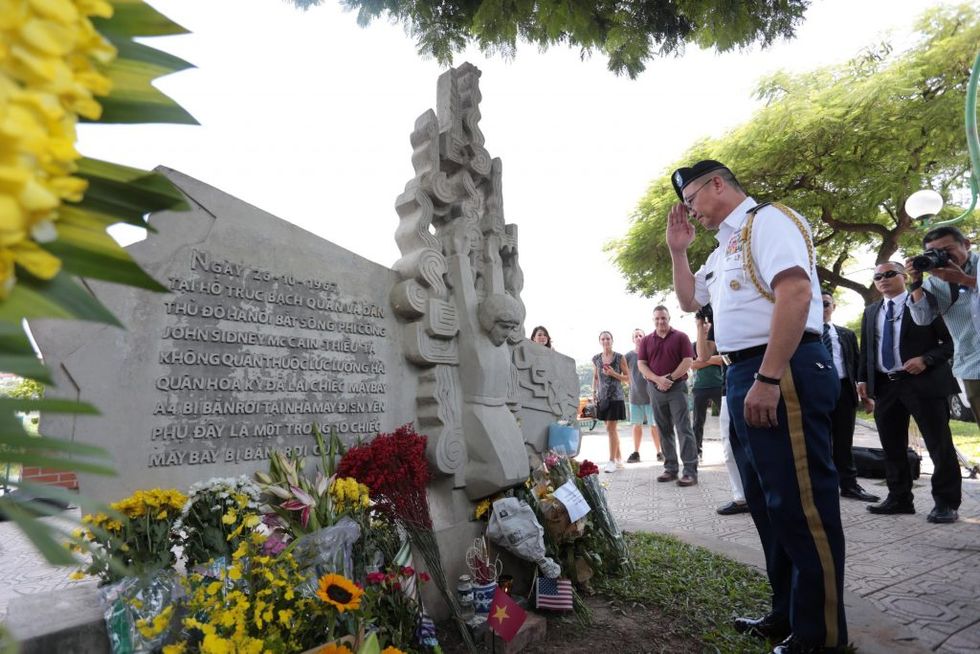 (NHAC NGUYEN/AFP/Getty Images)
"I felt compelled to come out here and bring some flowers," Robert Gibb, an American in Hanoi, told reporters.