It appears that self-identifying witches are turning to pagan spells and rituals on the Internet in order to process grief, anger, and trauma over the confirmation of Supreme Court Justice Brett Kavanaugh after he was accused of sexual assault in an alleged incident more than 35 years ago, Vox reported.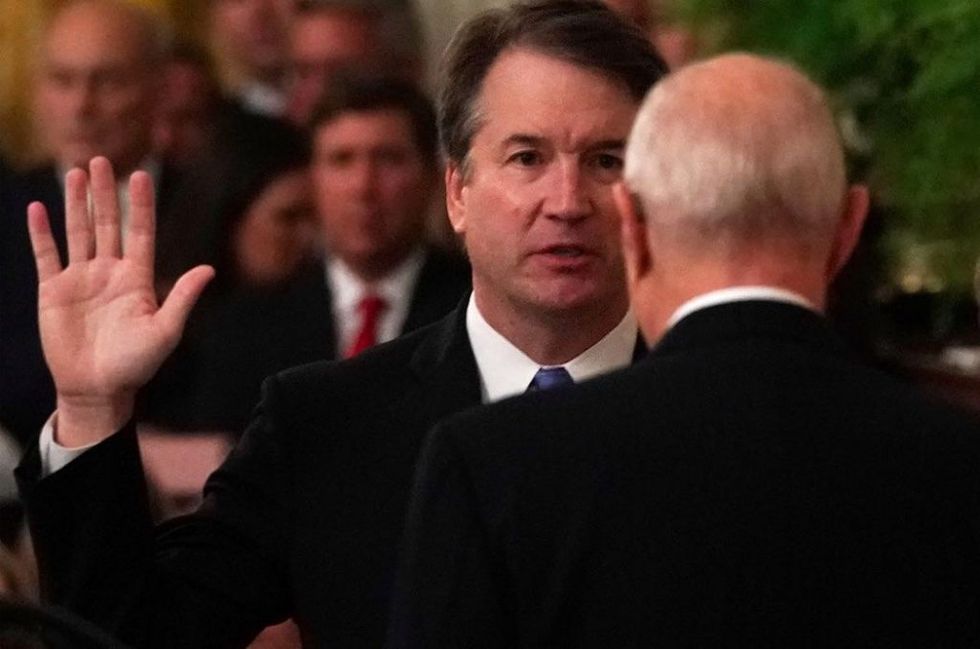 U.S. Supreme Court Justice Brett Kavanaugh (L) participates in a ceremonial swearing in by retired Justice Anthony Kennedy (R) in the East Room of the White House, October 8, 2018, in Washington, D.C. Kavanaugh was confirmed in the Senate 50-48 after a contentious process that included several women accusing Kavanaugh of sexual assault. Kavanaugh has denied the allegations. (Photo by Alex Wong/Getty Images)
Take the "Gratitude Spell," for instance.
Written by Instagram user @celestight for the pagan political organization WitchtheVote — which mobilizes voters to support candidates that defend progressive and feminist causes, Vox said — participants can make sacred signs called a "sigil" on paper or simply write notes of thanks to Kavanaugh accuser Christine Blasey Ford while holding grains of salt.
More from Vox:
Modern Wicca and other New Age traditions in the '50s, '60s, and '70s were tied to second-wave feminism. Witchcraft and ritual have become more prominently associated with progressive political causes in recent years with the rise of the contemporary #magicresistance. Last year, for example, a 13,000-strong Facebook group formed to cast regular binding spells on Donald Trump.
Given that Kavanaugh — who denied Ford's allegations — was confirmed to the high court, the outlet said such rituals have become a form of self-care. "These rituals of witchcraft, for some, fill a gap in the societal order by providing a structure and a vocabulary for issues that American culture more broadly has not yet satisfactorily addressed," Vox said.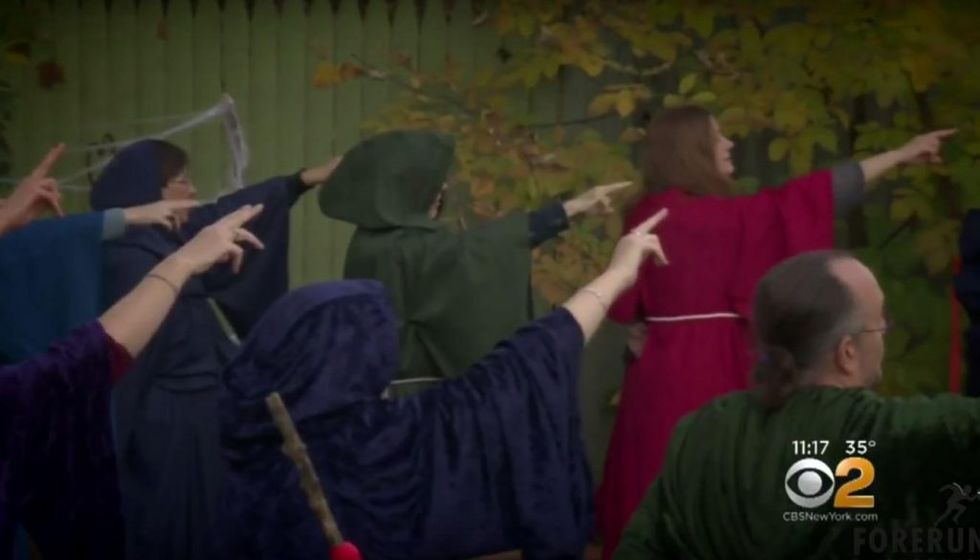 Image source: YouTube screenshot
'Hex Kavanaugh'
For instance, there's a "Hex Kavanaugh" shindig at Catland — a Brooklyn-based pagan bookstore and supply shop — on Oct. 20, if you're in the neighborhood:
Please join us for a public hex on Brett Kavanaugh, upon all rapists and the patriarchy at large which emboldens, rewards and protects them. We are embracing witchcraft's true roots as the magik of the poor, the downtrodden and disenfranchised and it's [sic] history as often the only weapon, the only means of exacting justice available to those of us who have been wronged by men just like him.

He will be the focal point, but by no means the only target, so bring your rage and and all of the axes you've got to grind. There will also be a second ritual afterward — "The Rites of the Scorned One" which seeks to validate, affirm, uphold and support those of us who have been wronged and who refuse to be silent any longer.
'Witchcraft is particularly powerful for women'
Kristen J. Sollee, author of the book "Witches, Sluts, and Feminists," had a word or two for Vox on the subject.
"Witchcraft is particularly powerful for women and folks on [the] feminine spectrum right now because we need tools steeped in community, empathy, and nature to both heal ourselves and fight the abuses of capitalist, white supremacist heteropatriarchy head on," she told the outlet. "Witchcraft is about conjuring strength and agency from within and not bowing down to arbitrary authority, so it's a reminder that your oppressors, your trauma, and your government don't have to define you — or break you. Ironically, the very practices that may have once spelled death for women centuries ago can now be life-saving."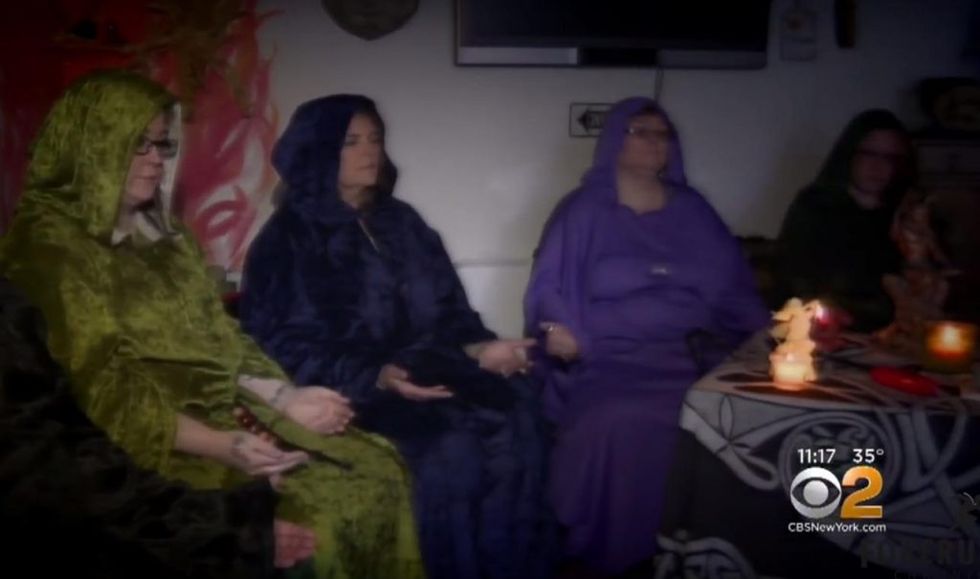 Image source: YouTube screenshot
Facebook group the Magic Resistance noted to Vox that it performed a "Bind Kavanaugh" spell Saturday before the Senate voted to confirm the judge. Participants lit a white candle symbolizing justice and purity and placed the Justice tarot card adjacent to it on an altar before wrapping a black thread around a paper doll — symbolizing Kavanaugh — to bind him, the outlet said.
In addition, participants were encouraged to chant the names of Kavanaugh's known accusers, binding him "in the name of" all those they believed he'd wronged, Vox said.
Michael M. Hughes — the founder of Magic Resistance and author of "Magic for the Resistance: Rituals and Spells for Change" — told the outlet he sees Kavanaugh as the "epitome of every entitled ... guy who never faced the consequences of his actions."
More witches than ... Presbyterians?
Trinity College in Connecticut ran three large, detailed religion surveys from 1990 to 2008, Quartz reported in its article, "The US witch population has seen an astronomical rise," showing Wicca grew tremendously in America over this period from about 8,000 in 1990 to about 340,000 in 2008. It also was estimated that in 2008 there were around 340,000 pagans in the U.S., the outlet said.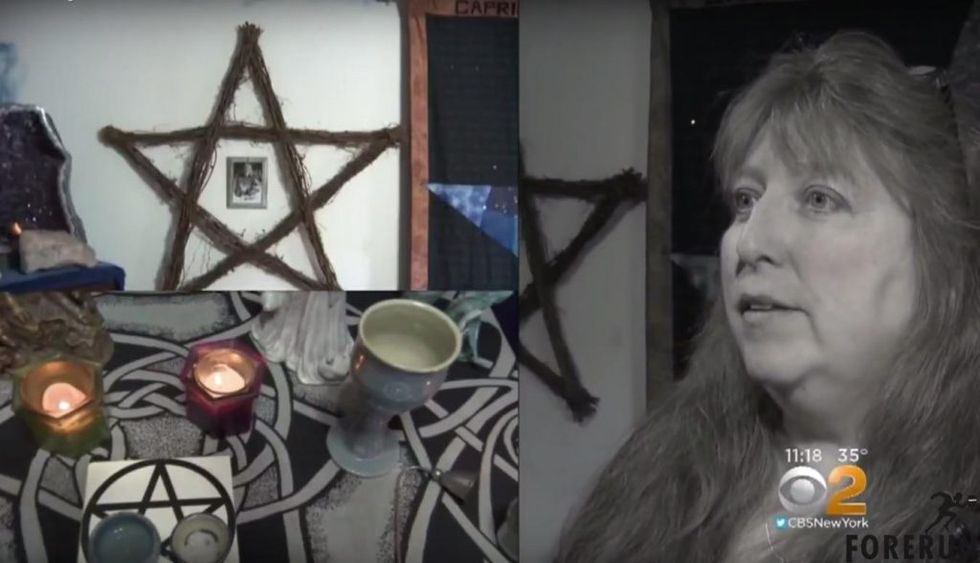 Image source: YouTube screenshot
Pew Research Center in 2014 found that 0.4% of Americans — around 1 to 1.5 million people — identify as Wicca or Pagan, Quartz said. The high end of that estimate would eclipse the number of mainline Presbyterians in the U.S., according to the Christian Post.
'Wicca has effectively repackaged witchcraft for millennial consumption'
"It makes sense that witchcraft and the occult would rise as society becomes increasingly postmodern," author Julie Roys, formerly of Moody Radio, told the Christian Post. "The rejection of Christianity has left a void that people, as inherently spiritual beings, will seek to fill."
She added that "Wicca has effectively repackaged witchcraft for millennial consumption. No longer is witchcraft and paganism satanic and demonic. It's a 'pre-Christian tradition' that promotes 'free thought' and 'understanding of earth and nature.'"