A former Atlanta fire chief who wrote a Christian book for a men's Bible study and then got fired for it has won a $1.2 million settlement with the city, WAGA-TV reported.
Kelvin Cochran was dismissed from his post in January 2015 after controversy over "Who Told You That You Are Naked?" a book he self-published that contains passages some viewed as anti-gay.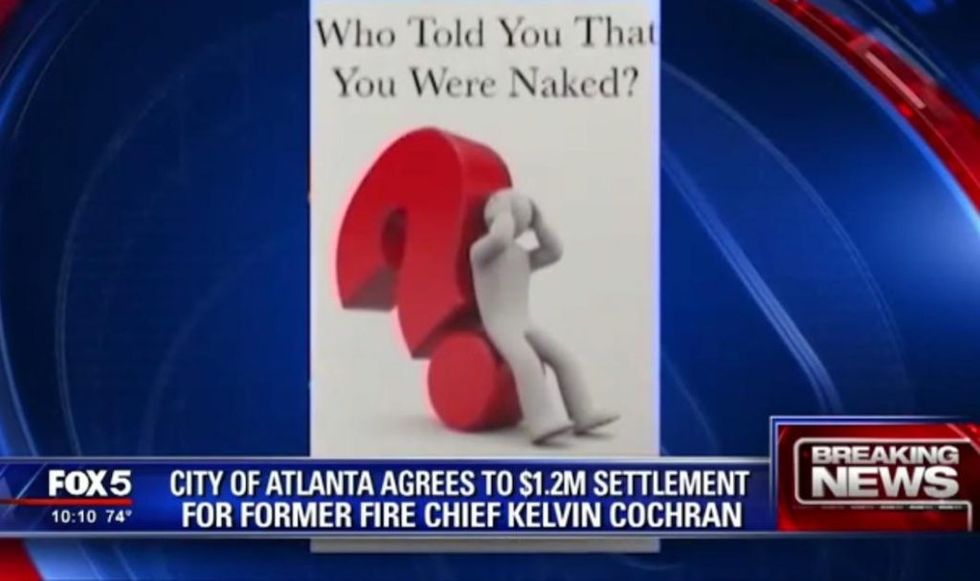 Image source: WAGA-TV video screenshot
The book — which Cochran gave to around a dozen subordinates he said either requested copies or shared his beliefs, WAGA said — calls homosexuality "sexual perversion."
Then-Mayor Kasim Reed said he fired Cochran for violating policy by promoting the book on the job, the station reported. City lawyer David Gevertz said Friday the book lumped together gay people, those who have sex outside of marriage, and non-Christians with murderers, rapists, pedophiles, and those who engage in bestiality, WAGA said.
The station noted that the city attorney told Atlanta's City Council that if it didn't settle with Cochran now, taxpayers could be liable for a lot more money down the road.
What are other background points?
Cochran filed a lawsuit against the city and Reed in February 2015, arguing that his free speech and due-process rights had been violated, the station said. Cochran added that Reed damaged his reputation, WAGA said, and Cochran's lawyer argued that Reed made it impossible for Cochran to get another job in the firefighting industry.
"To actually lose my childhood-dream-come-true profession — where all of my expectations have been greatly exceeded — because of my faith is staggering," Cochran said in a statement after the lawsuit filing. "The very faith that led me to pursue my career has been used to take it from me. All Americans are guaranteed the freedom to hold to their beliefs without the consequences that I have experienced."
Alliance Defending Freedom, a conservative legal firm, worked with two local attorneys on the case.
"This civil rights lawsuit is not only about restoring Kelvin Cochran's constitutional freedoms, but freedom of all Americans to live without fear of being fired because of their beliefs and thoughts," David Cortman, senior counsel for Alliance Defending Freedom, told TheBlaze in 2015. "It's ironic that some claim Chief Cochran was fired in the name of 'diversity' for having different beliefs than the city. That sounds more like compelled conformity and thought policing."