The Centers for Disease Control and Prevention warned about an uptick in the number of cases of acute flaccid myelitis, a disease that the agency described as being polio-like.
What is acute flaccid myelitis?
Acute flaccid myelitis targets the nervous system and causes weakness in the limbs of infected patients.
While the symptoms of this virus has been described as polio-like, it is not polio, which has been eradicated in most of the world. The symptoms are also similar to non-polio enteroviruses, adenoviruses, and the West Nile virus.
It is also not clear where the virus came from. The CDC has yet to figure out a common link between all the cases that have been reported, although they did note that several of them seem to have been linked to infections by other viruses, enterovirus D68. However, this was not true in all cases.
According to the CDC's website:
Since August 2014, CDC has seen an increased number of people across the United States with AFM. We have not confirmed the cause for the majority of these cases. CDC has been actively investigating these AFM cases, and we continue to receive information about suspected AFM cases.
There have been 386 confirmed cases of AFM since 2014. In 2015, the CDC identified 22 patients who exhibited symptoms of AFM. In 2016, that number rose to 149. It dipped back down to 33 in 2017, before rising again in 2018. The total reported number for this year is 127, but the CDC has only confirmed 62 of those cases so far.
The CDC is not sure why there was a rise in cases of AFM in 2014. According to data supplied by the CDC, the illness seems to spike around the month of September.
Most of these patients are children.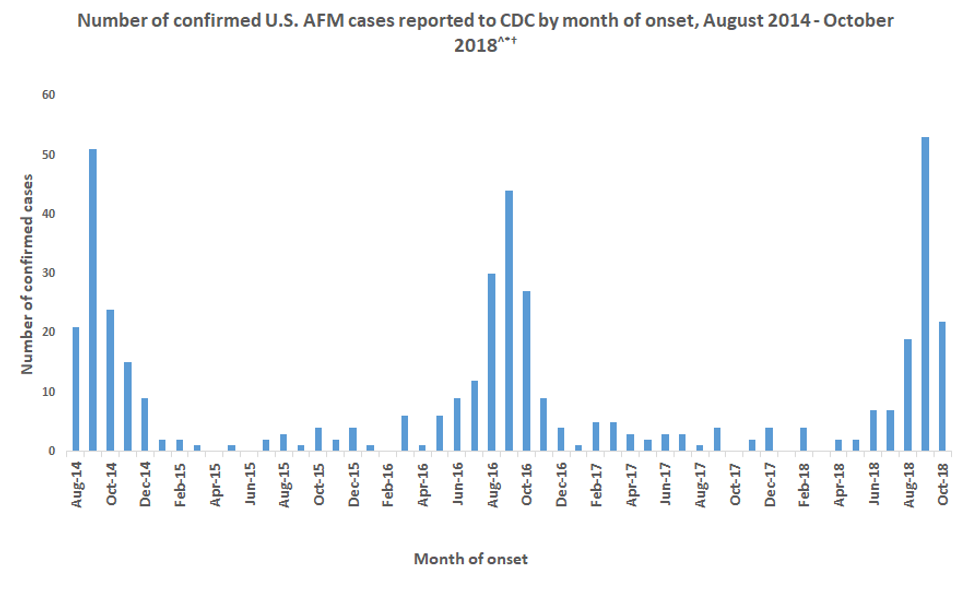 What else?
While the CDC is not sure what the cause of AFM is, the agency suggested that the best methods for preventing the spread of this disease included staying "up to date on polio vaccinations," avoiding being bitten by mosquitoes, and washing hands.