Posters blasting President Donald Trump — particularly his "Make America Great Again" hat-wearing supporters — have been spotted on New York City buildings and trash cans.
The posters were titled "Keep NYC Trash Free" and used the NYC Department of Sanitation logo, WPIX-TV reported — but the agency said it didn't create or issue the posters and doesn't condone "unlawful defacement of City litter baskets or public property. We are looking into this matter."
What else is on the posters?
One poster depicts a white man wearing a white tank top and a MAGA cap. He also has a confederate flag "heart" tattoo and is holding a Chick-fil-A cup, if the stereotypes weren't sufficient enough.
 

View this post on Instagram

 
Another poster shows a white woman wearing a MAGA cap and clinging — bitterly, no doubt — to a Bible. No gun in sight, however.
 

View this post on Instagram

 
What did folks on the street have to say about the posters?
"I actually think it's really disrespectful to New Yorkers," Liz Morrow told WPIX, adding that "he and I will never get along, and that's perfectly fine with me. But at the end of the day you have to respect people for who they are."
Julie McMinnon had a different take, telling the station that while the posters are "a little abrasive ... I do appreciate it. I think it's funny. It's very New York."
Who's behind the posters?
The posters resemble the work of artist Winston Tseng, who created last year's "Your Train is Delayed" MTA parody ads, Gothamist reported — but Tseng only told the outlet, "I'll let the poster speak for itself."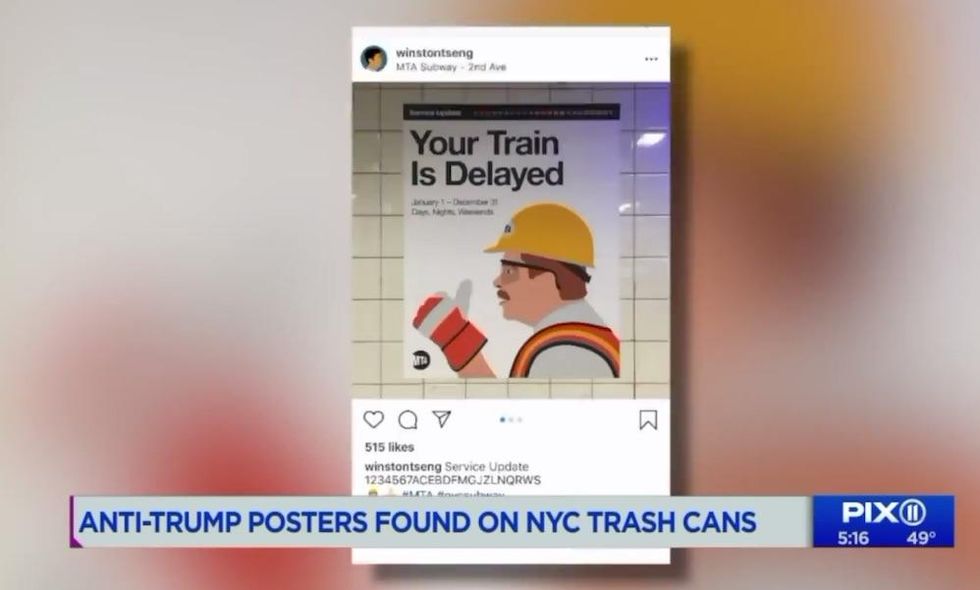 Image source: WPIX-TV video screenshot
Tseng said a little more to WPIX, however, denying he's behind the posters:
"For the record, I didn't create or put up these posters," he told the station. "But if I did, I wouldn't want people to take them so seriously, since they're meant to reflect certain parts of our society and not meant to generalize beyond those. I'd just want the intended audience of my fellow 'classist elitist New Yorkers' to hopefully be entertained by the 'unhelpful, tone-deaf message' as they go about their day in this trash-filled liberal bubble."
WPIX also reported that most of the posters have been removed.