A Presbyterian minister was caught on video screaming at President Donald Trump upon his visit Tuesday to Pittsburgh's Tree of Life Synagogue to pay respects to the victims of Saturday's mass murder there.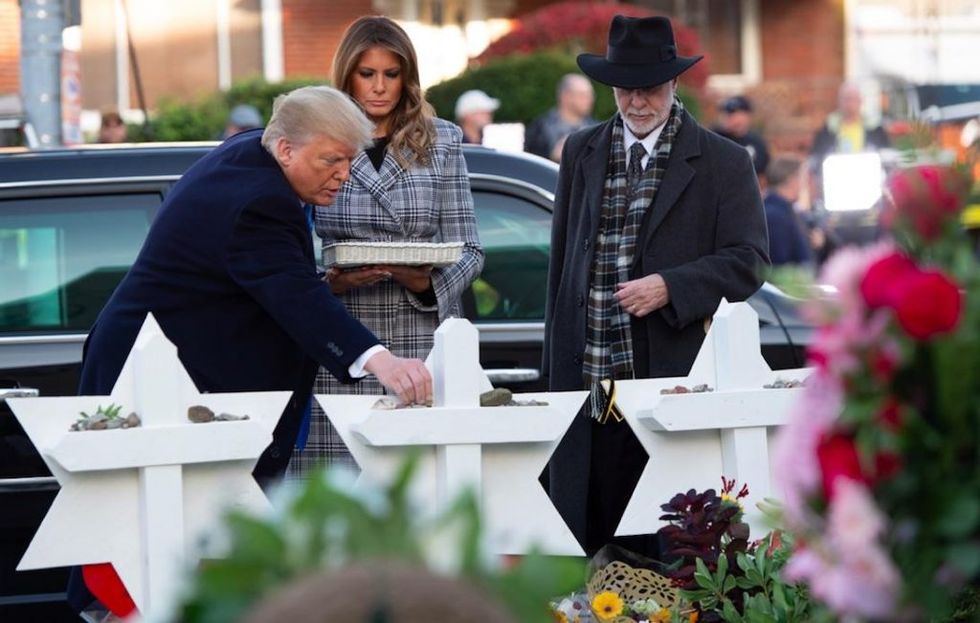 President Donald Trump and first lady Melania Trump, alongside Rabbi Jeffrey Myers, place stones and flowers on a memorial as they pay their respects Tuesday at the Tree of Life Synagogue in Pittsburgh. (SAUL LOEB/AFP/Getty Images)
The Rev. Susan Rothenberg lives a few houses away, WTAE-TV reported, and she yelled to Trump that he wasn't welcome.
"It's not about you! Let the families grieve! This is our neighborhood! You are not welcome here!" she yelled.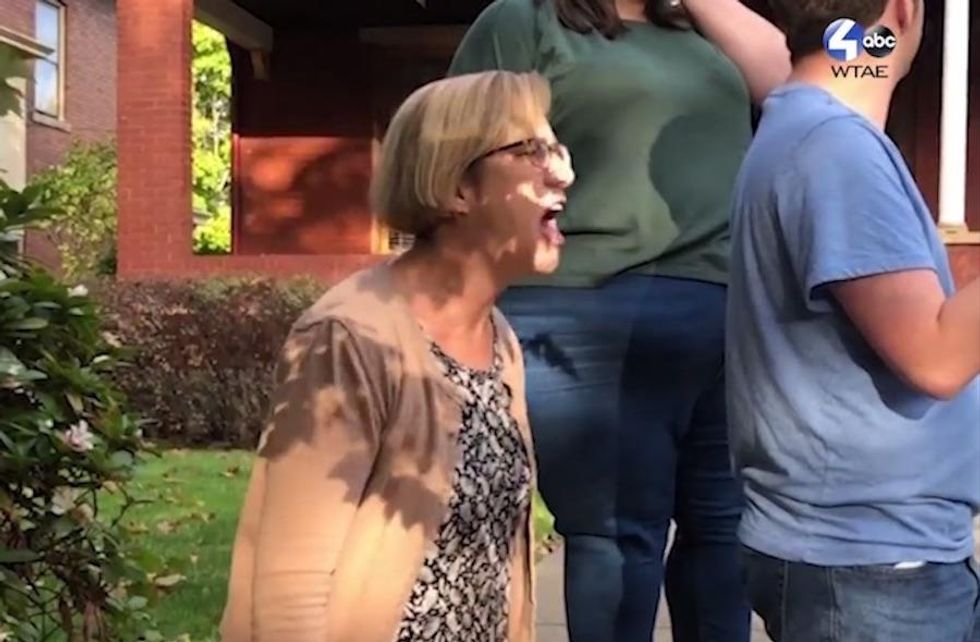 Image source: Facebook video screenshot
"Sorry," Rothenberg said without hollering once she noticed she was being recorded. She then added, "We don't want him here. We don't want him on our street. We have people that can't sit shiva because you're blocking our streets!"
Sitting shiva refers to a weeklong period of mourning in Judaism during which the grieving "sometimes sit on low stools or boxes while they receive condolence calls."
"These people can't grieve! You're causing them pain! You don't belong here! This our neighborhood!" Rothenberg continued.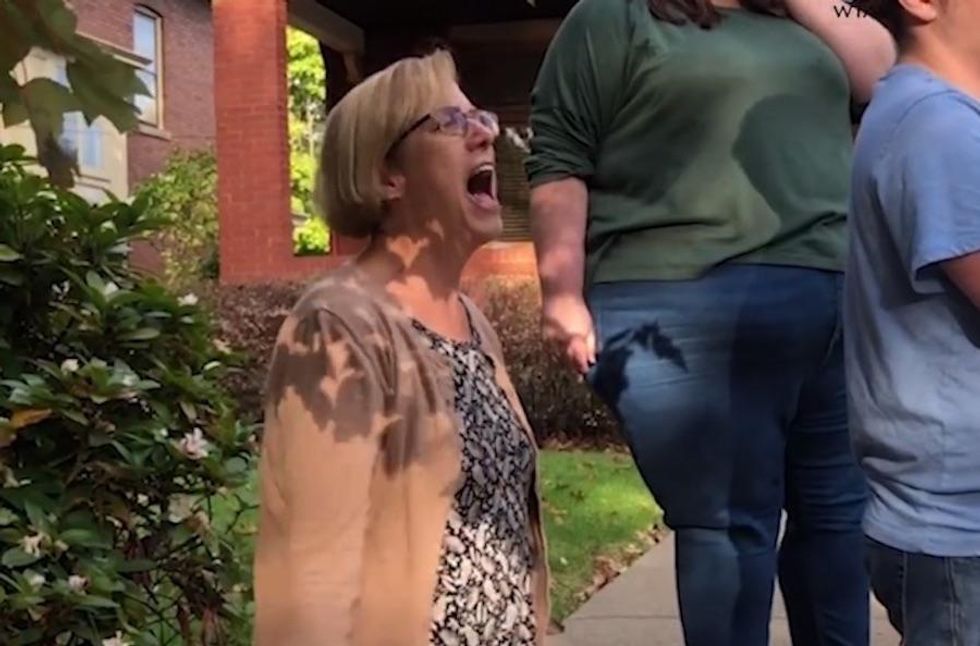 Image source: Facebook video screenshot
A curious moment came when she added, "We welcome everybody here!" and followed that with telling Trump, again, that he's not welcome.
"You only care about you! You are not welcome on my street! These are my neighbors that were killed! You are not welcome in Squirrel Hill!" Rothenberg added. "Do you understand that?"
Who is Rothenberg?
On her Reverend Suz site, Rothenberg describes herself as "a leader in the Unglued Church Project and an at-large member of Pittsburgh Presbytery" who formerly served as pastor in a small church in the city. The Unglued Church Project was funded by the Presbyterian Church USA to help churches "redefine their mission as they face the tsunami of change in our culture."
How did others react to the video?
The clip of Rothenberg yelling at Trump attracted over 29,000 comments on WTAE's Facebook page since Tuesday evening. Most seemed decidedly against her yelling at the president:
"I guess she missed the entire point of the last few days. Hate is not welcomed or supported in Pittsburgh. She is fueling the very hate she says she's against!"

"Wow are you kidding me? Leave your differences aside and stop being a disrespectful child in a time of mourning."

"

This is not the Pittsburgh I grew up in, nor is it the Presbyterian Church I grew up in. The man wasn't here to be with political people, but came with his family to honor the deceased and first responders, and visit those who were wounded. He did not affect you or the families of the deceased. Spewing hatred is the problem. I'm ashamed for these actions."

"This lady just wanted attention. Notice her smile and cover her face than say sorry when she saw she was being recorded and getting the attention she wanted. She doesn't care that her neighbors are trying to grieve for loved ones if she truly did she wouldn't add to the chaos."
But not every comment was negative:
"I feel her frustration. My heart aches for the family and love ones of those who were taken by hatred."