Seems a bunch of students at California State University, Long Beach, are miffed at the school for "allowing" a conservative event to occur on campus.
WeAreCSULB — a coalition of student groups — published an Oct. 25 statement claiming Long Beach State provides no protection or support for marginalized groups on campus after Turning Point USA's "Campus Clash" event two days before, the Daily 49er reported.
What did the statement say?
"The institution has proven its negligence and violence once more to our community by allowing Turning Point USA's event to take place on campus on October 23rd," the statement read, according to the paper.
ALERTA ANTIFASCISTA Turning Point USA at California State University, Long Beach. https://t.co/cx00z1eK8Q https://t.co/mA2fP28Rcu

— Long Beach Antifa (@Long Beach Antifa) 1536341156.0
It added, "This was especially made clear by President Conoley's letter where she falsely protected Hate Speech under the guise of freedom of speech. She also put student protestors in danger (especially queer, trans, Black and other students of color) by encouraging others to call the cops on them."
The coalition noted that the name "Campus Clash" implied violence and yet — despite the presence of police in riot gear and other security measures as well — President Jane Close Conoley still let the Turning Point USA event to happen, the Daily 49er reported.
The following student groups comprise WeAreCSULB, the paper said: Anakbayan Long Beach, Black Student Union, California Autonomous Student Movement, La Raza Student Association, Queers and Allies, Students for Quality Education, and the Young Democratic Socialists of America.
What did the college's president have to say?
Conoley told the Daily 49er that WeAreCSULB's statement is the type of free speech the school encourages, although she disagrees with its message.
"It is speech that I find to not match the values I espoused in preparing for and implementing the campus' response to the Turning Point event," she told the paper, "but our students are allowed to express their opinions. They have this right even when I think they are mistaken and they cast some doubt on my (and by extension other university leadership's) values, intents and beliefs."
Long Beach is grateful to have an innovative leader President Jane Close Conoley @ California's largest State Unive… https://t.co/Zc2IOMUS45

— John Keisler (@John Keisler) 1535214993.0
Then came some additional, shall we say, education from the school president.
"I think it would be a service to the campus for members of La Raza or any group that has a different world view from Turning Point USA to list their arguments and provide compelling counter evidence," Conoley said, according to the Daily 49er. "The intellectually hard thing to do is to dismantle another viewpoint with real facts, the real story behind small government or socialism, sexual harassment or unregulated capitalism. I look forward to that essay."
Were there other complaints from offended students?
Most definitely. The student coalition said two "hecklers" harassed students and security took no measures to protect the protesters from them on the night of the Turning Point USA event, the paper said, adding that University Police Department Lt. Richard Goodwin said they were there to protect the First Amendment and anyone who was hurt could file a report.
PROTEST at Cal State Long Beach a group out the Student Union Building protesting Turning Point USA having a meetin… https://t.co/5kbzqlMGFK

— stu mundel (@stu mundel) 1540351014.0
Here's an interesting clip featuring folks from different sides sharing their views at the protest outside the Turning Point USA event:

The student groups listed instances when the university allegedly allowed bigoted ideals and racially driven harassment on campus, the Daily 49er said, adding that they included when a student held a knife to a black female student during a 2016 class and Conoley's decision to not honor the university's resolution to divest from companies that support Palestinian oppression.
"The university upholds white supremacy so much that they are willing to put the lives of students challenging it in danger," the statement read, the paper said.
Some students didn't want to be around 'people with ideals that clashed with ours'
Coming Out Monologues — hosted by student club Queers and Allies — was originally set to take place in the University Student Union on the same night as Campus Clash, the Daily 49er said, but it was moved to an alternate location for safety reasons.
"We learned about the event one week prior and made the decision to move because we learned there was going to be uniformed cops and people with ideals that clashed with ours," Queers and Allies President Lili Gallegos told the paper.
The coalition's statement also said the school doesn't care about marginalized students despite its efforts "to sell itself as a progressive and diverse campus."
Oh, really? Remember Prospector Pete?
Speaking of a progressive and diverse campus, you might remember Cal State Long Beach recently decided to say "goodbye" to its longtime mascot, Prospector Pete, after students said the mascot and its statue "represents a time of genocide against indigenous people during the Gold Rush."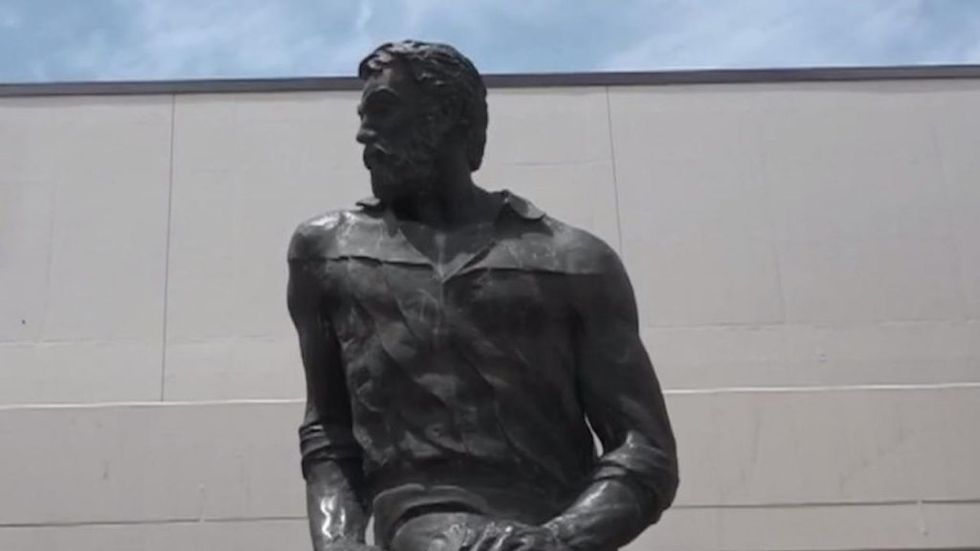 Statue of Prospector Pete mascot at California State University, Long Beach. (Image source: KCBS-TV video screenshot)
(H/T: The College Fix)