An atheist minister in a Christian denomination got to keep her job leading a congregation after several years of turmoil that could have led to a "heresy trial" later this month, the Toronto Star reported.
The Rev. Gretta Vosper — with the theologically liberal United Church of Canada — said in a Friday interview she's free to minister at West Hill United Church in Toronto after a confidential settlement with the denomination, the paper reported.
"It's going to be wonderful," she told the Star. "We'll be out from underneath that heavy cloud. Now we'll be able to really fly."
What's the background?
Vosper, 60 — who was ordained in 1993 and served as West Hill's minister since 1997 — has been upfront about her atheism and non-belief in the Bible for years, the paper said.
More from an earlier Star piece on the controversy:
In her sermons each Sunday, Vosper spoke openly about how she did not believe the Bible was "the authoritative word of God for all time" — a conviction she'd held long before her ordination, and one that is not uncommon among United Church of Canada clergy. Throughout the rest of the service each week, however, Vosper recited traditional prayers and hymns that perpetuated ideas she didn't believe in: that God was the ruler of the universe and that Jesus, his only son, died for our sins.
Oh God, in your mercy, hear our prayer ...
For thine is the kingdom, and the power, and the glory ...
Vosper used those words until one Sunday morning in 2001, when she could no longer tolerate the contradiction. Just because her own interpretation of the prayers was metaphorical, she realized, didn't mean the people in the pews knew that. And so in her sermon that day, Vosper came out to her congregation. She made it clear that she did not believe in the God called God — a supernatural being who intervenes in human affairs. [...]
Afterward, she prepared to be fired. But West Hill, a particularly progressive congregation, wanted her to stay. And so began the evolution of a small Scarborough church. Prayer turned into community sharing time. Hymns were rewritten. Talk of God and Jesus was replaced with talk of love, compassion and beauty.
Belief in God can motivate bad things?
Then came Vosper's open letter to the church's spiritual leader following the 2015 Charlie Hebdo massacre in Paris, the Star said, adding that Vosper noted that belief in God can motivate bad things.
That drew some complaints, which prompted a Toronto Conference review that ended in a 2016 split decision that Vosper was unsuitable for ordained ministry because "she does not believe in God, Jesus Christ or the Holy Spirit," the paper reported.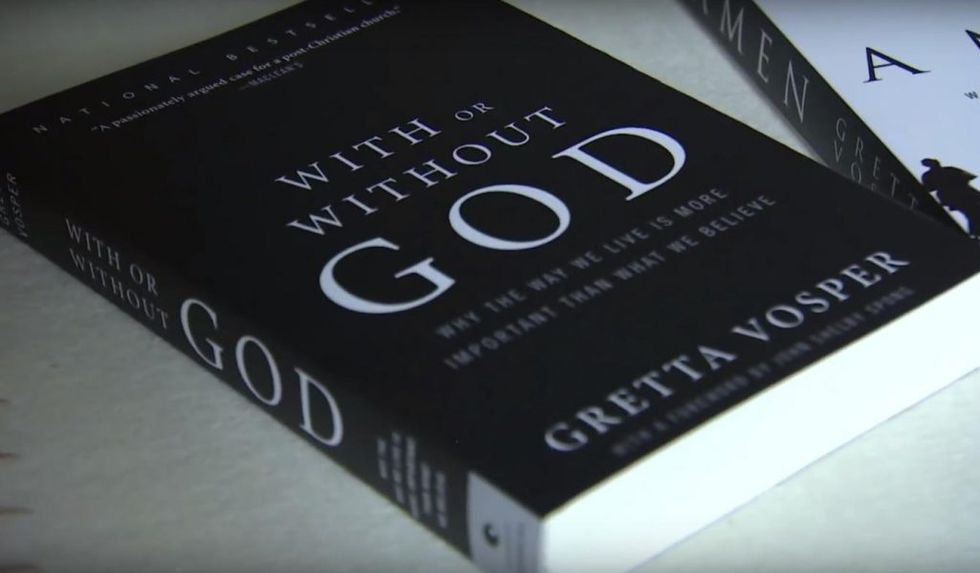 Image source: YouTube screenshot
Vosper was allowed to keep her position pending the outcome of the expected "heresy trial" on the matter, the Star said, and now she's free to continue her ministry without any restrictions.
What have critics said?
Not surprisingly, critics have called it appalling that the United Church of Canada is letting an atheist stand in a pulpit and not proclaim the Gospel of Christ, the paper said.
What did the United Church of Canada say?
The Right Rev. Richard Bott, elected in July to lead the denomination, said in a public message that he's happy about the resolution and referenced the church's core values of faith in God and inclusiveness, the Star reported.
"The dance between these core values, how they interact with and inform each other, is one that we continue to explore as followers of Jesus and children of the creator," Bott added, the paper said. "As a Christian church, we continue to expect that ministers in the United Church of Canada will offer their leadership in accordance with our shared and agreed upon statements of faith."
Randy Bowes, chairman of West Hill's board, told the Star he's also pleased and that Vosper represents what the church is all about.
"West Hill's non-exclusive language provides a church experience that draws participants across a wide spectrum of belief and unbelief," Bowes added to the paper.
Here's a report that ran prior to last week's settlement: