A college library referred to Thanksgiving as a "#NationalDayofMourning" on social media recently — but the Massachusetts school soon reversed course.
The post from Merrimack College's McQuade Library promoted an article on "Decolonizing Thanksgiving: A Toolkit for Combatting [sic] Racism in Schools."
"Here are some wonderful resources for teaching children about Thanksgiving!" the post read. "This is great for educators and parents. #Thankgiving [sic] #DecolonizingThanksgiving #AntiRacism #ChildrensEducation #NationalDayofMourning"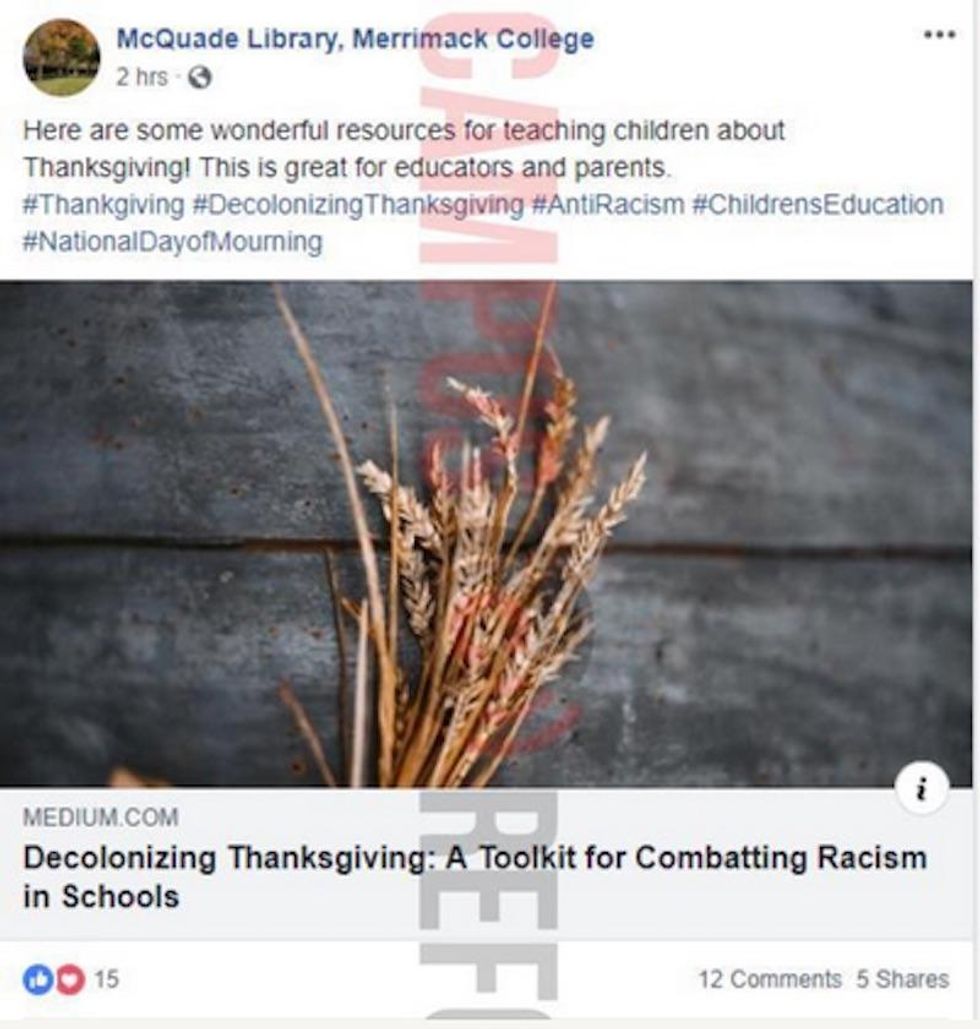 Image source: Campus Reform, used by permission
What does the promoted article say?
The article by Lindsey Passenger Wieck — director of the Master of Arts in Public History program at St. Mary's University in San Antonio — is about fighting "stereotypical and racist portrayals of Native peoples" in American elementary schools that come up each Thanksgiving.
Wieck noted the problems with "historically-inaccurate portrayals of Native peoples in arts & crafts, books and lessons about a shared Thanksgiving meal, and songs and plays with hand-crafted headdresses and vests" as "they depict Native peoples in an ahistorical way and perpetuate myths about colonial encounters."
She followed her preface with numerous links to "resources to help parents approach their children's schools to advocate for a more inclusive approach to discussing Thanksgiving."
What did Merrimack College have to say?
The post "in no way represents the ethos of faith, family and freedom for which the college stands, nor our genuine appreciation for this most American of holidays," Merrimack Associate Vice President of Communications and Marketing Jim Chiavelli told Campus Reform, in reference to a version of Sunday's Facebook post that was on Twitter.
"'#NationalDayofMourning' is absolutely not a hashtag or mentality the college endorses," Chiavelli added to the outlet, noting that the Twitter post was an "inappropriate use of the account by a student worker" and that he had it deleted.
Chiavelli also told Campus Reform that he would look into the Facebook post, which was still active Tuesday afternoon — but without the #NationalDayofMourning hashtag.
History behind 'National Day of Mourning' on Thanksgiving Day
The United American Indians of New England say they and their supporters have been commemorating a National Day of Mourning on Thanksgiving Day since 1970.
"Many Native Americans do not celebrate the arrival of the Pilgrims and other European settlers," the site notes. "Thanksgiving day is a reminder of the genocide of millions of Native people, the theft of Native lands, and the relentless assault on Native culture. Participants in National Day of Mourning honor Native ancestors and the struggles of Native peoples to survive today. It is a day of remembrance and spiritual connection as well as a protest of the racism and oppression which Native Americans continue to experience."