ABC News' political director used the word "cleansing" to suggest what should happen to President Donald Trump's "movement" in a now-deleted tweet posted in the wake of the U.S. Capitol siege.
An image of Rick Klein's tweet was shared by Omri Ceren, national security adviser to U.S. Sen. Ted Cruz (R-Texas):
Political Director for @ABC News based in Washington DC appears to have deleted his tweet about the 75 million Amer… https://t.co/QUOjgGklGM

— Omri Ceren (@Omri Ceren) 1610053573.0
"Trump will be an ex-president in 13 days," the now-deleted tweet stated. "The fact is that getting rid of Trump is the easy part. Cleansing the movement he commands is going to be something else."
History.com has something to say about the word "cleansing":
Though "cleansing" campaigns for ethnic or religious reasons have existed throughout history, the rise of extreme nationalist movements during the 20th century led to an unprecedented level of ethnically motivated brutality, including the Turkish massacre of Armenians during World War I; the Nazis' annihilation of some 6 million European Jews in the Holocaust; and the forced displacement and mass killings carried out in the former Yugoslavia and the African country of Rwanda during the 1990s.
Oh, but there's more
The text from Klein's now-deleted tweet also appeared in a Jan. 7 ABC News story he helped write — the same date as the now-deleted tweet. An internet archive version of the story from 11 a.m. indicates the word "cleansing" was used: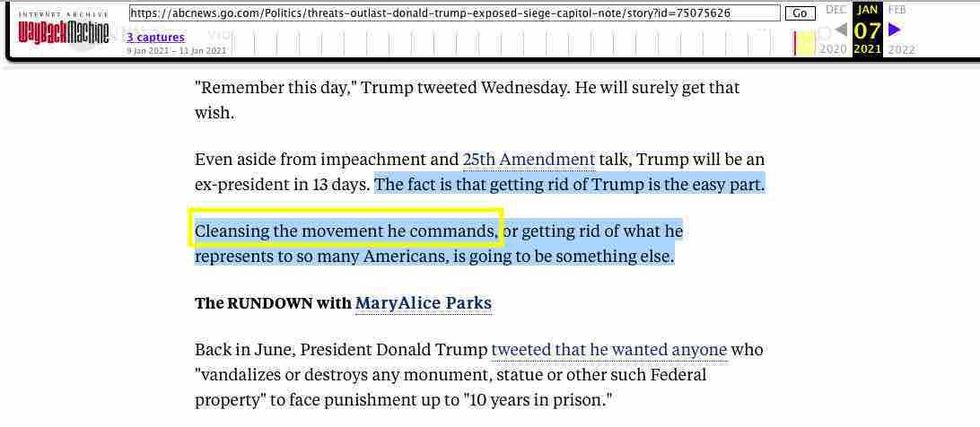 Image source: Internet Archive screenshot
But here's how the ABC News story read Monday — "cleaning up" instead of "cleansing":

Image source: ABC News screenshot
In addition, there was no indication as of early Monday afternoon that the ABC News story had been updated with "cleaning up" instead of "cleansing" or why the change was made: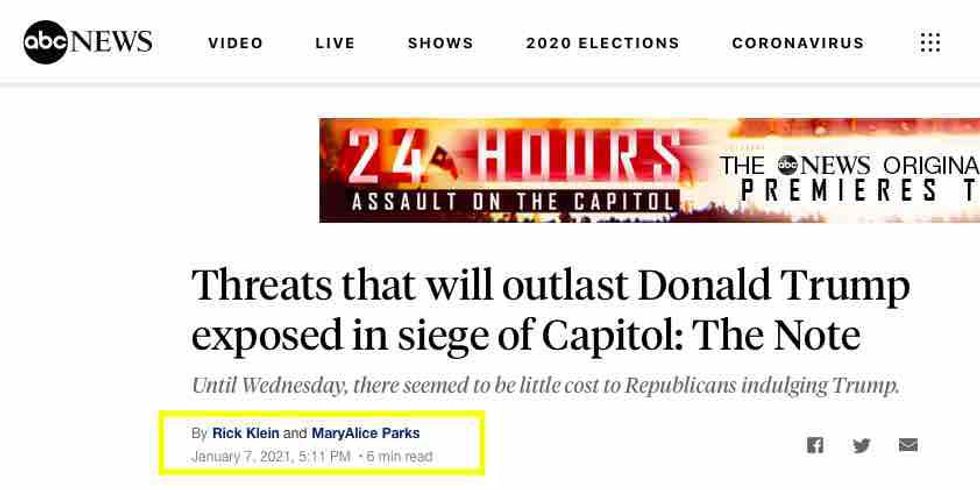 Image source: ABC News screenshot
ABC News didn't immediately respond Monday to TheBlaze's request for comment on why the word "cleansing" was removed from its story and why there was no indication that it had been updated.
How did folks react?
While a number of commenters on the post with the image of Klein's now-deleted tweet agreed with the ABC News director, others most definitely did not: