Amazon is closing eight of its 29 Amazon Go stores that operate without a conventional checkout process, designed to minimize staff costs, scanning customers' as they walk by.
As reported by Geekwire, the Amazon stores will close in progressive cities, with at least some of them in areas of high crime or drug use.
Two stores in downtown Seattle will close permanently, along 3rd and 4th Avenues, which are a high-crime and open-air drug use area.
Two more locations in New York City will shut down, along with four in San Francisco, where petty crime, drug use, and homelessness are rampant.
"Like any physical retailer, we periodically assess our portfolio of stores and make optimization decisions along the way. In this case, we've decided to close a small number of Amazon Go stores in Seattle, New York City, and San Francisco," said an Amazon spokesperson in an statement.
"We remain committed to the Amazon Go format, operate more than 20 Amazon Go stores across the U.S., and will continue to learn which locations and features resonate most with customers as we keep evolving our Amazon Go stores," the statement added.
The stores made their debut in 2016 with the launch of a video, showing customers scanning a QR code upon entering the store before beginning their grocery shopping.
"Take whatever you like. Anything you pick up is automatically added to your virtual cart," the commercial says.
"We used computer vision, deep learning algorithms, and sensor fusion, much like you'd find in self-driving cars. We call it 'just walk out' technology," the ad continues.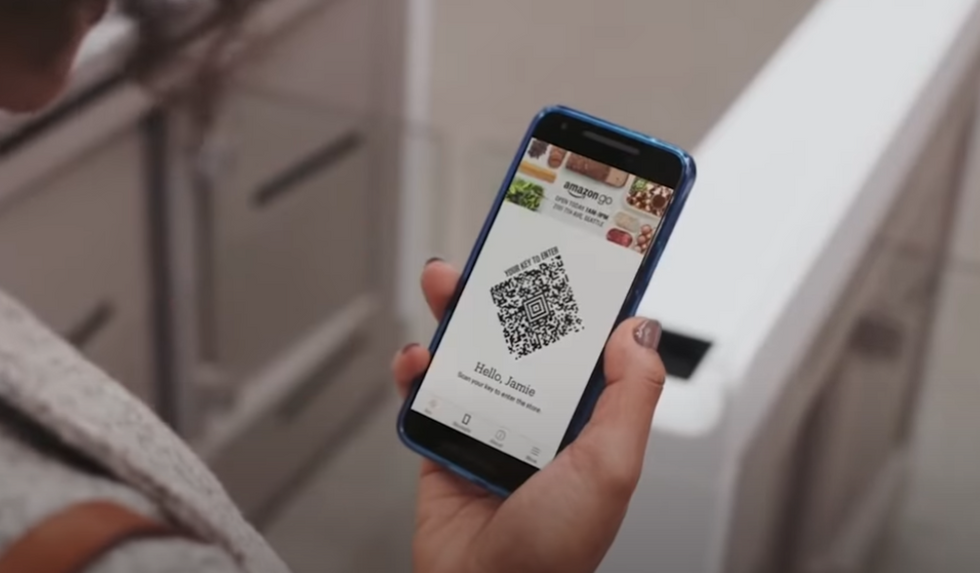 A woman opens and scans her Amazon Go app to gain access to Amazon's grocery storeImage courtesy Amazon / YouTube (screenshot)
Strangely enough, a near exact replica of an Amazon Go store was theorized in a 2006 IBM commercial promoting radio frequency identification (RFID).
The commercial shows a man stuffing grocery items into a trench coat throughout the store, to the disapproving gaze of onlookers.
Then, as the man walks out of the store, he is scanned by a machine. A security guard stops him, but only to hand him his receipt.
Amazon will still open new stores; one recently opened in a different Washington location south of Seattle.
Like Blaze News? Bypass the censors, sign up for our newsletters, and get stories like this direct to your inbox. Sign up here!