A photojournalist with KCBS-TV said he'd been hearing a good bit about train burglaries in Los Angeles, so he went down to the tracks to have a look for himself.
"There's looted packages as far as the eye can see," John Schreiber reported in a Thursday tweet, which was followed by others that included videos and images of the carnage. "Amazon packages, @UPS boxes, unused COVID tests, fishing lures, epi pens. Cargo containers left busted open on trains."
Schreiber reported that law enforcement said UPS packages are "especially sought after" as they often contain boxes of merchandise bound for residential addresses. But he also found plenty of unopened packages tossed to the ground.
Schreiber also noted that thieves take advantage of the trains slowing down in this area before they reach the Union Pacific facility to break into them — and that it looked to him like "every 4th or 5th rail car had opened containers."
"Missing a package? Shipment delayed?" Schreiber added in another tweet. "Maybe your package is among the thousands we found discarded along the tracks. This is but one area thieves have targeted trains. We were told this area was just cleaned up 30 days ago so what you see is all within the last month."
What else?
In its story about the package thefts, KCBS-TV — citing sources — said locks used by Union Pacific are easy to cut. In addition, the station said L.A. police don't respond to train robbery complaints save for the rare occasions they come from Union Pacific.
The station said while its news crew was at the location, one person was seen running off with a container used to hold smaller packages and a Union Pacific officer was spotted chasing after two other people who appeared to be rifling through packages.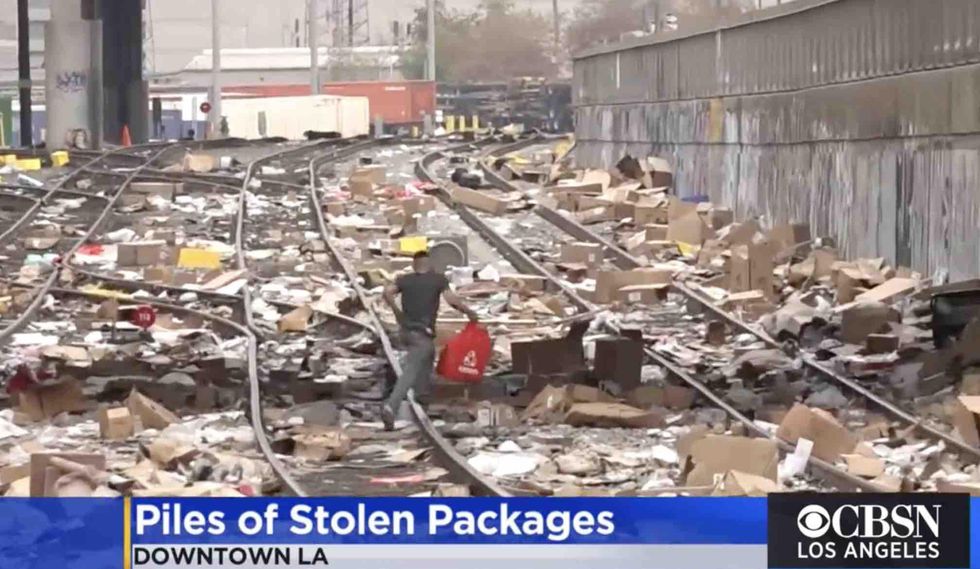 Image source: KCBS-TV video screenshot
KCBS — citing a source with knowledge of the issue — reported that Union Pacific cleaned up the area three months ago and again only about 30 days ago, and yet the area was again littered with newly discarded boxes.
Customer contacted
The station said it found a package, entered the tracking number online, and the result indicated the package was still "in transit" — but that it would arrive "today."
What did Union Pacific have to say?
Union Pacific issued the following statement to KCBS:
Union Pacific is very concerned about the increased cargo thefts in California, and we have taken several steps to address this criminal activity. These rail crimes pose a serious safety threat to the public, our employees and local law enforcement officers.

We have increased the number of Union Pacific special agents on patrol, and we have utilized and explored additional technologies to help us combat this criminal activity. We also will continue to work with our local law enforcement partners and elected leaders.