Angela Davis — a icon for early 1970s radicalism who went on to become a progressive professor and left-wing speaker — said she was "stunned" when an Alabama civil rights group rescinded a human rights award earmarked for her after protests by Holocaust educators.
The Birmingham Holocaust Education Center wrote to the Birmingham Civil Rights Institute expressing "concern and disappointment" about the plan to honor Davis with an award named for minister and civil rights pioneer Fred L. Shuttlesworth, The Associated Press reported. The Jan. 2 letter urged the civil rights institute to "reconsider your decision," the outlet added.
AL.com said it obtained the letter, noting the Holocaust center cited "recent outspoken support of the Boycott, Divestment and Sanctions (BDS) campaign against Israel, [which] is very troubling as it targets the Jewish people excessively."
With that, the civil rights institute posted on its website over the weekend that "upon closer examination of Ms. Davis' statements and public record, we concluded that she unfortunately does not meet all of the criteria on which the award is based," the AP reported.
While the outlet said the institute's statement didn't detail what criteria Davis failed to meet, she apparently has a pretty good idea.
Davis posted a statement on Facebook Monday, which began by saying, "I was stunned to learn that the Birmingham Civil Rights Institute Board of Directors had reversed their previous decision to award me the Fred Shuttlesworth Human Rights Award. Although the BCRI refused my requests to reveal the substantive reasons for this action, I later learned that my long-term support of justice for Palestine was at issue."
The civil rights institute also canceled a gala set for February, the AP reported.
More from the outlet:
The award's withdrawal spawned widespread controversy and prompted three BCRI board members to resign Wednesday. The former board members — chair Mike Oatridge, first vice chair Walter Body and secretary Janice Kelsey — said they regret the circumstances surrounding the award's selection process and "the dissension this has caused."
"It is hoped this move will enable the City of Birmingham to create a board structure that will best enable the BCRI to continue its critical mission in the future," the trio said in a statement, according to the AP.
What else did the Holocaust educators have to say?
"Our intention was to go on record about our concerns in a private letter sent to BCRI leadership," board president Deborah Layman said in an email to AL.com. "We had no further part in the decision made by BCRI to cancel the event, and we were surprised at their decision."
Davis — a Birmingham native — said she's still coming to the city next month as part of "an alternative event," the AP reported.
Layman told AL.com the Holocaust center is willing to meet Davis at that time.
"[We] would be happy to have a conversation with Prof. Davis," Layman said. "We believe that through open, respectful dialogue, mutual understandings may be reached."
What else do we know about Davis?

Here's what the New York Times had to say about Davis' history:
Professor Davis became a global progressive leader nearly half a century ago. At the time, she was agitating on behalf of three California inmates accused of murdering a white prison guard when guns she had purchased were used in an attack that was aimed at freeing the inmates but left four people dead, including the assailant.

She was not present during the attack and witnesses testified that the guns were purchased for defense, but Professor Davis nonetheless spent 16 months in jail before an all-white jury acquitted her of all charges. In the interim, "Free Angela" had become a rallying cry.

Since then, she has been recognized for her scholarship and activism around feminism and against mass incarceration. Last year, a Harvard University library acquired her personal archive.
President Richard Nixon called Davis a "dangerous terrorist" when she was charged with murder and conspiracy after the deadly 1970 courthouse shootout, the Los Angeles Times reported.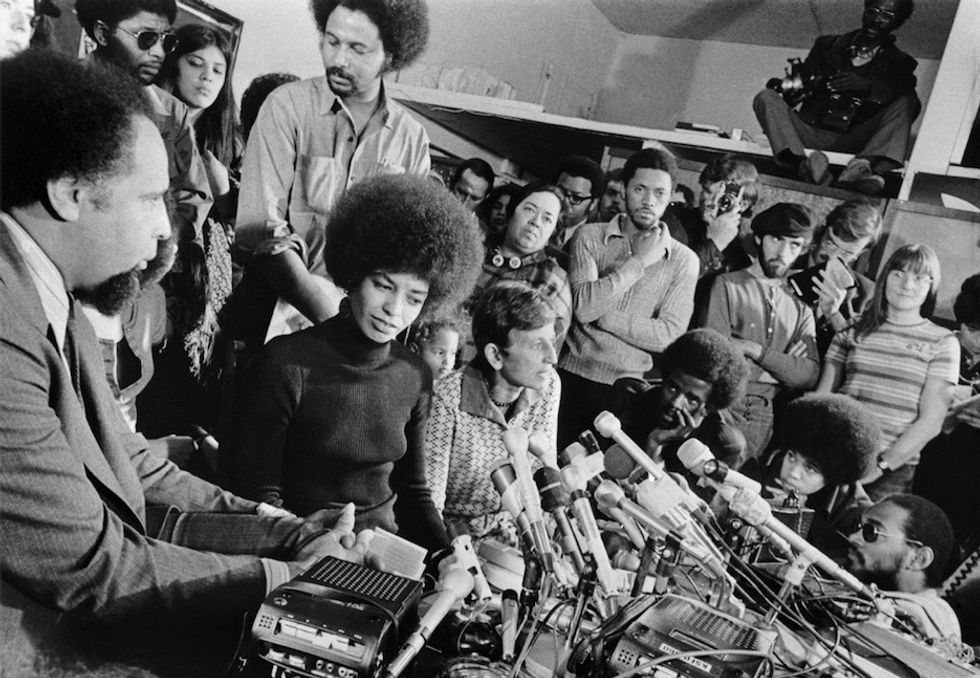 Photo released Feb. 24, 1972 of U.S .activist Angela Davis giving a press conference in San Jose, California. STRINGER/AFP/Getty Images
Davis joined the U.S. Communist Party at one point but told the Times in 2014 that while she has a "relationship" with the party, she's "not a member" any longer.