© 2023 Blaze Media LLC. All rights reserved.
Antifa militants arrested, charged for physically attacking Trump supporters — and accused of organizing into groups to carry out crimes
You've heard all the gaslighting rhetoric protecting Antifa militants who do the violent, dirty work of the political left: that the black-clad goons are "an idea, not an organization" and even a "myth," despite mountains of evidence to the contrary.
Well, let's turn our attention to San Diego prosecutors, who on Monday charged multiple Antifa militants with conspiracy to commit a riot, saying they physically attacked supporters of former President Donald Trump in January, the San Diego Union-Tribune reported.
The kicker? A criminal complaint said the arrestees "are self-identified to be affiliated with Anti-fascists or Antifa" and began organizing themselves into San Diego- and Los Angeles-based groups a week before a pro-Trump "Patriot March" on Jan. 9, the paper said.
Pretty nifty trick for "an idea, not an organization" and a "myth."
What are the details?
The office of District Attorney Summer Stephan, citing video evidence, said that "overwhelmingly the violence in this incident was perpetrated by the Antifa affiliates and was not a mutual fray with both sides crossing out of lawful First Amendment expression into riot and violence," the Union-Tribune said.
Those arraigned in San Diego Superior Court were with a group arrested Thursday in raids by police officers and sheriff's deputies across Southern California, the Union-Tribune reported.
The complaint said the defendants launched their criminal conspiracy "by liking and sharing" a Jan. 2 social media post that called for a counterprotest against the pro-Trump rally, "in essence agreeing to take part in the 'direct action.' Others agreed by showing up in Pacific Beach on January 9th, 2021 and participating in the violence" described in the complaint, the paper added, citing prosecutors.
The Antifa faithful were accused of using pepper spray, small flagpoles, sticks, and other tools to attack the pro-Trump group, the Union-Tribune said, adding that several attacks noted in the complaint appear to match incidents recorded and shared online, such as an Antifa militant pepper-spraying a dog and its owner.
Image source: YouTube screenshot
Prosecutors said the aforementioned act was carried out by Jeremy Jonathan White, 39, who remained jailed Monday in lieu of $200,000 bail, the paper said.
White faces charges of conspiracy, assault with a deadly weapon, use of tear gas not in self-defense, and animal cruelty, the Union-Tribune added.
1/9/21 ANTIFA Maces Dog Along Boardwalk - Pacific Beach, San Diego CAyoutu.be
Videographer Sean Carmitchel recorded Antifa attacking people with pepper spray, sticks, a wooden folding chair, punches, and kicks — assaults prosecutors described in the complaint, the paper said.
For a bit of comic relief, here are a couple of images showing an undernourished Antifa tough guy momentarily emerging from the protection of his comrades to do what we've seen hundreds of times before — targeting a victim from behind and throwing like a pansy: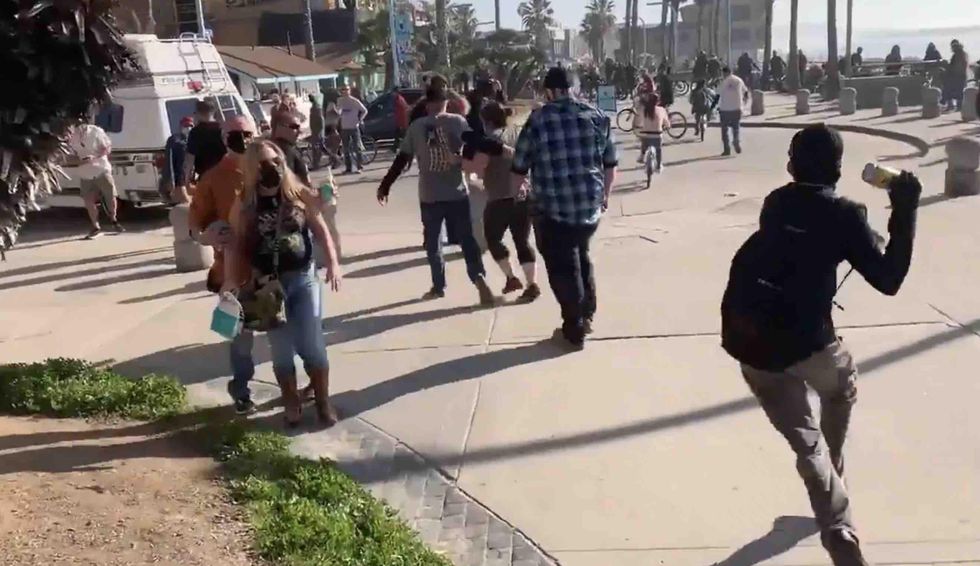 Image source: Twitter video screenshot via @ACatWithNews
Image source: Twitter video screenshot via @ACatWithNews
Here are the videos. Content warning: rough language:
Several more altercations between the counter-protestors and others at the Boardwalk.\n\nThe counter-protestors shout \u201cProud Boy Killer,\u201d as several people are chased out of the area.pic.twitter.com/UzczqlREtP

— Sean Carmitchel (@Sean Carmitchel) 1610264919
In addition to White — accused of pepper-spraying the dog and owner — the Union-Tribune, citing the district attorney's office, named the other arraigned individuals as Luis Francisco Mora, 30; Joseph Austin Gaskins, 21; Faraz Martin Talab, 27; Bryan Rivera, 21; Brian Lightfoot, 25; and Jesse Merel Cannon, 31.
The paper said Alexander Akridge-Jacobs, 31; Christian Martinez, 23; and Samuel Howard Ogden, 24, also face charges, according to a DA's office spokesperson.
In addition, a $250,000 arrest warrant has been issued for Erich Louis Yach, 37, the Union-Tribune reported, citing the DA's office and county Sheriff's Department records.
Want to leave a tip?
We answer to you. Help keep our content free of advertisers and big tech censorship by leaving a tip today.
Sr. Editor, News
Dave Urbanski is a senior editor for Blaze News.
DaveVUrbanski
more stories
Sign up for the Blaze newsletter
By signing up, you agree to our
Privacy Policy
and
Terms of Use
, and agree to receive content that may sometimes include advertisements. You may opt out at any time.