Archaeologists have reportedly uncovered the location of an Old Testament city connected to King David — an exciting development that lines up with the biblical narrative.
Experts believe they have found the location of Ziklag, a town mentioned in 1 Samuel, 2 Samuel, and 1 Chronicles.
After years of experts suggesting that the "lost" town could be in 12 different locations, new evidence has led Hebrew University and the Israel Antiquities Authority archaeologists and researchers to believe that Khirbet a-Ra'i is the site where Ziklag was located, according to the Times of Israel.
(Read also: Army Vet Tried to Take His Own Life — but God Stepped In)
The Old Testament tells us that David found refuge from King Saul in Ziklag before heading to Hebron to be anointed king, with the location having a fascinating place in biblical history. British Friends of the Hebrew University has more:
According to the Biblical narrative, Achish, King of Gat, allowed David to find refuge in Ziklag while fleeing King Saul and from there David also departed to be anointed King in Hebron. According to scripture, Ziklag was also the scene of a dramatic event, in which the Amalekites, desert nomads, raided and burned the town taking women and children captive.
Yosef Garfinkel, head of the Institute of Archaeology at Hebrew University in Jerusalem, said the debate over Ziklag's location has been long-running.
"People debate about Ziklag already in the 7th century so people really had an interest about this site," he said. "If you're talking the biblical narrative it's mentioned only in the time of King David."
(Read also: The End Times: What the Bible Says About Christ's Second Coming)
Researchers began excavating the site in 2015 and announced findings this week that it meets some important criteria. Considering what's known about the city, it had continuous settlement that included people living there during King David's time as well as Philistine residents.
Archaeologists found evidence of both populations, uncovering bowls, an oil lamp, tools, and other elements consistent with these cultures. In addition to comparisons between items found at other locations, Carbon 14 tests date the site back to King David's time.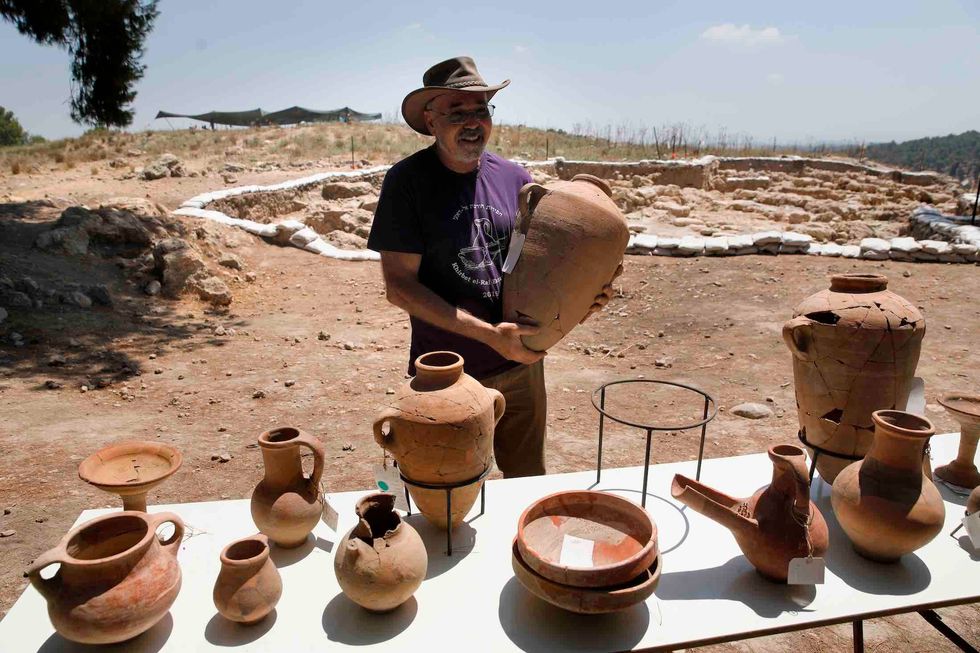 MENAHEM KAHANA/AFP/Getty Images
The Times of Israel noted that the Philistine remains dated back to the 11th and 12th centuries B.C, and the rural settlements dated back to the 10th century B.C., lining up with the biblical narrative.

Another interesting note — and perhaps the most compelling one — is that the settlement from King David's time appears to have been destroyed by fire.
(Looking for hope? Watch Uplifting Movies and TV Shows Right Now on PureFlix.com)
"This settlement came to an end in an intense fire that destroyed the buildings," a press release about the findings explained.
Interestingly, we learn in 1 Samuel 30:1 (NIV) that the "Amalekites had raided the Negev and Ziklag." Verses 3-6 tell us more about how flames destroyed the town:
When David and his men reached Ziklag, they found it destroyed by fire and their wives and sons and daughters taken captive. So David and his men wept aloud until they had no strength left to weep. David's two wives had been captured—Ahinoam of Jezreel and Abigail, the widow of Nabal of Carmel. David was greatly distressed because the men were talking of stoning him; each one was bitter in spirit because of his sons and daughters. But David found strength in the Lord his God.
Experts say that this is just more research and archaeology to back the Bible.
Looking for more inspiration? Check out our list of powerful Christian documentaries you can stream on PureFlix.com. You can watch thousands of shows, movies and original series right now with your free, one-month trial.
This article was originally published on Pure Flix Insider. Visit Pure Flix for access to thousands of faith and family-friendly movies and TV shows. You can get a free, one-month trial here.