A 71-year-old Asian and Latino man told KGO-TV he was grabbing a trash can from the curb in Oakland, California, last Wednesday when he noticed a car near the driveway.
So he asked the car's driver to move, the station said — and things got ugly.
What are the details?
The man — who didn't want to use his name — told KGO that upon making his request, a woman "pulled me from my back" and "pushed me toward the car."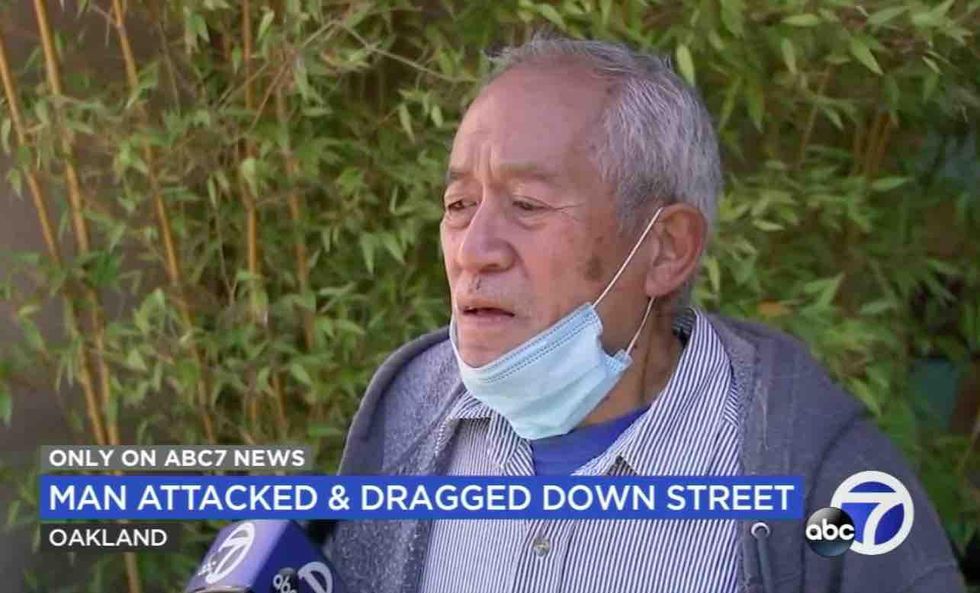 Image source: KGO-TV video screenshot
The woman allegedly tried to steal the man's wallet and cellphone; and when that didn't work out, the man told the station "she bit me on my hand." Apparently the brutal act was meant to distract the victim, who told KGO the assailant "grabbed my neck and she pulled my necklace and took it."

The man told police he fell upon the vehicle — and was then dragged facedown for 10 to 20 feet, the station said.
Besides receiving cuts and bruises, the man lost seven teeth as a result of the attack, KGO reported.
"I love Oakland ... but not anymore," he told the station. During the interview, the man's hand shook while clutching a cane to support his already weakened legs.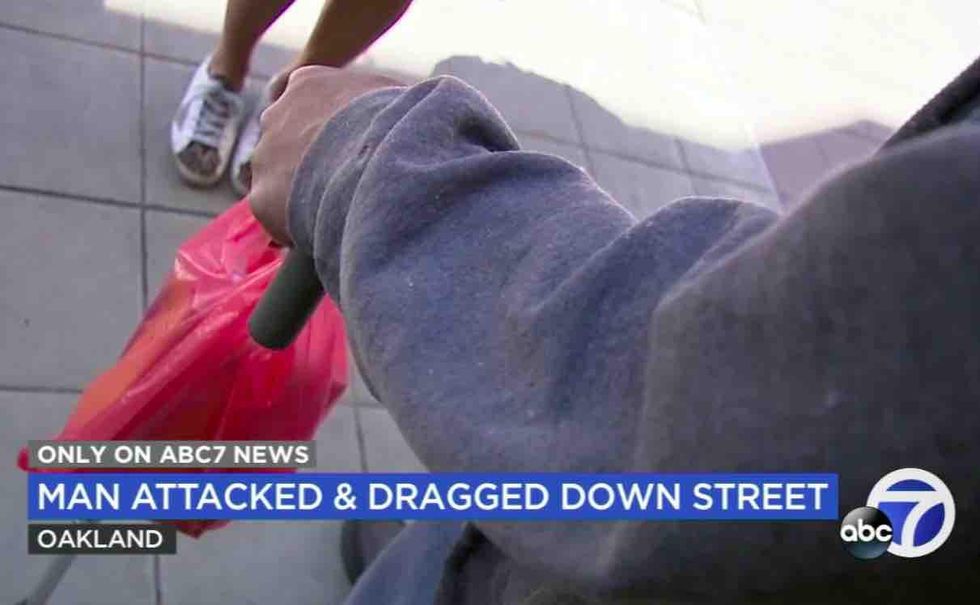 Image source: KGO-TV video screenshot
'No one stopped'
A woman named Linda told KGO she and others saw the attack — but that she was the only person who helped the man.
Linda told the station that while the victim was "lying in the middle of the street" other drivers "just went around him and kept going. That was the thing that was the most shocking. No one stopped."
The man told KGO he wanted Linda to know how much he appreciates her help: "For being a good Samaritan to me ... I will forever be grateful to her."
And he added to the station that despite his fear, he felt the need to speak out: "I hope people will become more aware this is something happening right now. It's been happening for many years."
Anything else?
The victim's medical costs, including what's needed for dental implants, are mounting, KGO reported, adding that those who would like to contribute can do so through the nonprofit Oakland Chinatown Chamber Foundation which is handling the man's case as well as cases for other victims. Donations can be sent to 388-9th Street #290, Oakland CA 94607 or through their online PayPal site, the station said.