Sagar Tamang was headed to a street vendor to grab some food near the Fox Theater in Oakland around 11 p.m. May 28 when he felt something hit the back of his head, KGO-TV reported.
Tamang was knocked unconscious and woke up the next day in a hospital, bruised and beaten, the station said.
He'd been left in an alley and was robbed of his pants, boots, long coat, phone, and wallet, according to the GoFundMe set up on his behalf, which added that he was left wearing only his boxers, T-shirt, and socks.
'I need to be vocal'
Tamang told KGO he believes he was targeted because he is Nepalese — the victim of yet another anti-Asian attack.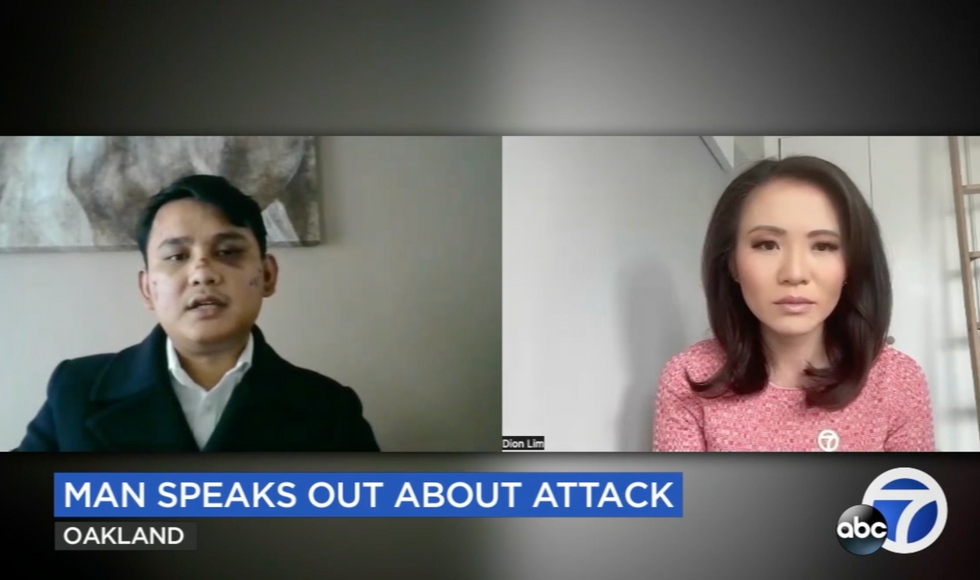 Image source: KGO-TV video screenshot
"I need to be vocal about what happened to me so later on the younger people, or people from ... the Nepalese community can come forward and say, 'Oh yeah, this happened to me too,'" he told the station, adding that "people will be able to relate. This is happening with a lot of Asian communities ... this happens all the time."
Hate crime?
KGO said Oakland police haven't determined if the attack on Tamang was a hate crime, but they are continuing to investigate.
A friend of Tamang set up the GoFundMe page to help cover his medical bills since Tamang won't be able to work his rideshare driver job for the next month, the station said.

Tamang's friend — also from Nepal — told KGO it may be hard to prove the attack against Tamang was a hate crime, but she believes Asians are targets.
"Because we're Asian, people think we are easy to rob, easy to assault, easy to manipulate, and [will] do anything they want," Tamang's friend, who didn't want to be identified, added to the station. "If it's someone else, they wouldn't do that. He's a short Asian guy."
'I'm going to live my life'
Tamang added to KGO that while the attack shook him up, it won't deter him from doing the things he loves.
"I'm going to live my life; everyone's going to live their life," he told the station. "But one thing ... this has made me ... stronger as a person who survived it."
Tamang also issued a warning to others, KGO reported: "It happened to me; it could happen to anyone."
Anything else?
KGO said a new survey tracking American attitudes and perceptions found that Asian Americans are blamed for the COVID-19 pandemic to a greater degree this year compared to 2021.
Furthermore, it has seemed that crimes against Asians have been spiking across the San Francisco Bay Area of late, with some of it happening in Oakland:
Last month a 7-months-pregnant store owner in Oakland's Chinatown chased out a male shoplifter, who then threw at her a large bottle of hand sanitizer he had taken — just missing her belly — and ran off while calling her a "Chinese b***h."
In April three allegedly armed men were caught on video attacking an Asian man in broad daylight on an Oakland street, wrestling away his luxury backpack then taking off in a getaway car.
A broader crime spree against Asian women in the Bay Area was put to a stop in December when police made six arrests. What's more, the ringleader — who faced up to 95 years in jail — targeted multiple Asian women on a daily basis as he assumed they don't believe in bank accounts.