Surveillance video shows a 7-months-pregnant store owner in Oakland's Chinatown chasing out a male shoplifter, who then threw at her a large bottle of hand sanitizer he had taken — just missing her belly — and ran off while calling her a "Chinese b***h," KGO-TV reported.
What are the details?
Eva Liu and her husband own Yuda International Logistics, which specializes in shipping and receiving items to and from Asia, the station said.
On the afternoon of April 25, surveillance video shows a man quickly entering the store and moving toward a stack of customer packages, KGO said.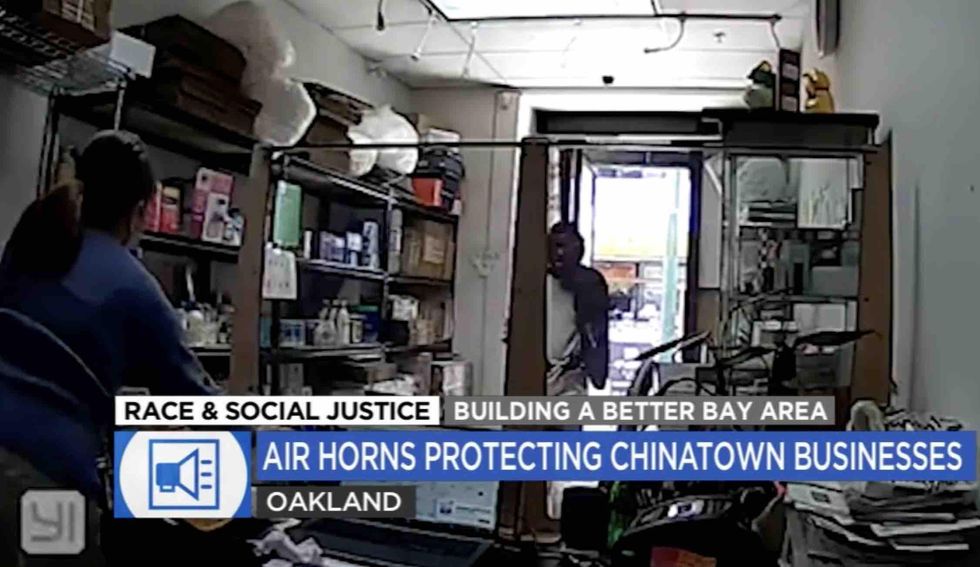 Image source: KGO-TV video screenshot
"This person came in, and he was trying to grab those packages," Liu told the station through a translator.
She can be heard yelling "sorry, sorry, sorry" to try to get the intruder to stop; she then grabbed an air horn from her desk, stood up, and moved toward the intruder, KGO said.
"I couldn't afford to be afraid because I wanted to protect those packages for the customers," Liu added to the station.
Video shows the shoplifter grabbing a large bottle of hand sanitizer from a shelf near the door while exiting the shop.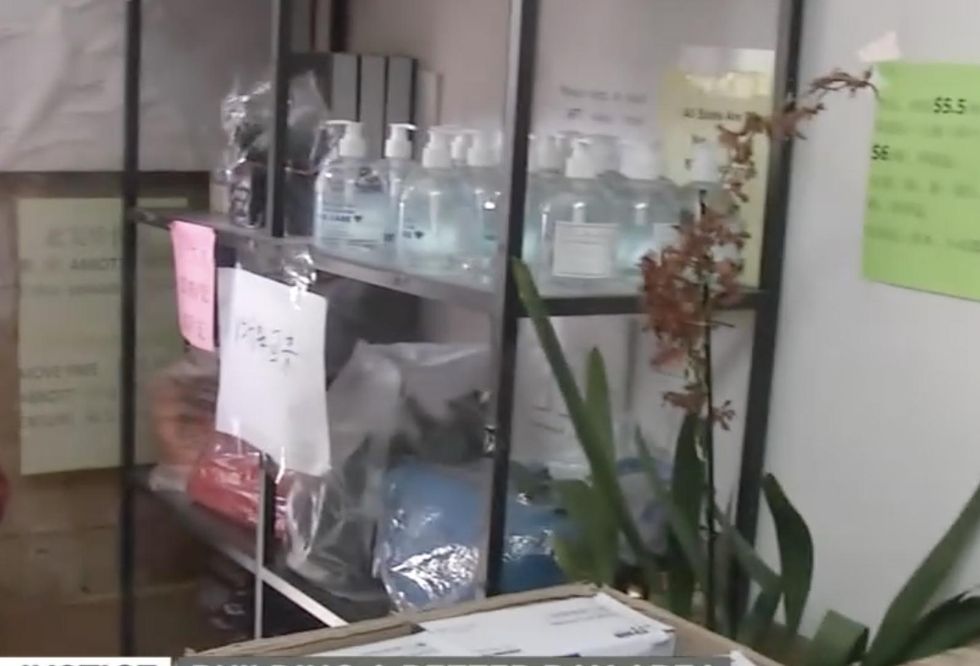 Image source: KGO-TV video screenshot
When Liu gets to the doorway, the crook hurls the bottle at her.
"I was trying to protect my stomach, so I turned, and it hit my ribs," she told KGO.
Liu added to the station that the man called her a "Chinese b***h" as he was running off — and that she didn't know the term's meaning until it was translated for her days after the incident.
She also sounded the air horn, and KGO said its noise scared away the intruder and also got the attention of a nearby volunteer security team — the Blue Angels.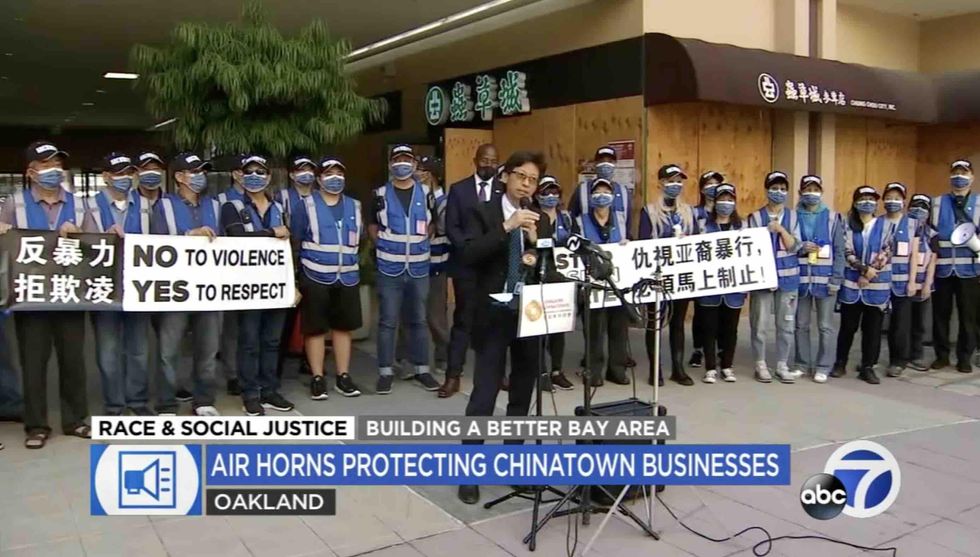 Image source: KGO-TV video screenshot
The group flagged down Oakland Police, and the station said police arrived in less than two minutes, but the suspect has not yet been arrested.
The air horn factor
The station said thousands of air horns like the one Liu used were distributed in Chinatown and beyond in February 2021.
Carl Chan, president of the Chinatown Chamber, told KGO the community was skeptical at first: "In the beginning, people were questioning why should I carry air horns? With a few incidents happening, like the one here, it's helping small businesses."
Chan added to the station that proper instruction on how to use air horns has paid off in a time when violent attacks against Asians show no sign of abating.
"When it sounded, many neighbors" even a few blocks away "could hear it and knew trouble was happening," Liu told KGO.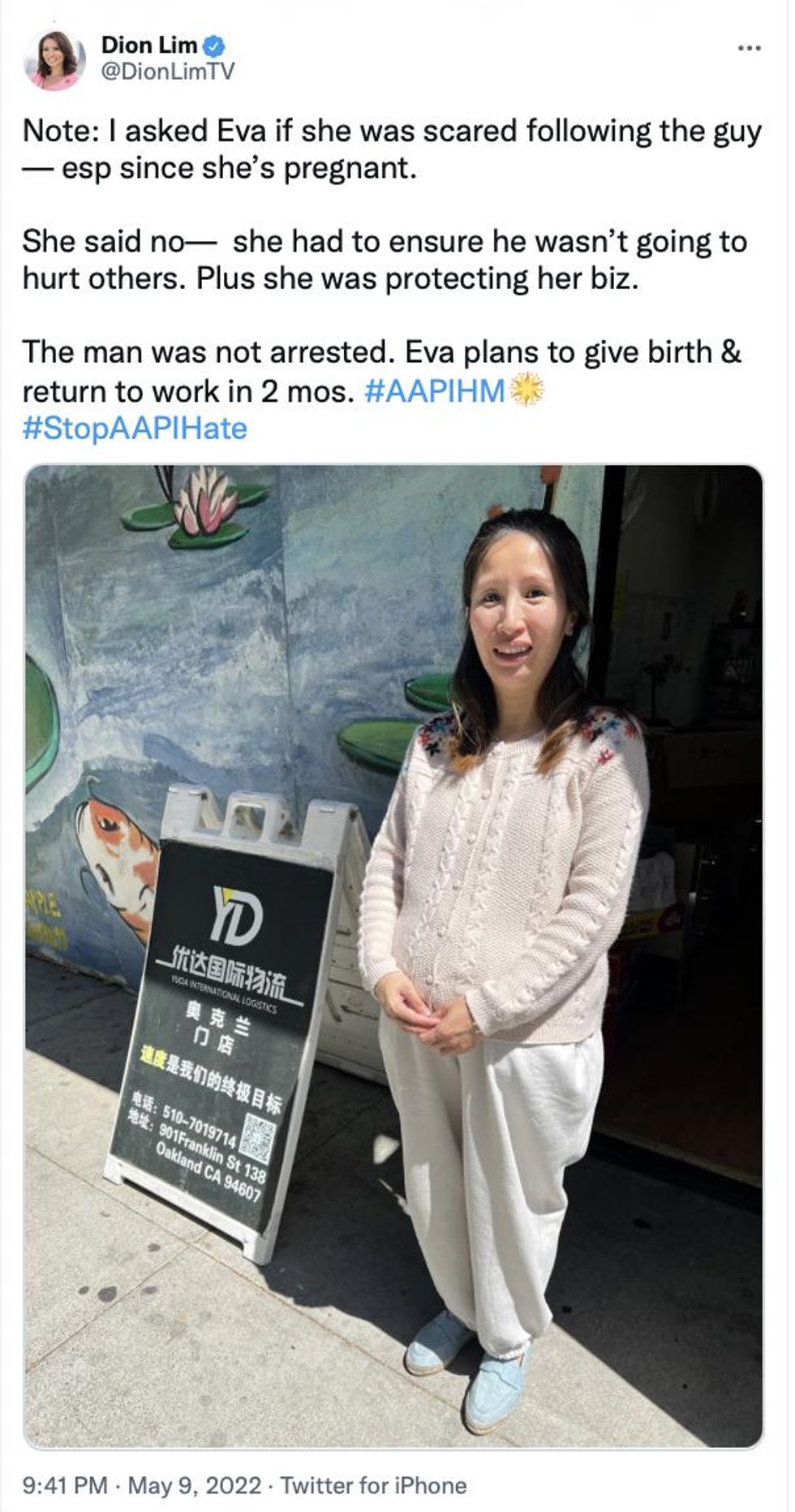 Image source: Twitter
Still she noted to the station that she'd like to "see more police officers" in Chinatown, "especially officers that speak the language."