After two student-athletes were baptized on a Tennessee public high school football field last month, a "concerned area resident" got in touch with the Freedom From Religion Foundation — a national atheist activist group — which in turn fired off a letter last week demanding the district "stop promoting and endorsing religion to students," the Tennessean reported.
But the paper said Robertson County Schools is fighting back.
Regarding the Aug. 7 post-football practice ceremony, the district said in a statement that neither Springfield High School nor school personnel violated any policies or laws, the Tennessean said.
"Specifically, the activities … were student initiated, student led, and occurred after the practice session had ended, and after school hours," the statement added, according to the paper. "All participation was voluntary with no requirement for attendance either stated or implied."
What else?
The FFRF's letter — addressed to Robertson County Director of Schools Chris Causey — noted that the high school team's "character coach" Chad Diehl performed the baptisms.
Diehl, also a minister at Bethlehem Baptist Church, made no secret of his involvement: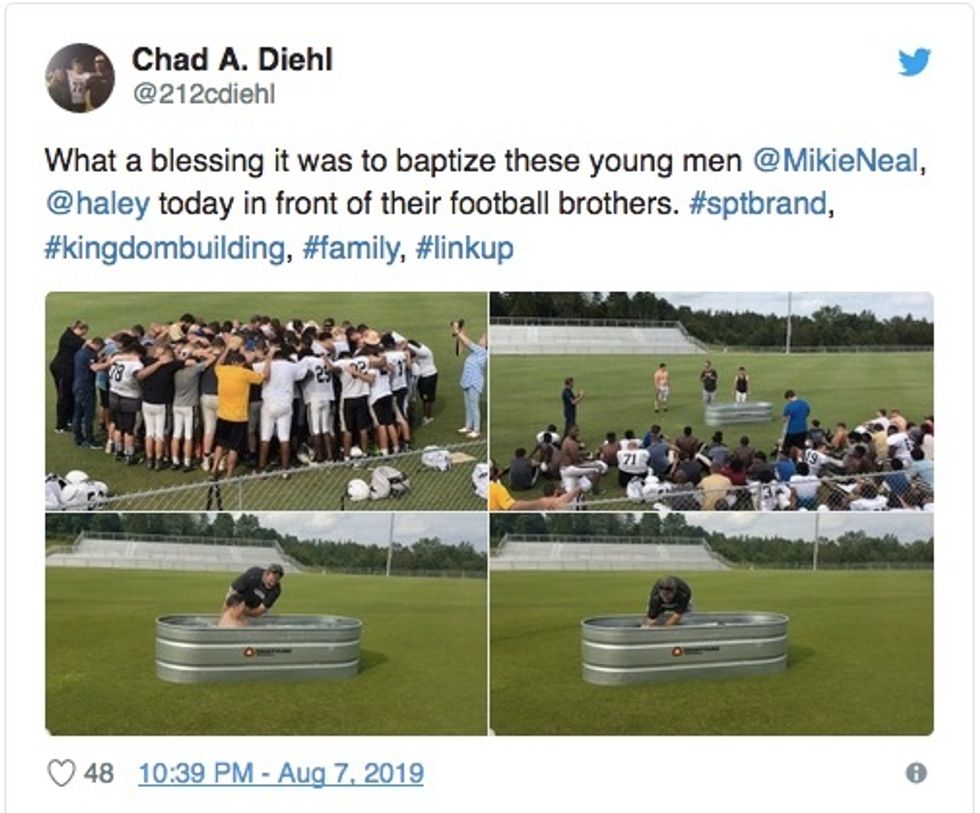 Image source: Twitter via WZTV-TV
But while the FFRF's letter said it's illegal for coaches to organize or participate in religious activities with students, Causey told the Tennessean that Diehl isn't employed by the district.
"They have those kinds of individuals at public universities as well," he added to the paper.
Still the Freedom From Religion Foundation's Staff Attorney Chris Line called the ceremony inappropriate.
"This is especially problematic in the context of athletics, given the coercive pressure players feel to conform to coaches' expectations so as not to disappoint coaches or hurt their standing on the team," Line wrote in a news release from the organization, the Tennessean noted.
But Casey pushed back, noting to the paper that the district officials "have not received a single phone call from anyone asking us about (these baptisms). Zero. If we have concerned parents or community members, I would think they would need to contact the district office about it instead of turning to organizations that aren't even based in Tennessee."
Now what?
Line said if the district takes no action, there could be legal consequences.
"These are serious allegations of constitutional misconduct," he told the Tennessean, adding that "any parent or resident can take action against the school district. If we have a parent interested in pursuing that, we can step in. That's a definite possibility."
The Freedom From Religion Foundation earlier this year claimed a video showed "several football players" being baptized on Alabama public school property — once again after hearing from a "concerned" member of the community.