Josh Pinkard texted his final words to his wife, Terra Pinkard, Friday afternoon after he was shot by another employee at the Aurora, Illinois, manufacturing plant where he worked.
"I received a text at 1:24 from my precious husband that said I love you, I've been shot at work," Terra Pinkard wrote on Facebook Sunday. "It took me several times reading it for it to hit me that it was for real. I called his phone several times, text, FaceTime, nothing."
Terra Pinkard's 37-year-old husband was among the five workers murdered when a man opened fire at the Henry Pratt Company plant in Aurora.
The gunman had reportedly been called into a meeting to be fired when he opened fire. Six others, including five police officers, were injured during the killer's rampage. The gunman, 45, was shot and killed at the scene.
What's the story?
Terra Pinkard called the plant when she couldn't reach her husband.
"I called his plant and a lady answered and said she was barricaded in her room and police were everywhere. Of course, my heart dropped," Pinkard wrote.
The mother of three picked up her children and attempted to go to her husband's plant, but the roads were closed.
"I drove to the nearest hospital. He wasn't there. I drove to the second nearest hospital. Not there. While waiting there on news, chaplains, my pastor, neighbors, his coworkers came to sit with me and hold my hand. I waited for hours," Pinkard continued.
She finally got in touch with the Aurora Police who sent her to the staging area for the families of the victims.
"I don't know how my body drove itself there but it did. The police told us there were fatalities. He read my husband's name," she continued. "IWith my pastor's help, since family was still on planes to get to us, I told my children their dad did not make it and is in heaven with Jesus. I've never had to do something that hard."
She described the agony on Facebook she's experienced since her husband's senseless death:
Yesterday was filled with police conferences and visiting a coroner. Every thought in my mind and everything I see reminds me of a precious memory of my husband. I've been asked so many times by the media to talk about him. I literally can't talk out loud about this lovely man without breaking down in sobs. I'm crying now as I write this.

I want to shout from the rooftops about how amazing Josh was! He was brilliant! The smartest person I've ever met! My best friend! The man I would have leaned on during devastation like this who would tell me it's ok Terra, it is all going to be fine.
"The man who was dying and found the clarity of mind for just a second to send me one last text to let me know he would always love me," Pinkard said her husband's final moments. "This unbelievable person was robbed from us."
Pinkard added that she is grateful for the outpouring of love that she and her family have received:
You have covered me, my children, our families with so much love and prayer. It is the only way we are doing it guys. Please continue to pray for my mother in law. This is her second child she will bury. Please pray for my sister in law. Josh was her twin brother. Please pray for my children. They are struggling because they miss a daddy who loved them so much. Please pray that somehow I can put that one foot in front of the other. And again thank you for all the kindness you have shown to us.
What else?
White wooden crosses bearing the names of the victims were placed outside the Henry Pratt Company during a prayer vigil Sunday afternoon.
"Just to simply offer condolences is not enough," Aurora Mayor Richard Irvin told the crowd. "It doesn't measure the amount of pain that we feel for the loss that we've experienced in this community."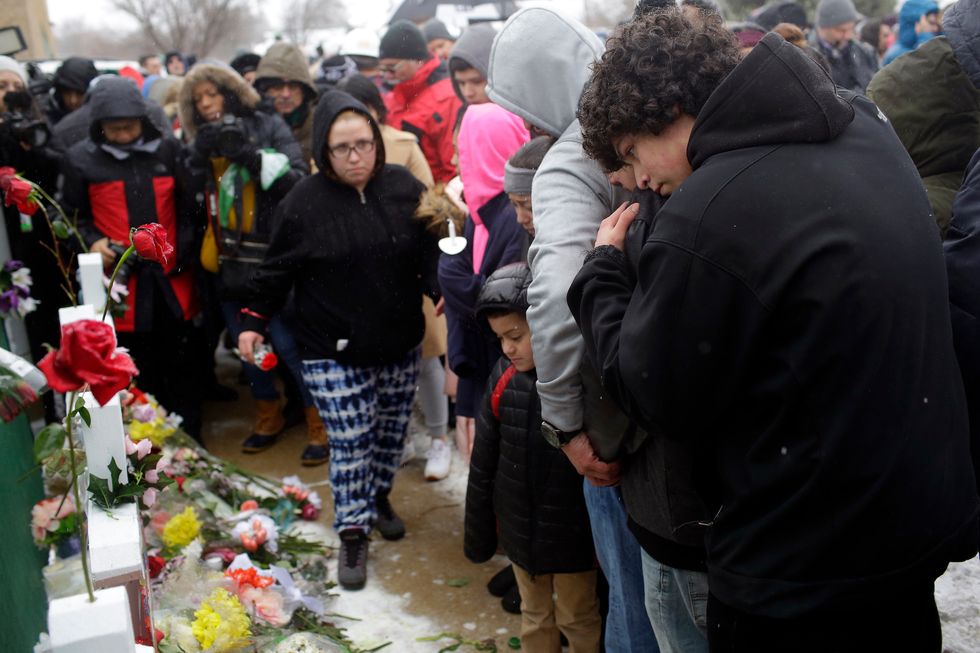 Hundreds gathered for a prayer vigil at Henry Pratt Company to remember those killed during a gunman's rampage.Joshua Lott/Getty Images
As of Sunday, all of the injured officers except for one had been released from the hospital, according to officials.

"One officer remains in good condition at an area hospital where he continues to recover from gunshot wounds to his lower extremity. We are hopeful for his release soon," the police department wrote in a release on Facebook.