Could there be redemption in an otherwise "terrible" pro football moment?
Chicago Bears kicker Cody Parkey lined up for a 43-yard field goal with 10 seconds left in a wild-card playoff game against the Philadelphia Eagles on Sunday — and splitting the uprights would have dethroned the defending Super Bowl champs and sent the Windy City into delirium.
But alas, in front of his home crowd, Parkey missed the kick. It hit the left-upright, bounced tantalizingly upon the crossbar, and then landed back on the field.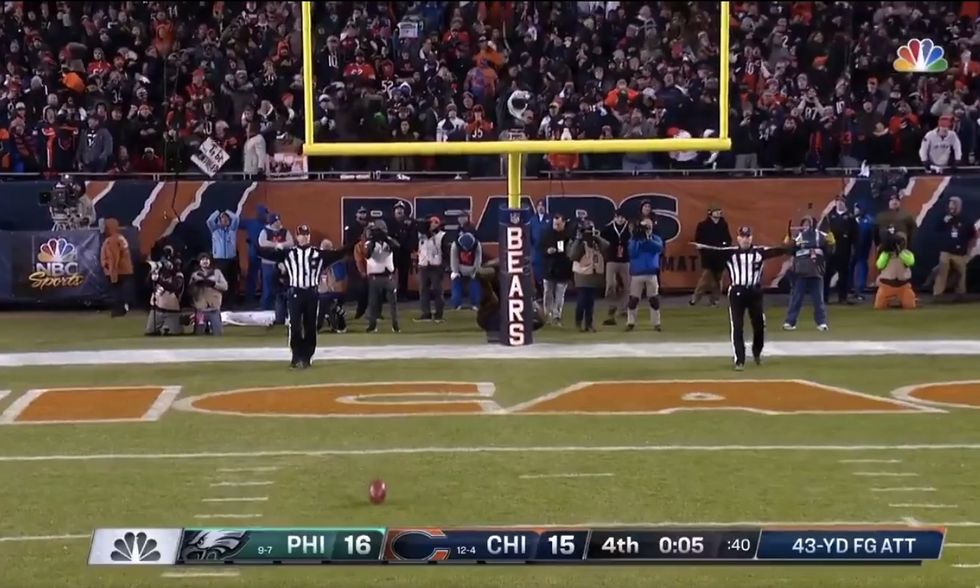 Image source: Twitter video screenshot
No good. Bears lose 16-15.
While there are reports saying an Eagles' player got his hand on the attempt which may have altered its trajectory, Parkey was immediately — and understandably — dejected after his miss.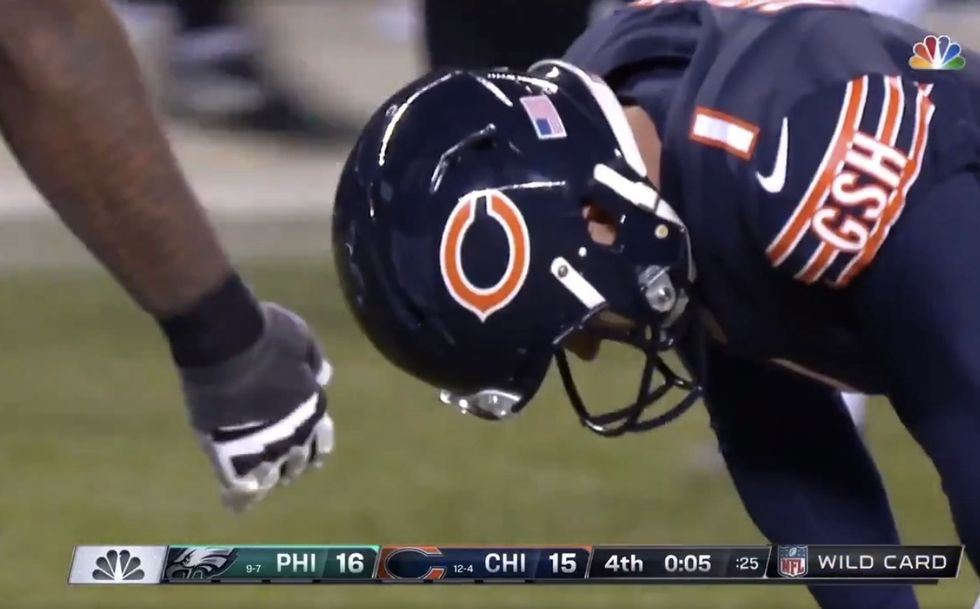 Image source: Twitter video screenshot
But a few seconds later Parkey did something not often seen after a devastating pro-sports mishap: He acknowledged God.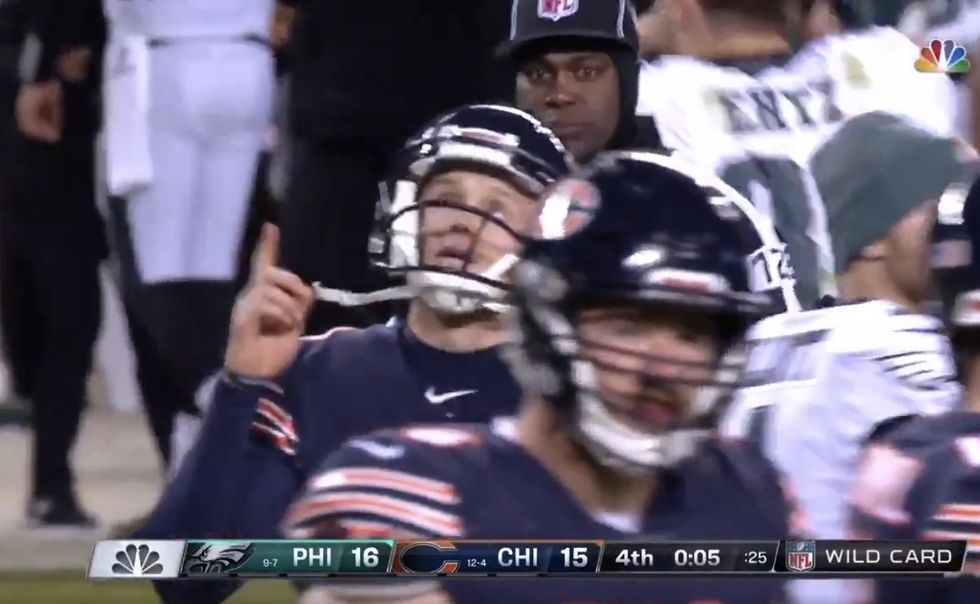 Image source: Twitter video screenshot
Check out the full clip:
DOUBLE DOINK! #FlyEaglesFly https://t.co/F4bJ4ANUuq

— Philadelphia Eagles (@Philadelphia Eagles) 1546822448.0
Many athletes offer the good ol' "point up" to their Maker after incredible touchdown catches, late-inning home runs, and game-winning three-points baskets — but who sends praise to God after things don't go their way?
Well, Parkey did. And others have taken notice.
Former NFL wide receiver Andrew Hawkins posted the following on Twitter: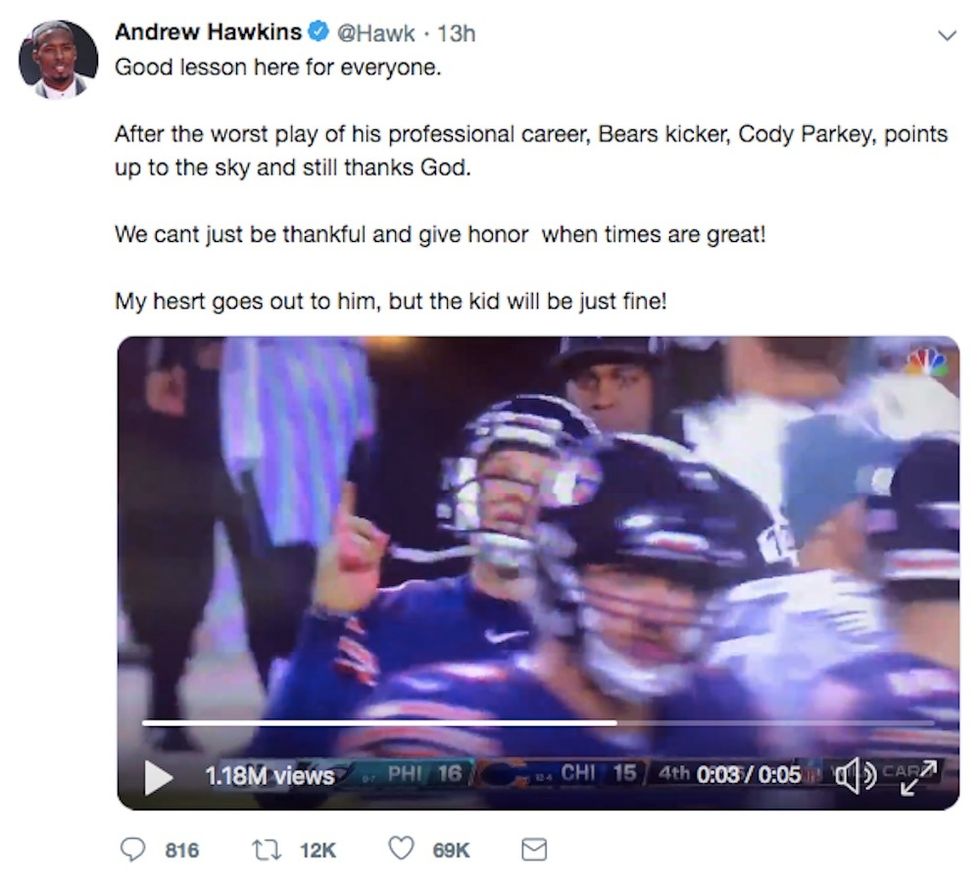 Image source: Twitter
In fact, Parkey gathered with players from both teams for a post-game prayer at midfield:
#HisHuddle #TheIncrease #BiggerThanFootball https://t.co/hiEy8SDis8

— Sports Spectrum (@Sports Spectrum) 1546822587.0
What did Parkey have to say after the game?
In the locker room, Parkey spoke to reporters and said he felt "terrible" over his missed field goal and took responsibility for the loss — but managed to put the whole thing into "perspective."
Cody Parkey answered postgame questions like a true professional 👏 https://t.co/7VUpTHh8Y8

— SportsCenter (@SportsCenter) 1546837753.0
"The sun's gonna shine tomorrow, life's gonna go on, and unfortunately this is gonna sting for a while," Parkey added.
He also said his teammates encouraged and supported him after his miss.
And amid the predictable flurry of vitriol pointed at Parkey after his failed kick — much of it downright embarrassing — one of his teammates offered a stark retort for haters.
"What would my message be? 'F*** you,'" Bears tackle Charles Leno said. "'You're not in our position. You don't know how hard this s**t is.'"
'My Lord and Savior Jesus Christ makes no mistakes'
After a game against the Detroit Lions in November — during which Parkey hit the uprights a whopping four times amid four failed field-goal attempts — he had this to say:
"I mean, this is my job, this is what I'm supposed to do, and I'm missing out there," Parkey told the Chicago Sun-Times. "I've got just to trust in what I'm doing and trust that my Lord and Savior Jesus Christ makes no mistakes. For whatever reason, that was the day I was supposed to have."
But not unlike the haters who went after him following Sunday's missed field goal, a blogger known as the Friendly Atheist had nothing but scorn for Parkey's reasoning after his four-miss game in November: "Yes, Jesus was sitting there with his blueprint for Parkey's life and figured the kicker would miss those points in the strangest possible way. Because that's more of a pressing issue than people dying of starvation."
This writer's perspective
Sure, there are probably quite a few folks giggling over Parkey's "point up" to God after his missed field goal — and no shortage of fans who hate his guts for failing to usher the Bears into the divisional round.
But despite all that, there is indeed redemption amid Parkey's missed kick. And him pointing to the One who gave him the ability to kick a football in the first place is all others will need to see as they in turn consider their own relationships (or lack thereof) with God.
And if some of them — even the likes of our Friendly Atheist blogger — are moved to turn to Christ, Parkey's missed kick will have been worth it.
And he'd be the first to agree.