The Black Lives Matter organization says "I don't f*** with" Kyle Rittenhouse after he said that he's not a white supremacist and the he actually supports the BLM movement.
What are the details?
In his first televised interview following his Friday acquittal, Rittenhouse said that the case had "nothing to do with race."
"It never had anything to do with race," he told Fox News' Tucker Carlson. "It had to do with the right to self-defense."
Elsewhere during the Carlson interview, Rittenhouse said, "I'm not a racist person. I support the BLM movement. I support peacefully demonstrating."
The Black Lives Matter official Twitter page acknowledged Rittenhouse's remarks in a Monday post and tweeted, "Alexa play: I don't f*** with you," featuring a gif with acronym "IDFWU."
The remarks accompanied a Newsweek article with a snippet that read, "'I'm not a racist person. I support the BLM movement. I support peacefully demonstrating,' Rittenhouse said during his first TV appearance since his acquittal."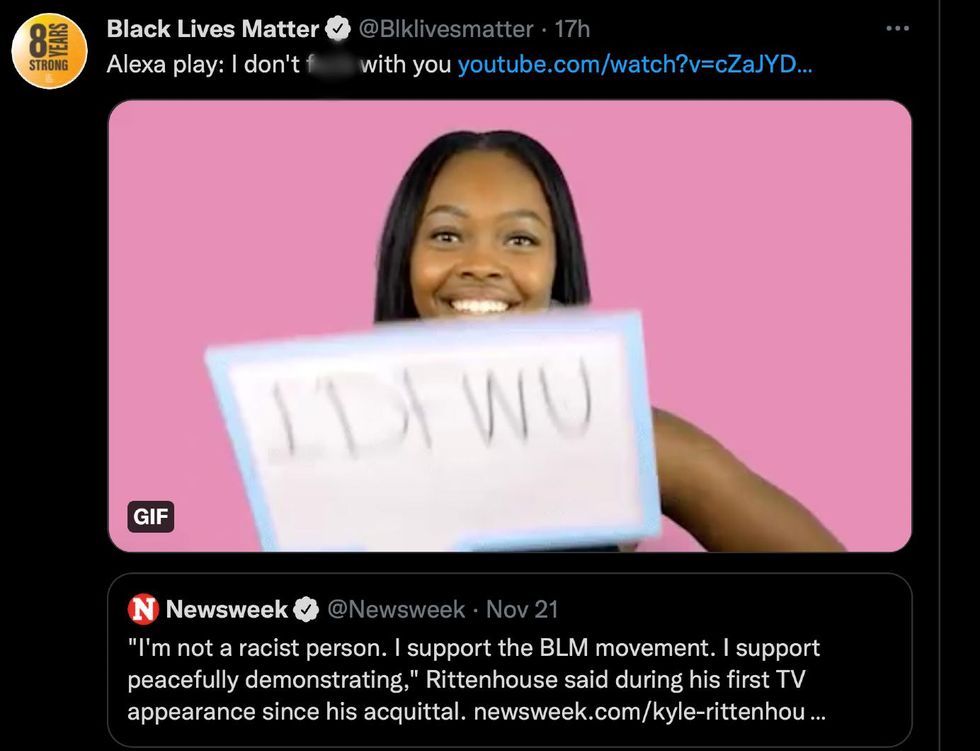 Image source: Twitter video screenshot
What else?
In a statement following Friday's verdict, the group said, "We are not shocked. Today's not-guilty verdict is expected when white supremacy lives and breathes within our institutions. It is a reminder of how our legal systems are deeply rooted in white supremacy."
"It was a set up from the beginning," the statement continued. "The police, the judge, the court, mainstream media, and every single system involved all wrapped their arms around Kyle Rittenhouse from the very beginning — from even before the murders he committed. What this verdict reminds us of is that this is a nation deeply rooted and still very committed to white supremacy, and we must continue to fight against it."
That same day, the group's account tweeted, "[T]he little racist/terrorist kyle rittenhouse represents the exact kind of white-supremacist vigilante violence that we've seen before — with the acquittal of George Zimmerman in the murder of #TrayvonMartin."
"It brought us into the streets more than 8 years ago and birthed #BlackLivesMatter. Today is another reminder that we're far from achieving our abolitionist future. But rest assured, we will get there. We will win. #EndWhiteSupremacy."
It brought us into the streets more than 8 years ago and birthed #BlackLivesMatter. \n\nToday is another reminder that we\u2019re far from achieving our abolitionist future. But rest assured, we will get there. We will win. #EndWhiteSupremacy

— Black Lives Matter (@Black Lives Matter) 1637373145