The man did not have a serious illness or "the capacity to make informed decisions about his own personal health."
"Most of the MAID is provided by people like me who have become specialists in MAID," Wiebe said in the seminar, adding that "it's the most rewarding work we've ever done."
Wiebe declined to be interviewed regarding her statements in the seminar; however, she responded with a comment saying "it is rare for assessors to have patients who have unmet needs, but it does happen. Usually these unmet needs are around loneliness and poverty."
"As all Canadians have rights to an assisted death, people who are lonely or poor also have those rights," she added.

Stefanie Green, a physician from British Columbia, Canada, who specializes in euthanasia told the New Atlantis that "offering the option of an assisted death is one of the most therapeutic things we do."
Green has found the job to be easier over time. "Writing scripts and picking up lethal drugs and driving across town" isn't a shocking ordeal to her anymore, she says, remarking that "it's oddly okay for [her] to be doing that."
Green formerly worked as an obstetrician and compares delivering babies to euthanasia in her book "This Is Assisted Dying," seeing similarities between the two "deliveries."
"At both 'deliveries,' as I call them, I am invited into a most intimate moment in people's lives."
Green also assured her interviewer that the MAID procedure "is 100% effective."
According to the Daily Mail, in 2021, 486 people used California's assisted suicide program, while in the same year, the MAID program assisted in the deaths of 10,064 Canadians.
When comparing 2021 MAID numbers to 2020, the number of people using the service increased by nearly 2,500. The number of people euthanized in Canada has increased each year since 2016, with over 31,000 deaths in the five-year period.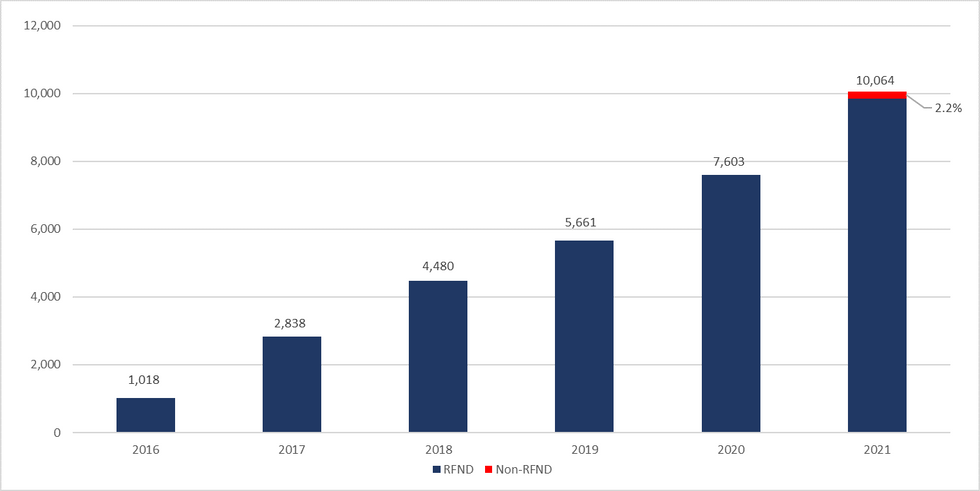 Total MAID Deaths in Canada, 2016 to 2021Government of Canada / Canada.ca