© 2023 Blaze Media LLC. All rights reserved.
Canadian pastor arrested again; prosecutor claims Artur Pawlowski influenced truckers to keep protesting after they agreed to stop: 'Overt threat to violence'
Canadian pastor Artur Pawlowski — who's made numerous headlines for nearly a year over his opposition to COVID-19 restrictions — was arrested yet again last week after giving an "impassioned" speech to truckers that a prosecutor said influenced them to continue protesting after they had reached an agreement to stop and also incited violence, CBC News reported.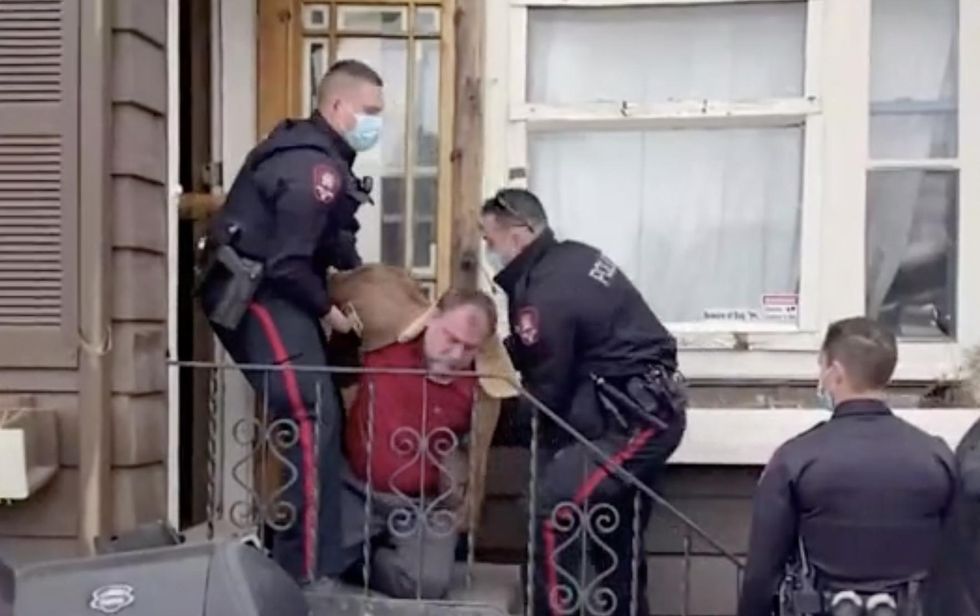 Image source: Rebel News video screenshot
What are the details?
Protesters on Feb. 3 made a deal to leave the border crossing at Coutts in Alberta and go to Edmonton, the network said.
But that day Pawlowski gave what prosecutor Steven Johnston called an "impassioned" 20-minute speech to protesters, telling them to not give up and that there weren't enough police to deal with them, CBC News added.
"Less than two hours after reaching a deal to end the blockade and take it to Edmonton, truckers changed their minds," Johnston said in his argument that Pawlowski should be denied bail, the network noted.
During his speech inside Smugglers Saloon in Coutts, Pawlowski implored the truckers to stay and "hold the line." And while he did say "if this is our Alamo, then so be it," the pastor more than once said the truckers should protest peacefully and that their sheer numbers and trucks are enough.
"You have the power now," he also said, noting that he and others in the province "just want to be left alone."
"Hold the Line, Stand your Ground!" The speech that Fired up the Truckers by Pastor Artur Pawlowskiwww.youtube.com
However, Johnston called Pawlowski's words an "overt threat to violence," CBC News said.
Defense lawyer Chad Haggerty said "at no time did [Pawlowski] tell them to block the roads; he told them to remain and protest," the network reported.
What are the charges against the pastor?
Pawlowski was charged with mischief over $5,000 and interrupting the operation of essential infrastructure in a manner that renders it inoperative, CBC News reported, adding that since his Feb. 7 arrest, Pawlowski's supporters have raised $26,000 for his release and legal fees.
His bail decision should be reached this week, the network said, adding that if Pawlowski is convicted, he could face a fine of up to $10,000 plus six months in jail.
'He's never gonna back down'
Pawlowski's lawyer said his client remains in solitary confinement for 23 hours per day at the Calgary Remand Centre, Fox News reported, adding that vigils have been organized at Canadian embassies in the United States to protest the pastor's treatment.
Standing outside the prison, Pawlowski's son Nathanial told Rebel News "he's never gonna back down."
"They might as well lock him up and throw away the keys or put a bullet in him, because he's never gonna back down," he also told the outlet, adding that his father said his cell is "the most disgusting thing he's ever seen; it looks like it hasn't been cleaned in 10 years."
Nathanial Pawlowski also told Rebel News that his father's treatment is "only going to feed the flame and expose what this is really all about" and that "it's about control, it's about bowing to the government, it's about tyranny — it has nothing to do with safety or public health or the law."
Anything else?
Rebel News said Pawlowski has now been arrested five times over his opposition to the COVID-19 restrictions.
He first went viral last spring for kicking "Nazi" police officers out of his church and then after his arrest in May — handcuffed on his knees in the middle of a highway — for holding a service in defiance of COVID-19 mandates:
A heavily-armed SWAT team just took down a Christian pastor heading home from church. Police say he\u2019s charged with \u201cinciting\u201d people to go to church. This is the second pastor jailed this year. We\u2019re crowdfunding his lawyers at http://www.SaveArtur.com\u00a0pic.twitter.com/RZ913cQns3

— Ezra Levant \ud83c\udf41\ud83d\ude9b (@Ezra Levant \ud83c\udf41\ud83d\ude9b) 1620516112
In September he was arrested in headline-grabbing style on a Calgary International Airport tarmac, reportedly for contempt of court. In the wake of that arrest, he warned Americans that if they don't rise up, Soviet-style tyranny is "coming for you."
Last October, a judge ordered that Pawlowski must preach "science" as part of his sermons during probation.
Want to leave a tip?
We answer to you. Help keep our content free of advertisers and big tech censorship by leaving a tip today.
Sr. Editor, News
Dave Urbanski is a senior editor for Blaze News.
DaveVUrbanski
more stories
Sign up for the Blaze newsletter
By signing up, you agree to our
Privacy Policy
and
Terms of Use
, and agree to receive content that may sometimes include advertisements. You may opt out at any time.