A Catholic group disinvited a Democratic New York lawmaker from its St. Patrick's Day parade and related festivities after learning he voted in favor of the state's radical measure allowing abortions in some cases up to the point of birth.
The Ancient Order of Hibernians JFK Division IV also asked state Sen. James Gaughran to resign his membership, Huntington Now reported.
"The membership is dismayed that a member of their order could vote for such a law that in fact allows for infanticide," the group's chaplain, the Rev. Msgr. Steven R. Camp, wrote in a letter to Gaughran, the outlet said. "This law violates all the principles the AOH has ascribed to since its founding, adherence to our Roman Catholic faith, and the security of the Irish race."
Camp's letter also said the group voted unanimously to rescind Gaughran's invitation to the annual Grand Marshal dinner dance on Friday and then the parade, which took place Sunday, the outlet added.
Pushback

Gaughran — who took office in January — took issue in a return letter to Camp, who is also pastor of St. Patrick's Church in Huntington, the outlet said.
"While the leadership of the Archdiocese fervently fought against and protested passage of the Child Victims Act, a bill to provide justice for individuals molested as minors, and a path to legal recourse against their abusers, my personal beliefs demanded that I vote in the affirmative," Gaughran said, the outlet reported. "On this issue, and that of the Reproductive Health Act, I have no regrets."
The new state senator added that he's hasn't renewed his membership in the group and doesn't consider himself an active member, the outlet reported.
"To be honest, I do not see how any elected public official could faithfully uphold their fidelity to their Constitutional Oath while participating in an organization that requires specific votes based explicitly upon religious views or litmus tests," Gaughran added, the outlet said.
What else?
Friction between New York politicians and church officials over the Reproductive Health Act wasn't limited to Gaughran and Camp. In fact, Catholics called for New York Gov. Andrew Cuomo to be excommunicated from the church after he signed the bill into law. But Cardinal Timothy Dolan of New York said in a statement that excommunication over politics is a bad idea.
Then in a New York Times op-ed, Cuomo criticized the Catholic Church for its abortion position — even singling out Dolan, the Archbishop of New York, and linking him with the "religious right."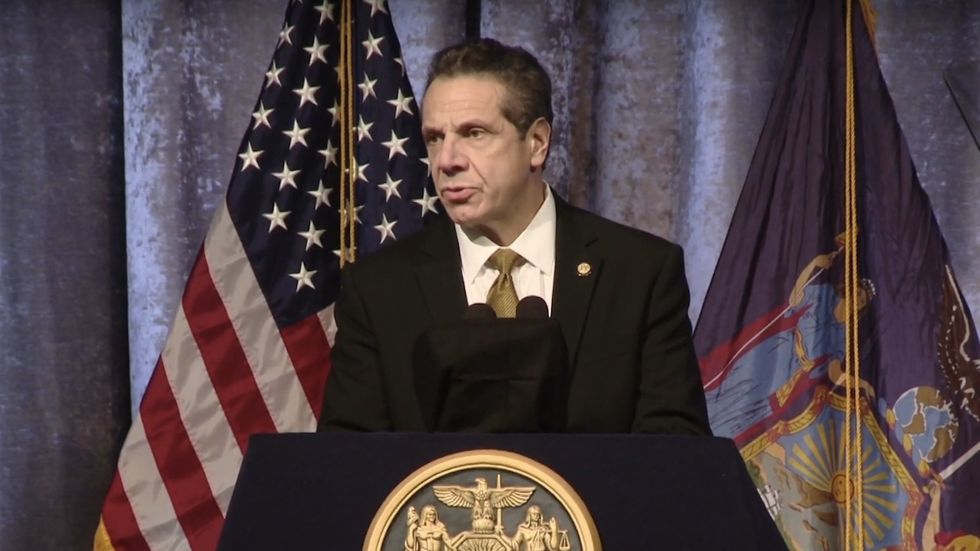 Image source: YouTube screenshot
With that, the gloves were off — and Dolan shot back at Cuomo.
"He did not consider me part of the 'religious right' when seeking my help with the minimum wage increase, prison reform, protection of migrant workers, a welcome of immigrants and refugees, and advocacy for college programs for the state's inmate population, which we were happy to partner with him on, because they were our causes too," Dolan wrote in a blog post on his personal website. "I guess I was part of the 'religious left' in those cases."
Dolan also criticized Cuomo for "hiding" behind politically charged words versus debating policy issues on merit.
"Debate abortion on what it is," he scolded the governor. "Don't hide behind labels like 'right wing' and 'Catholic.'"
(H/T: Louder With Crowder)