© 2023 Blaze Media LLC. All rights reserved.
Chauvin juror wore BLM shirt with George Floyd references last summer. Now legal experts say it is 'undeniably suggestive of a possible bias.'
New questions have surfaced about the impartiality of a juror who was empaneled for former police Officer Derek Chauvin's trial last month after a picture sparked speculation that he may not have been as unbiased as he told the judge.
What are the details?
During jury selection, Brandon Mitchell — a 31-year-old high school basketball coach who was known as Juror #52 before speaking publicly last week — told Judge Peter Cahill that he only heard "basic info" about the high-profile case, and was certainly not aware of any information that would hinder his ability to serve as an impartial juror.
However, Mitchell was pictured last August wearing a T-shirt that included references to George Floyd's death and Black Lives Matter.

The picture shows Mitchell wearing a shirt with Dr. Martin Luther King Jr.'s picture surrounded by the words "GET YOUR KNEE OFF OUR NECKS" and "BLM." He is also seen wearing a Black Lives Matter baseball cap.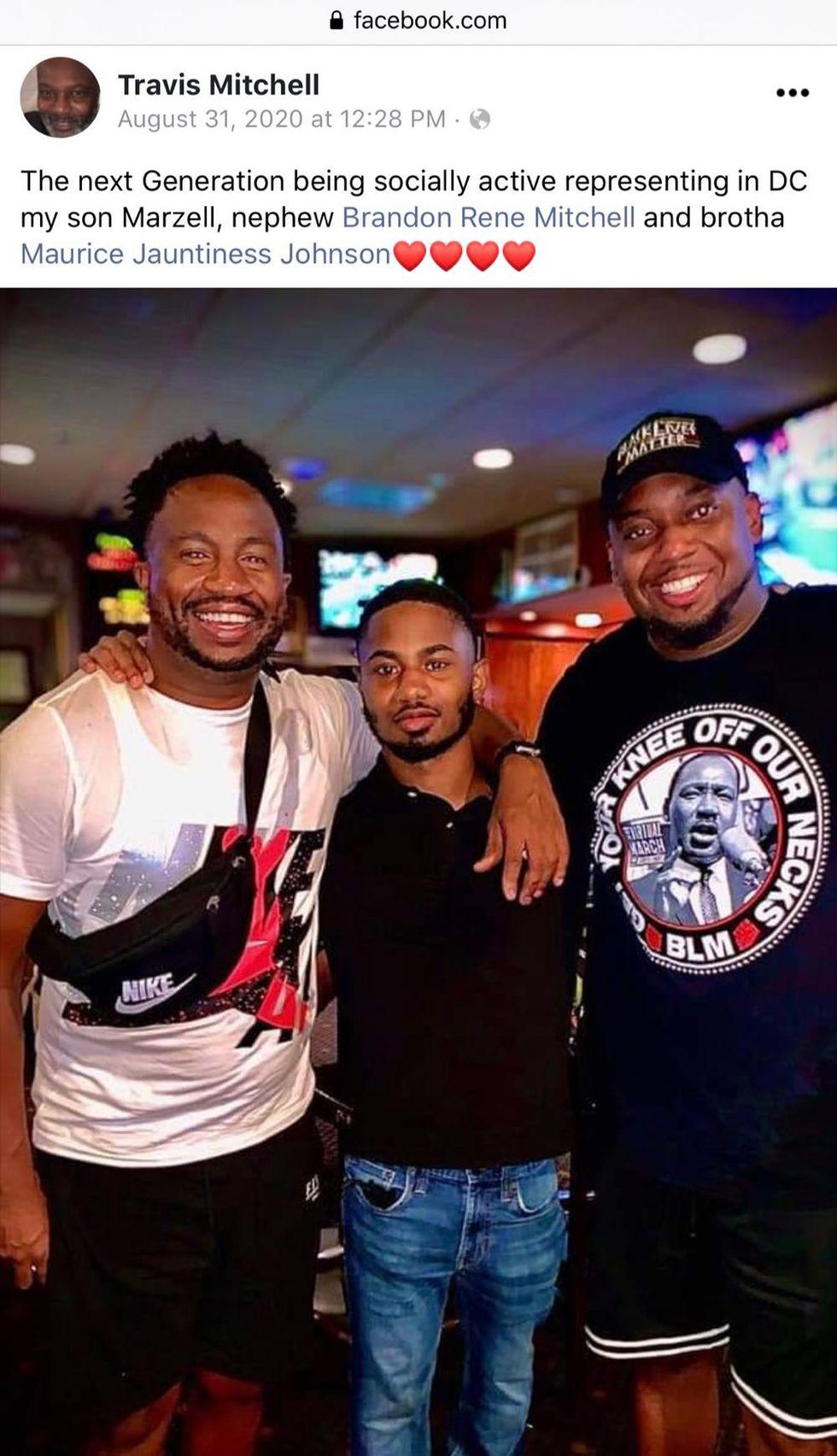 Image source: Facebook screenshot
Mitchell told the Minneapolis Star Tribune he does not remember wearing the shirt but explained the photo was taken during a trip to Washington, D.C., last August when he attended an event commemorating the anniversary of King's famous "I Have A Dream" speech.

"I'd never been to D.C.," Mitchell said. "The opportunity to go to D.C., the opportunity to be around thousands and thousands of Black people; I just thought it was a good opportunity to be a part of something."
"It was directly related to MLK's March on Washington from the '60s … The date of the March on Washington is the date … It was literally called the anniversary of the March on Washington," Mitchell explained.
More from the Star Tribune:
Media accounts of the event show it had several components, including: advocating for racial justice, increasing voter registration, pushing for a new version of the Voting Rights Act of 1965 and urging participation in the 2020 census. The event also focused on police use-of-force. Floyd's brother and sister, Philonise and Bridgett Floyd, and family members of others who have been shot by police addressed the crowd. It served as a rallying point for the George Floyd Justice in Policing Act, a federal police reform bill.
What does this mean for the Chauvin trial?
Despite Mitchell dismissing the Washington event as "a national thing," legal experts agree the picture is problematic.
Jury consultant Alan Tuerkheimer told the Washington Post that Chauvin's attorney will no doubt use Mitchell to argue for an appeal. But the real question will be whether Mitchell provided false answers during jury selection, Tuerkheimer said.
As the Star-Tribune noted, Mitchell answered "no" to questions on the juror questionnaire that inquired whether he participated in demonstrations "against police brutality" in Minneapolis or whether he or anyone close to him "participated in protests about police use of force or police brutality."
"That could change the outcome of things; if there is anything that makes him seem that he was not forthcoming, it could be an avenue for the judge to reconsider the case," Tuerkheimer said.
Civil rights attorney Brian Dunn agreed the real concern is whether Mitchell "lied about, or failed to provide complete answers on whether he has engaged in public activism, or whether he has any affiliations with BLM that go beyond the mere wearing of the shirt."
"If it is determined that the juror did not provide full disclosure to the defense, the question then becomes whether this lack of candor violated Mr. Chauvin's right to a fair trial," Dunn told the Post, adding the photo is "undeniably suggestive of a possible bias in this juror."
"If [Mitchell] specifically was asked, 'Have you ever participated in a Black Lives Matter demonstration,' and he answered, 'No,' to that, I think that would be an important appealable issue," Joseph Daly, emeritus professor at Mitchell Hamline School of Law, similarly told the Star Tribune.
Derek Chauvin trial Juror 52 speaks out about proceedings, deliberating a guilty verdictwww.youtube.com
Want to leave a tip?
We answer to you. Help keep our content free of advertisers and big tech censorship by leaving a tip today.
Staff Writer
Chris Enloe is a staff writer for Blaze News
chrisenloe
more stories
Sign up for the Blaze newsletter
By signing up, you agree to our
Privacy Policy
and
Terms of Use
, and agree to receive content that may sometimes include advertisements. You may opt out at any time.