Once again slow-to-learn crooks are reminded that they never quite know who they're messing with.
And alas, an upstanding trio rolled the dice Saturday night in Houston, pulling guns on a pregnant woman and her boyfriend at an apartment complex, KTRK-TV reported.
"We don't know them at all," the woman told the station. "I feel like it wasn't supposed to be us."
She told KTRK they were ordered to head inside their apartment, and the suspects followed.
"I was shaking," she added to the station. "I was really shaking. My hands starting sweating. I started sweating real bad. I started stuttering, shaking, and I was just telling them not to hurt me because I'm pregnant."
But once inside the apartment, her boyfriend grabbed a gun and started shooting, KTRK said.
Doorbell surveillance video showed the moment gunfire commenced, after which two of the three suspects hightailed for less-lethal pastures.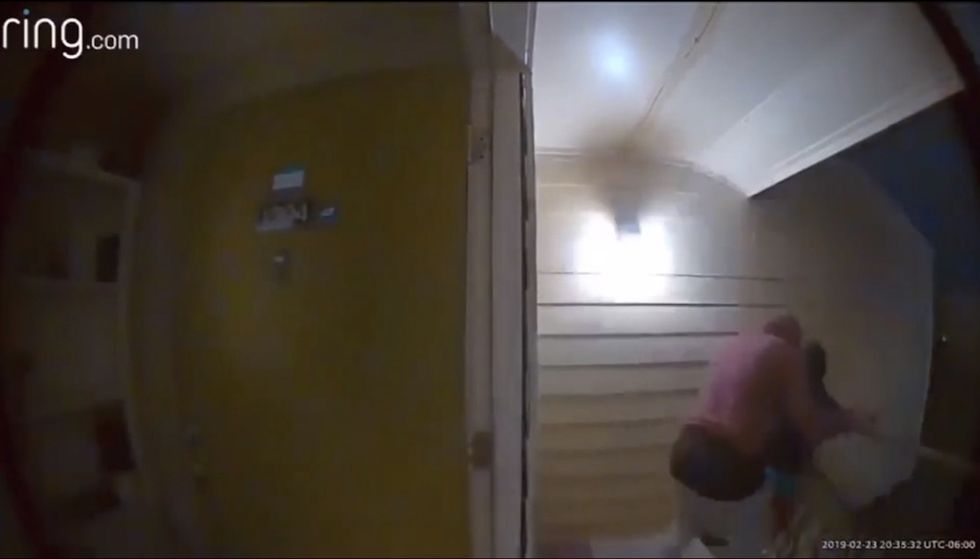 Image source: KTRK-TV video screenshot
Anything else?
The woman's boyfriend was shot in the stomach, and his liver was injured, the station said, but he's expected to be OK.
Police noted that one of the suspects, Xavier Griffin, was shot in the knee and arm and was placed under arrest, KTRK said. He was charged with aggravated robbery with a deadly weapon, the station added, but no court appearance has been set since he's still in the hospital. Officers are still looking for the other two suspects who are believed to have fled in a four-door Buick, KTRK said.
The pregnant woman told the station she and her baby are fine — but the experience was unnerving, to say the least.
"Now, everywhere I go I'm always like looking who's behind me or who's near me, or if I see someone pass by, it's traumatizing because I feel like they're going to attack me again," she told KTRK.
The pregnant woman added that the crime against her and her boyfriend is "unforgivable They do deserve jail time, a lot of years I say. Not even freedom, because why would you do that to a pregnant woman?"