Democrats walked off the floor of the Virginia House of Delegates Tuesday morning after a pastor invited to give the day's opening prayer condemned abortion and gay marriage, the Virginia Mercury reported.
What are the details?
Video of the prayer by the Rev. Dr. Robert M. Grant Jr. of The Father's Way Church shows a pair of women to his right making strained faces at the chamber as Grant dove right into hot-button issues and implored elected officials to abide by biblical principles and not "provoke" God's "anger and bring wrath upon this state."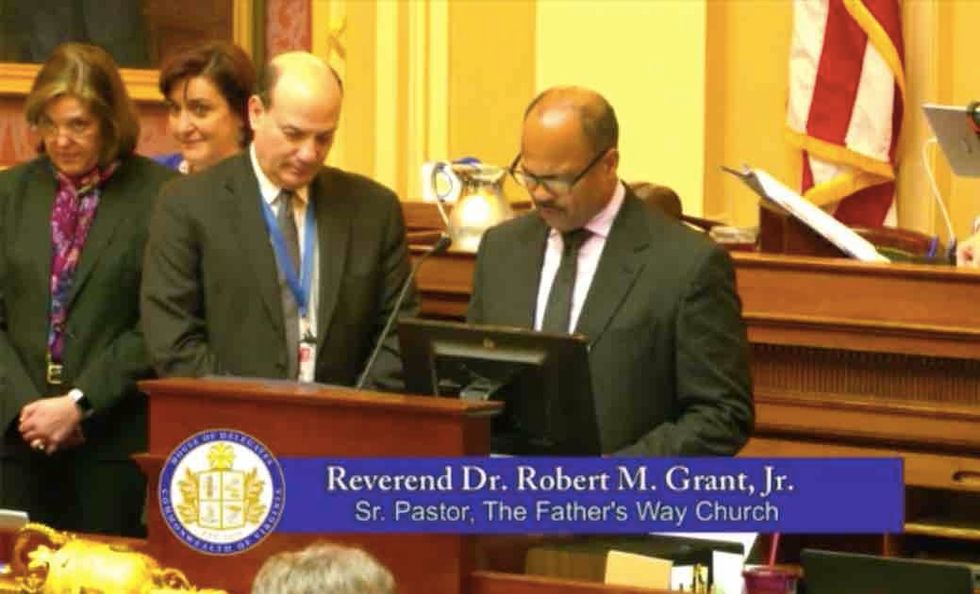 Image source: Virginia House of Delegates video screenshot
"Is this a prayer or a sermon?" a delegate yelled from the Democratic side of the chamber, the Mercury reported.

Grant — who had been invited by Republican Del. Michael Webert — also asked, "Why are there so many abortion facilities near African-American communities? This is planned urban genocide ... this needs immediate attention."
At one point someone hollered "amen" apparently in support of Grant's points.
The pastor also asked the body to protect "biblical traditional marriage, as God instructed the first man and the first woman in the Bible," warned them to "never rewrite what God has declared," and stated that marriage is between biological males and biological females.
Video doesn't show Democratic delegates departing at that point, but the sound of individuals walking is audible.
Democratic Speaker Eileen Filler-Corn ended the pastor's prayer by banging her gavel and moving right into the Pledge of Allegiance, the paper said. It appeared that Grant hadn't completed what he planned to say.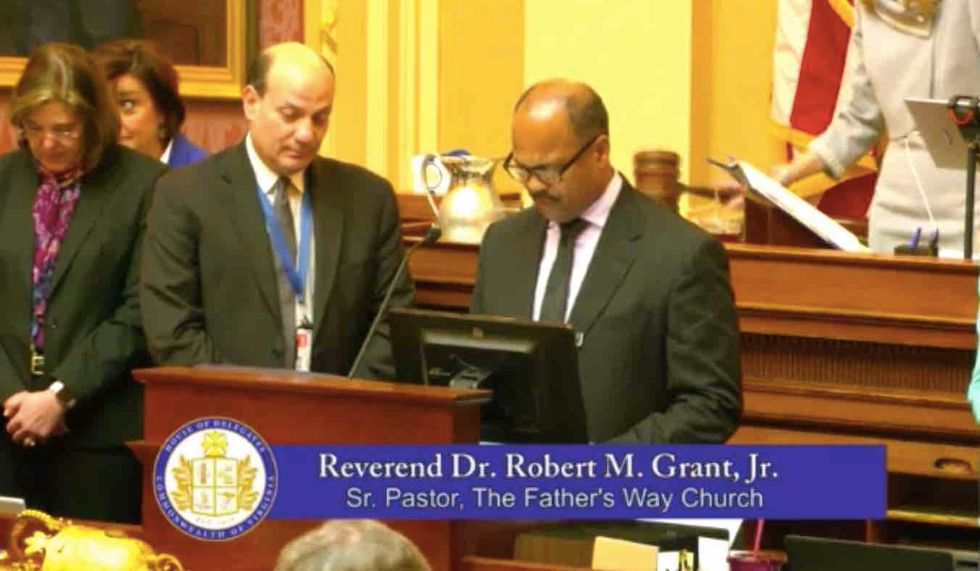 Image source: Virginia House of Delegates video screenshot
Afterward, Grant stood by his prayer and called the Democratic response "unprofessional," the Mercury reported.
"I think that the statehouse belongs to all the citizens. And all the citizens have a voice," Grant said, according to the paper. "If it's my turn to have a voice, and I am a pastor, what do you expect from me? If you don't want to hear what a pastor has to say, then don't invite one."
The Mercury added that as Grant walked away, a man accompanying him who declined to give his name asked a group of reporters if they were aware that "sodomy" was once considered an offense worthy of capital punishment.
What did delegates have to say?
"It was totally disrespectful to all of us, all of us in this House," Democratic Del. Luke Torian of Prince William — also a pastor — told the paper. He added to the Mercury that "most of the clergy that come here have been very respectful of the opportunity extended to them. And every now and then you get someone that goes off the rail."
While Webert declined to comment to the Mercury, another Republican — Del. Matt Fariss of Campbell — said Grant's prayer was inappropriate.
"I don't know if he was ill-instructed or didn't realize what he was here to do," Fariss said. "This wasn't the place or the time to do all of that. … This is a time we need to be working together and not being divisive."
Democratic Del. Delores McQuinn of Richmond — also a pastor — told the paper that Grant's prayer "felt like condemnation."
Anything else?
The Mercury added that the General Assembly — now under Democratic control for the first time in decades — is advancing legislation to roll back restrictions on abortion and strengthen laws protecting LGBTQ people from discrimination.
Also on Tuesday, Democrats crammed an unpopular gun control bill through the state House that would ban so-called "assault weapons" and criminalize the possession of certain magazines.
(H/T: Life News)