Democratic presidential candidates attended the Iowa Polk County Democratic Party's annual steak fry on Saturday despite lecturing Americans about climate change and the alleged dangers of meat consumption.
In all, 17 of the 19 declared Democratic presidential candidates attended the event, where 10,500 steaks and 1,000 veggie burgers were grilled, according to CBS News.
Many of the candidates even got in on the action themselves, donning aprons and utensils to help run the grill.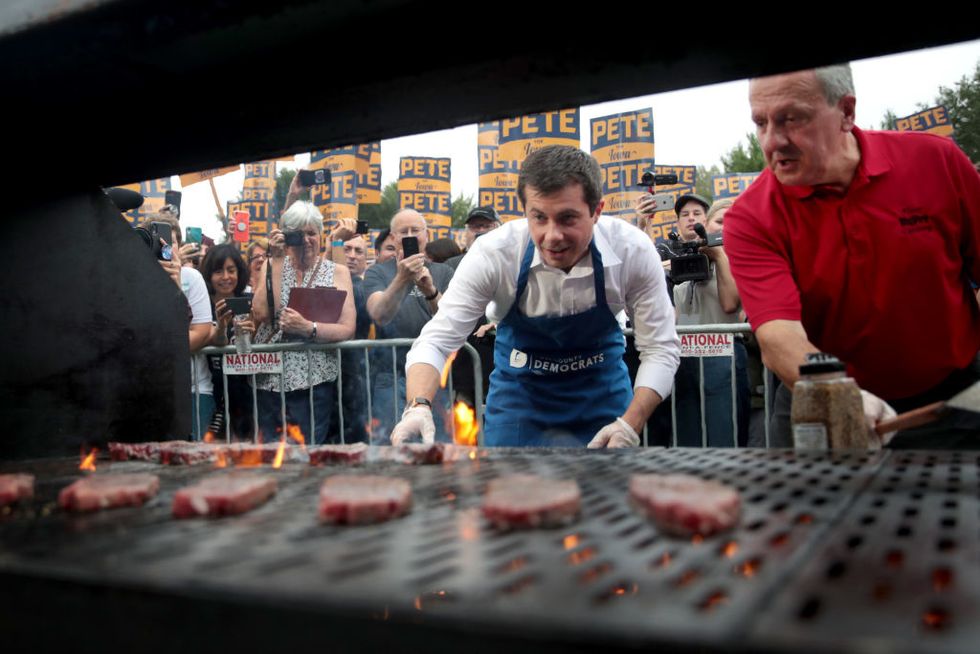 Presidential Candidates Attend Polk County Democrats' Steak Fry In Des Moines Scott Olson/Getty Images
The actions were widely considered hypocritical considering the candidates just recently participated in a CNN town hall on climate change, where they warned about the alleged dangers of meat consumption.

Sen. Kamala Harris (D-Calif.) said at the town hall that she supports changing dietary guidelines to discourage meat consumption. Meanwhile, candidates like Pete Buttigieg and Sen. Bernie Sanders (I-Vt.) have said they support a meat tax. Even Andrew Yang has said he supports increasing the price of red meat to make it less accessible.
On Saturday, the Iowa Republican Party seized on the apparent hypocrisy, saying the Democratic candidates "have turned themselves into a laughing stock with their outrageous 'misteaks' and out-of-touch proposals."
"The Steak Fry will be a great opportunity for caucus-goers to grill 2020 Democrats on their extreme policies that would limit Iowans' freedoms and liberties," the party chairman said in a statement, according to the Washington Examiner. "As they continue butchering their positions, it's clear the Democratic agenda would steer us in the wrong direction."