© 2023 Blaze Media LLC. All rights reserved.
Dog owner punched, put in headlock, knocked to floor in apparently unprovoked assault in 7-Eleven — and attackers take her dog. But there's a happy ending.
A dog owner was punched, put in a headlock, and knocked to the floor of a north Hollywood, California, 7-Eleven early Tuesday morning in an apparently unprovoked assault — and the attackers made off with the woman's dog.
But the ending of this tale is a happy one.
What are the details?
The dog owner told KNBC-TV she entered the store in the 11100 block of Burbank Boulevard just before 1 a.m. with Drake — her 11-year-old pit bull/Rhodesian ridgeback mix, who was on a leash — to get money.
"She was approached by a female and male suspect who indicated that they didn't like the way she was treating her dog," Los Angeles Police Department Detective Ryan Lee told KABC-TV. "There were no other words exchanged. The victim then went to use the ATM machine that was inside of the market. And then, with her back turned, she was attacked."
The dog owner — who went only by her first name, Liat — told KNBC the woman put her in a headlock and punched her while a man hit her in the back. The man was seen on video pulling the leashed dog away from the victim and walking down a store aisle.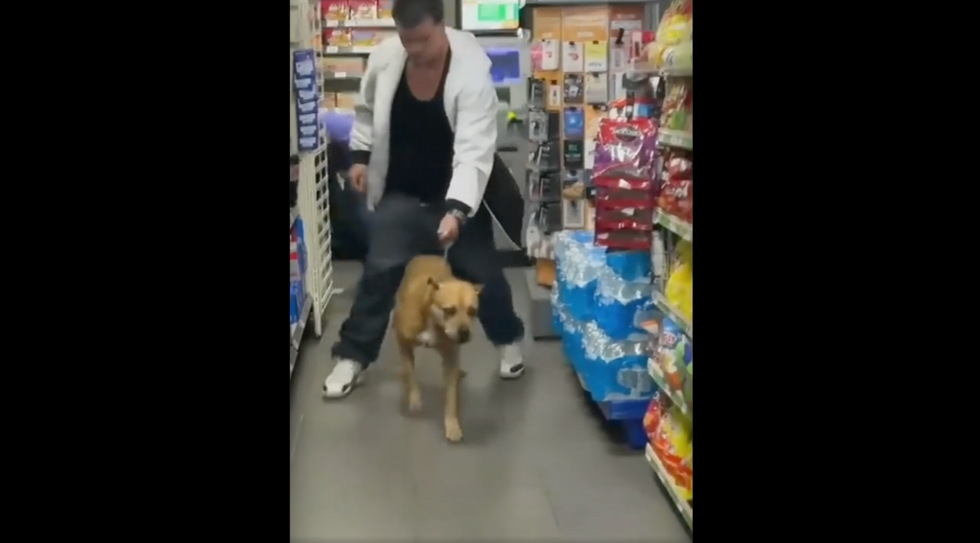 Image source: KABC-TV video screenshot
The female attacker continued her assault on the victim, finally stomping her before also walking away.
After reviewing surveillance videos, police told KABC there was no indication the victim had mistreated her dog.

What happened next?
Operators of an Orange County sober living facility recognized Drake from news reports and confronted the tenants who had the dog in their possession, KABC said.
With that, the suspects fled from the facility, leaving Drake with the operators, who then called the Orange County Sheriff's Department, who in turn contacted the LAPD, according to KABC.
Drake didn't appear to be in distress, KABC reported — and the dog was reunited Thursday night with Liat, KNBC said.
Image source: KABC-TV video screenshot
The LAPD said the motive for the attack and the identities of the attackers remained unknown, KABC reported. Federal law restricts the sober living facility from releasing the tenants' names, KABC added
But the woman involved in the attack was in custody, KNBC reported, adding that the man remained on the loose.
Liat — a 47-year-old massage therapist who told KNBC she served in the Israeli defense forces — was left with an injured hand after fighting for control of Drake's leash.
Kris Kelly of the Kris Kelly Foundation — a nonprofit that works to save animals from abuse — told KABC that Drake's breed is a desirable one for thieves looking for bait dogs.
"They look for dogs like this because they're flat-coated," Kelly added to KABC. "They don't need them to be fighters; they need them to be bait."
Like Blaze News? Bypass the censors, sign up for our newsletters, and get stories like this direct to your inbox. Sign up here!

Want to leave a tip?
We answer to you. Help keep our content free of advertisers and big tech censorship by leaving a tip today.
Sr. Editor, News
Dave Urbanski is a senior editor for Blaze News.
DaveVUrbanski
more stories
Sign up for the Blaze newsletter
By signing up, you agree to our
Privacy Policy
and
Terms of Use
, and agree to receive content that may sometimes include advertisements. You may opt out at any time.