UPDATE, 10:23 p.m. EST: Broward County Public Schools issued the following statement Thursday evening "in response to criticism about a Wilton Manors Elementary School field trip."
Wilton Manors Elementary School offers a Unit of Inquiry called, "How we organize ourselves." In the unit, students learn about neighborhood safety, community helpers, the importance of being a community member, what it takes for a community to be successful, different jobs in a community, and social skills when interacting with others.

They also visit a local restaurant, Rosie's Bar and Grill, which is within walking distance from the school and opens early for the students. The bar and restaurant was not open to the general public while students were present inside. When the business opened, students transitioned to a separate, outside location to order and eat their meals. The students order their meals from a student-friendly paper menu that has three child-friendly choices (see attached student menu). They learn about the types of jobs involved in operating a restaurant, how to pay for their meal, and how to leave a tip for the service they receive. In addition, as part of the field trip, the Wilton Manors Police Department provides traffic assistance for the students so they can see and learn about the different ways police officers support the community.
The district also provided the menu the students used for their visit to Rosie's Bar & Grill: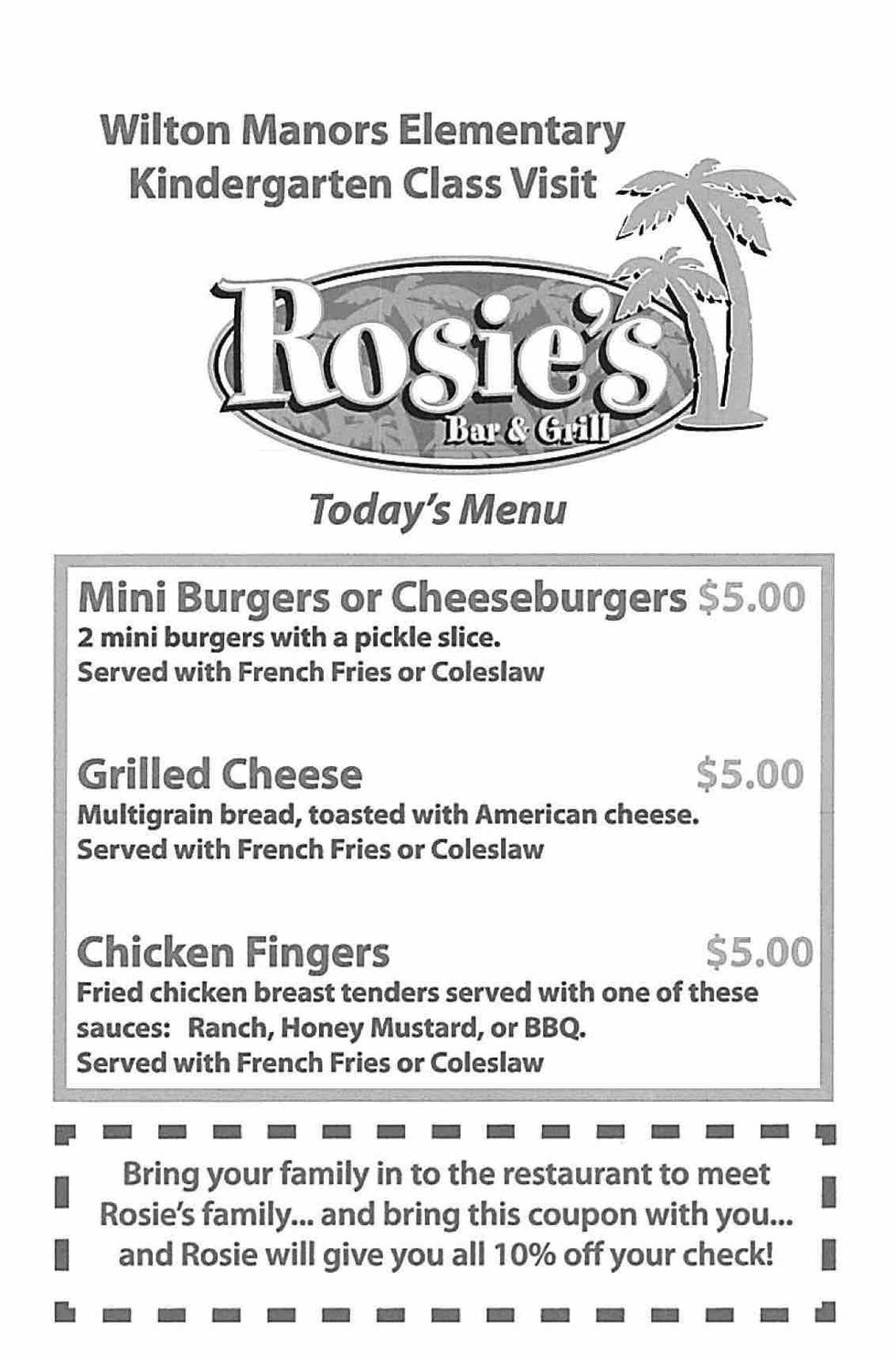 Image source: Broward County Public Schools
Original story below
A Florida public elementary school sent students to a gay bar for a field trip, and the school district on Thursday told TheBlaze that parents were aware of the destination and signed permission slips.
What are the details?
Sarah Leonardi — a board member for Broward County Public Schools, which notes it's the sixth-largest school district in America — said Wednesday she was a chaperone on the field trip to Rosie's Bar & Grill involving Wilton Manors Elementary students:
"I was SO honored to be invited to chaperone @WiltonManorsES's field trip to the incredible Rosie's! The students and I had a fun walk over and learned a lot about our community! A huge thank you to @RosiesBnG for hosting this special field trip every year," Leonardi's post read.
It isn't clear who else accompanied the school children to Rosie's, but one of the photos in Leonardi's tweet documenting the trip shows 18 students seated outside of Rosie's along with three adults wearing lanyards. It also appears based on the language in Leonardi's tweet that Rosie's has been an ongoing destination for the field trips.
What do we know about Rosie's?
Rosie's is a well-known gay bar, the Shore News Network reported. The establishment welcomes everybody "whether you are LBGTQ+ or an ally," its website proclaims.
Its menus feature some items with double-entendre names like Motha' Cluckers, Pisa Envy, Sweaty Lovin' (and not to be outdone, Naked Sweaty Lovin') as well as the Ivana Hooker Big Girl burger, the Miley Highclub, and the Young Ranch Hand sandwich.
What did the school district have to say?
TheBlaze on Thursday reached out by email to the district for comment and asked if teachers or staff members also accompanied the students to Rosie's, how many years the trips have been happening, why Rosie's was chosen, and if the trip was connected to educating students about LGBTQ issues.
Later Thursday, TheBlaze spoke to an individual in the district's communications office who confirmed only that parents knew about the field trip to Rosie's and signed permission slips for it. The individual added that the district was preparing a statement on the issue.
Another image in Leonardi's tweet shows students sitting at tables inside the bar and grill apparently listening to people speak in front of them. TheBlaze also asked the district if Rosie's employees spoke to the students as part of the field trip.
What did observers have to say?
Commenters on Leonardi's post were divided in their opinions. Some didn't see any issue with the field trip, such as Twitter user "Gay Lumberjack," who wrote, "People on Twitter clearly have no idea Wilton Manors is the second gayest town in the country after Provincetown. Of all the culture war stuff going on, this is extremely mild."
Another user offered that "people are acting like the manager served the kids a round of stiff mojitos and then talked about gay sex. This is ridiculous."
But others seemed pretty adamant that taking elementary school students to Rosie's wasn't the wisest idea:
Here's a video review of Rosie's:
Rosie's Bar & Grill youtu.be
This story has been updated with a statement from Broward County Public Schools.