ESPN analyst Dan Orlovsky — a "follower of Jesus" as noted on his Twitter bio — prayed out loud for Buffalo Bills safety Damar Hamlin during the sports network's "NFL Live" broadcast Tuesday, an unusual gesture for television.
What did Orlovsky say?
Hamlin, 24, collapsed on the field in cardiac arrest during a Monday Night Football game against the Cincinnati Bengals after he appeared to take a hit to his chest while tackling Bengals wide receiver Tee Higgins.
Orlovsky, a former NFL quarterback, spoke on the "NFL Live" broadcast with fellow analyst Marcus Spears and host Laura Rutledge at the table with him.
"Football gave me everything, you know, and I think even through the midst of the absolute tragedy last night, I think you saw some of the beauty of football as well, that it's brought us all here together," Orlovsky began.
He continued, saying that "this is a little bit different. ... I've heard it all day ... 'thoughts and prayers' ... 'all we can do is pray for him.' I've heard the Buffalo Bills organization say that we believe in prayer, and maybe this is not the right thing to do, but ... it's just on my heart that I wanna pray for ..."
"It is," Spears affirmed.
Orlovsky continued: "... Damar Hamlin right now. I'm gonna do it out loud, I'm gonna close my eyes, I'm gonna bow my head, and I'm just gonna pray for him."
Rutledge and Spears bowed their heads along with Orlovsky.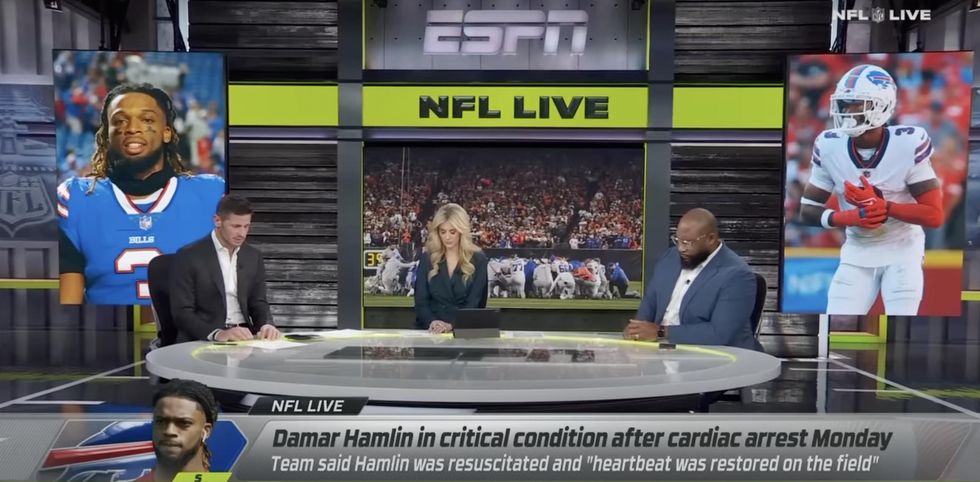 Then Orlovsky began to pray:
God, we come to you in these moments that we don't understand, that are hard, because we believe that you're God, and coming to you and praying to you has impact. We're sad, we're angry, and we want answers, but some things are unanswerable. We just wanna pray, truly come to you and pray for strength for Damar, for healing for Damar, for comfort for Damar, to be with his family, to give them peace. If we didn't believe that prayer didn't work, we wouldn't ask this of you, God. I believe in prayer, we believe in prayer. We lift up Damar Hamlin's name in your name. Amen.
Spears and Rutledge added an "amen" each after Orlovsky's prayer, while Rutledge remarked that it was "beautiful."
Check it out:
ESPN's Dan Orlovsky Praying for Damar Hamlin on NFL Liveyoutu.be
What is the background?

After Hamlin's collapse, medical personnel rushed to the field and gave him CPR and oxygen, after which he was taken by ambulance to the University of Cincinnati Medical Center. He remained in critical condition Wednesday morning.
Players were visibly distraught on the field, the game was paused after the teams' head coaches conferred, and the NFL officially suspended the game around 10 p.m. ET.
Sports Illustrated said Hamlin was on a ventilator at the hospital. Dorrian Glenn, Hamlin's uncle, said Hamlin had to be resuscitated twice, once on the field at Paycor Stadium and once after he arrived at the hospital, ESPN said in an updated story. There is also concern surrounding potential lung damage, the sports network added.
But Glenn told ESPN's Coley Harvey outside the hospital Tuesday evening that Hamlin is sedated and "improving from where he was yesterday." Hamlin's agent, Ron Butler, told ESPN's Jeremy Fowler that Hamlin's oxygen levels have improved.