New Orleans burlesque performer Bella Blue experienced a heavy backlash after she shared a photo on her social media pages featuring a very young female child stuffing money into the dancer's G-string underwear.
After many people criticized her for the photo, the burlesque dancer deactivated her Instagram page, deleted the original Facebook posting, and changed her privacy settings, according to the Pluralist.
What happened?
Blue shared the image to her Facebook page and her Instagram feed and lauded the child's family for being so open-minded as to let their child stuff dollar bills into her thong.
In the post, the dancer shared the photo and expressed her appreciation for parents who aren't uptight.
She wrote, "This little girl was at brunch a few weeks ago and her family was encouraging her to tip and engage with me. It's always so refreshing to see families actively destigmatizing and changing narratives around bodies and sexuality."
"At the end," she continued, "[the child's] mom came up to me and said, 'Thank you for showing her that being a strong woman is OK. And I told her, 'No, no, thank you for exposing her to burlesque and for encouraging her to experience it."
You can see her post, preserved on the internet for posterity, below.
I'm ready for the cleansing fire. https://t.co/qpMNcVkPwf

— Roosh (@Roosh) 1556150871.0
What else?
Blue expressed her anger in a post over the response to the photo.
According to the Pluralist, Blue revealed in a Facebook message that the "hate" she received over the image prompted her to remove it from Facebook. She also encouraged her followers to focus on "more important issues" like "[the Trump] administration or equal rights."
"I still think it's ok for children to see burlesque in an environment that is suited for them," she added. "I still think that the family bringing this child and encouraging her to tip destigmatizes everything we grow up learning about bodies."

"[E]njoy your place up there on your moral high ground," she wrote.
She later deleted that post, too.
On Easter Sunday, Blue shared a highly disturbing photo of herself as "Stripper Jesus."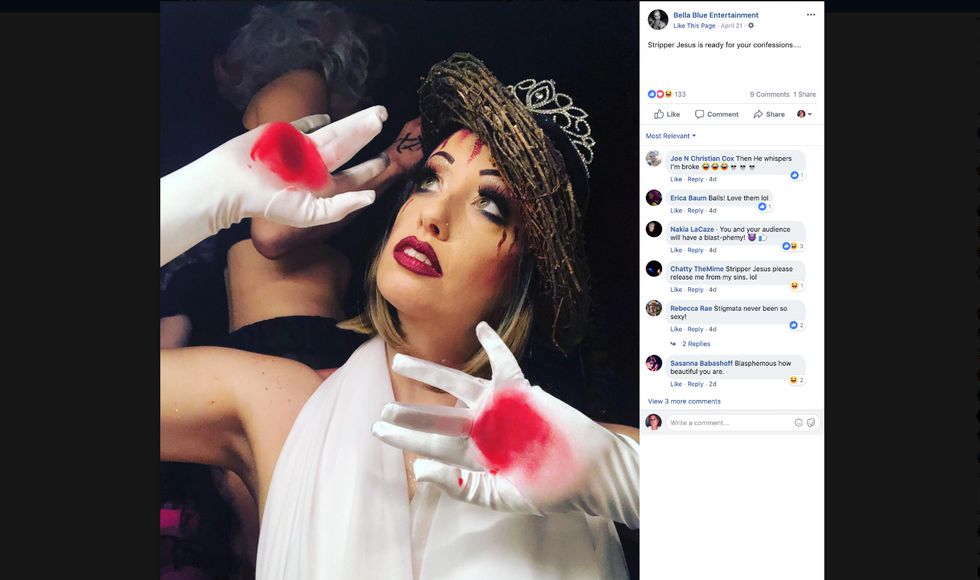 Image source: Bella Blue Entertainment Facebook screenshot