Facebook is censoring the New York Post — again.
Users on the platform reported Thursday that they weren't able to share the link to a story, published by the Post, that detailed Black Lives Matter co-founder Patrisse Khan-Cullors' recent multimillion-dollar "real estate buying binge."
In the story, the Post reported that as protests and riots were carried out last year in the name of Black Lives Matter — and as money poured into the organization's coffers — the group's co-founder snagged four high-end homes worth a total of $3.2 million. The Post article highlighted the irony of a self-proclaimed Marxist like Khan-Cullors cashing in on a grassroots movement.
But when users went to share the story, they were blocked from doing so. TheBlaze can confirm that as of Friday afternoon the article was still restricted from being shared on a personal Facebook page or through the platform's Messenger app.
When attempting to share the link, an alert pops up on screen, saying, "Your post couldn't be shared, because this link goes against our Community Standards."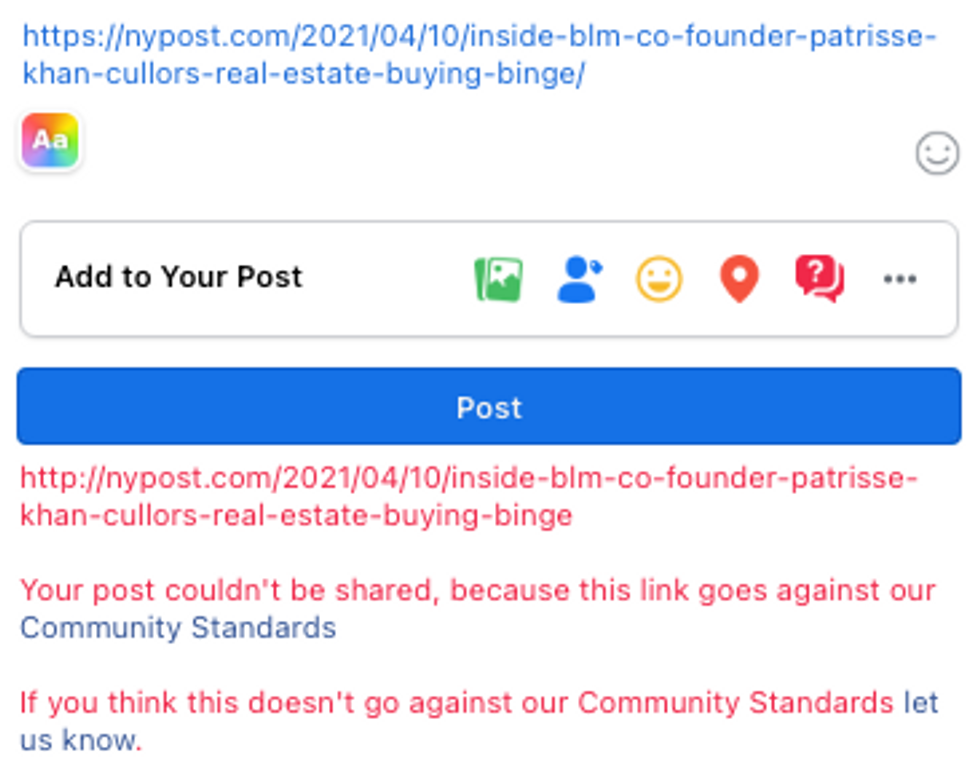 Image Source: Blaze Media screenshot
Shortly after, the Daily Mail reported that itscoverage of news was also being censored.
In an explanation provided to the Post, Facebook stated, "This content was removed for violating our privacy and personal information policy."
Facebook evidently gave a lengthier explanation to the Daily Mail, saying, "As per our Community Standards: We do not allow people to post personal or confidential information about yourself or of others. We remove content that shares, offers or solicits personally identifiable information or other private information that could lead to physical or financial harm, including financial, residential, and medical information, as well as private information obtained from illegal sources."
In a response to the most recent censorship, the New York Post editorial board wrote: "This decision is so arbitrary as to be laughable. Does Facebook know how many newspapers, magazine and websites highlight the real estate purchases of the rich and famous? The next time People magazine covers Kim Kardashian's latest mansion purchase, will it violate any community standards? How about running a picture of the resort Ted Cruz is staying at?"
"No, this rule has not been and will not be applied in any fair manner," the board added.
But the Post and the Daily Mail were not the only ones penalized by the social media overlords for their coverage of the news. Conservative journalist and sports commentator Jason Whitlock was suspended by Twitter after speaking out in criticism of Khan-Cullors' pricey home-buying spree.
"Black Lives Matter founder buys $1.4 million home in Topanga, which has a black population of 1.4 percent ... She's with her people!" he tweeted on Friday only hours before being suspended from the platform.
Details about Khan-Cullors' purchase of the estate in Topanga Canyon was first reported by Dirt.com.
In their response article, the Post's editorial board noted that its original story didn't include addresses for any of the BLM co-founder's homes, and that all of the information was compiled from public records.