Facebook flagged with a warning — and then deleted — a post that simply read, "Jesus died so you could live" due to a "hate speech" violation, according to Billy Hallowell, a former writer with TheBlaze.
Say what?
Hallowell detailed how it all went down in an interview posted Friday on YouTube by Christian Broadcasting Network News, for which he now works as a digital host and producer.
"So, this is bizarre. I log on to Facebook ... and I thought this must be a mistake," Hallowell explained. "I get this pop-up ... and it said, 'Your post goes against our community standards on hate speech,' and I'm like, 'What in the world did I post?' And so I look, and there's a message from April 2 — so this is old now; it's well over a month — and here's what I wrote ... 'Jesus died so you could live.' That was the only thing I could see in the message that they sent me, and they informed me that nobody else could see the post any more at that moment, that they have standards because they want everyone to 'feel safe, respected, and welcome,' and then it says 'if your content goes against our community standards again, your account may be restricted or disabled.'"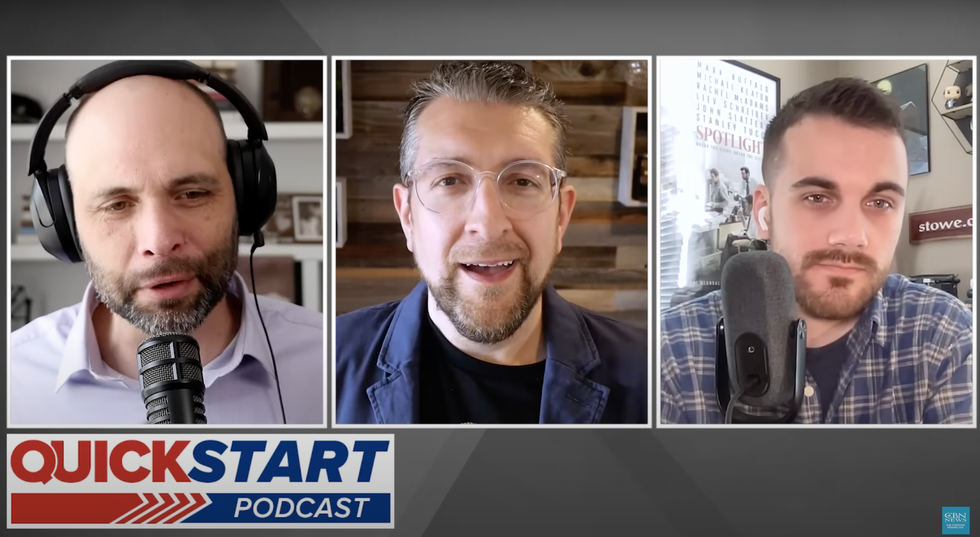 L to R: Dan Andros, Billy Hallowell, Tre Goins-PhillipsImage source: YouTube screenshot
Hallowell went on to explain that he also was told he could disagree with the decision if he believes Facebook "got it wrong," adding that "so, of course I disagreed with the decision." He also asked, "How in the world — maybe it's an [artificial intelligence] thing, maybe it's automatic — did the line, 'Jesus died so you could live' get flagged?"
Hallowell added that he'd never before gotten flagged like that on Facebook and went ahead with the "grievance" process — "whatever you call it" — and then got worse news.
"I get a message a couple hours later, and it says, 'We have removed your post from Facebook,' so now it's no longer just absent from people's feeds, it's been removed," he recounted. "And it says, 'We are unable to show content that goes against our community standards on hate speech ... your appeal was reviewed, and your post does not follow our community standards on hate speech.'"
Hallowell concluded that "either this is a horrible mistake, or Facebook doubled down."
CBN News said in its video description that "Facebook has not responded to requests for explanation and comment" on the matter.
Tre Goins-Phillips — another former writer with TheBlaze who's now a FaithWire editor — also was on the interview, and he said if Hallowell's post has been reviewed, he presumes "that means it's been looked at by an actual, like, human with eyeballs" who "still has decided that for whatever reason your post is inflammatory or dangerous or a threat to people." Now, he added, it would appear Facebook "is deciding to ban a sentence that essentially portrays the gospel."
Now what?
Hallowell — who has for years posted similar evangelistic messages on various social media platforms — acknowledged the chilling effect the flagging and removal of his Facebook post has had on him, noting that he now wonders "is my account going to be disabled?" if he posts a similar message again on Facebook.
Host Dan Andros chimed in: "Are they going to ban you if you do? It sounds like they would, because they've reviewed it, and it seems like they stuck by their guns ..."
While CBN News added in its video description that Hallowell's post "now appears to still be accessible," Hallowell's Facebook feed on Monday morning does not show his April 2 post reading that "Jesus died so you could live."
Check out the interview:
Facebook Targets 'Jesus Died' Salvation Post, Threatens Account Restrictionyoutu.be
Like Blaze News? Bypass the censors, sign up for our newsletters, and get stories like this direct to your inbox. Sign up here!