Farmers in the Netherlands are ticked off over claims that they should be held responsible for nitrogen oxide emissions, so much so that police said 2,200 joined a convoy of tractors storming The Hague in protest on Tuesday.
Reuters reported that the agriculture activists caused "the worst morning commute in Dutch history."
What are the details?
In the midst of the country's efforts to curb carbon emissions to meet the government's goals, members of the ruling party have floated a mandate for reducing the number of livestock farmers are allowed to raise — even suggesting cutting herds by 50 percent. Producers aren't having it.
Fences and other barriers were toppled as the protestors made their way to their destination. While the vast majority of the caravan's participants were peaceful — only three were arrested — the congregation took its time to be sure their presence was known by city-slickers. NPR reported that "more than 700 miles of traffic jams [were recorded] at the peak of rush hour, mostly due to the protest."

"Suddenly, everyone is worried. We're getting blamed and badly represented in the media, everyone is blaming us for climate change but planes are worse than farmers and no-one is talking about them," a dairy farmer named Vincent told the BBC.
A plow on the front of one tractor read, "How dairy you."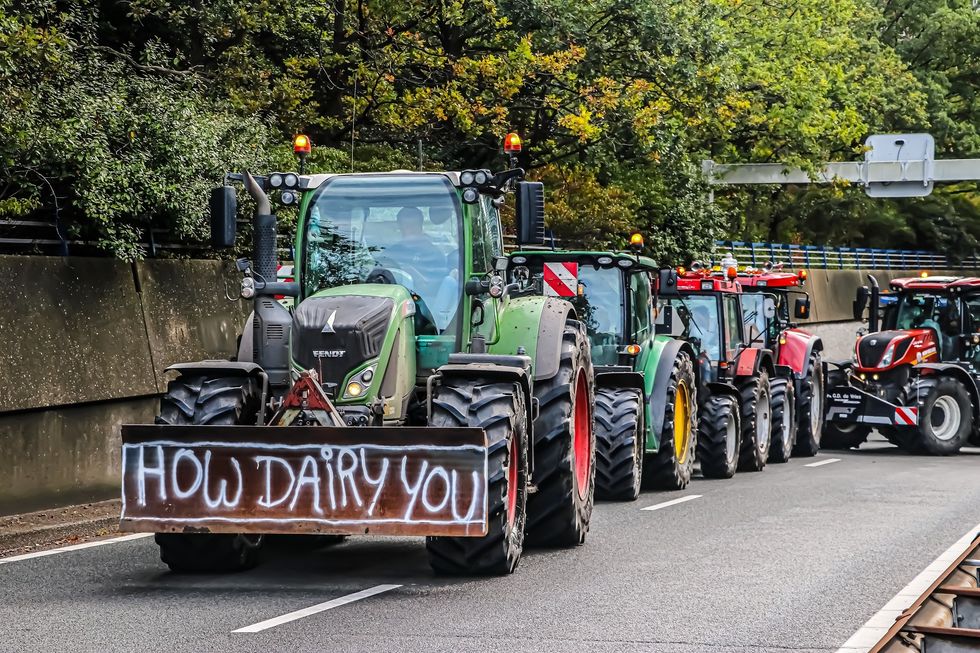 Farmers protest in the Hague Abdullah Asiran/Anadolu Agency via Getty Images
Ten thousand farmers were expected to gather in protest at The Hague, NPR further reported, "to argue they are unfairly being blamed after a court ruling found the country is violating European emission rules." Liberal politicians in the country are blaming livestock producers for pushing emissions over the edge.
How did it work out?
During the rally at the center of The Hague, Agriculture Minister Carola Schouten promised, "As long as I am minister, there will be no halving of the herd. Dutch farming is developing and you do it differently than your parents. Your children will do things differently again. That is the strength of our agriculture."
Law enforcement offered a statement saying, "The police respect that farmers are standing up for their interest and we're trying to facilitate this demonstration with hundreds of tractors as well as possible."