A 5-year-old boy is dead after a man in Wilson, North Carolina, reportedly ran up to the child while he was playing in a neighborhood street and fatally shot the child in the head.

What are the details?
According to a report from WRAL-TV, the shooting took place on Sunday.
Cannon Hinnant was playing outside his father's house on the dusky summer evening when their neighbor — 25-year-old Darius N. Sessoms — charged Cannon, produced a handgun, and shot him in the head.
The child's 7-year-old and 8-year-old siblings witnessed the murder.
First responders came to the scene and transported the little boy to Wilson Medical Center, where he was pronounced dead.
Doris Labrant, a neighbor, said she witnessed Sessoms running up to Cannon, putting the gun to his head, and firing the weapon before fleeing the scene into his own home.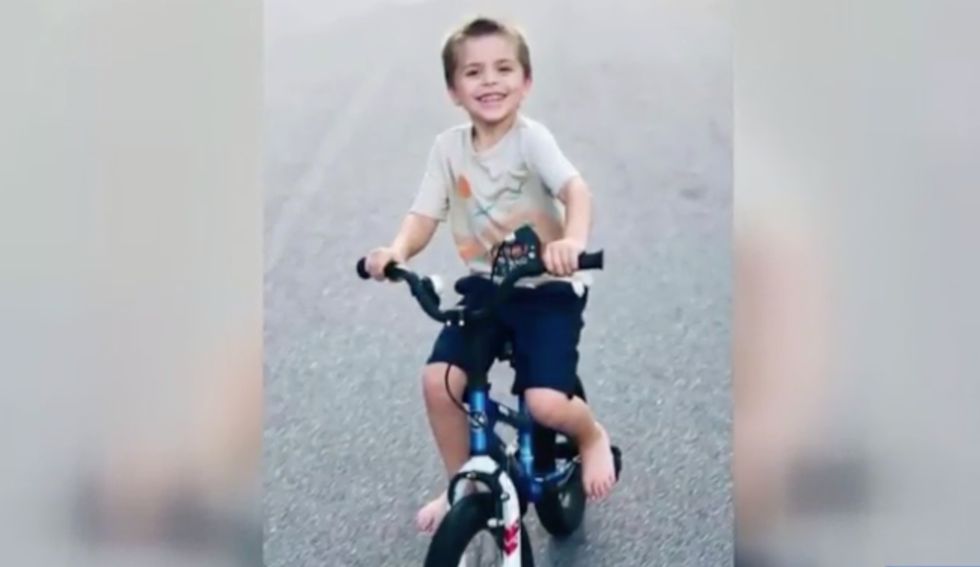 Image source: WRAL-TV video screenshot
She couldn't believe her eyes.

"My first reaction was he's playing with the kids," she recalled. "For a second I thought, 'That couldn't happen.' People don't run across the street and kill kids."
Labrant said the situation became all too real when she saw the child's father react to the horrific scene.
Authorities took Sessoms into custody on Monday night and charged him with first-degree murder. He is being held in the Wilson County Jail without bond.
Authorities have not yet determined a motive in the shooting, but insisted that the killing wasn't random, as Sessoms was reportedly friendly with Cannon's father.
A GoFundMe page set up to benefit the family has raised at least $5,577 at the time of this reporting.
Christina Prezioso, a cousin of the family, created the page, writing, "A beautiful 5 year old baby boy riding his bicycle was shot by his neighbor point blank in Wilson NC."
"One minute he is enjoying his life, the next it all ends because he rode into his neighbors yard," she wrote. "5 years old guys!! Nothing prepares a parent for the loss of their child. No child should ever have their future stolen from them. As of now the person involved is still hiding like the coward he is. Prayers that he is found soon and justice can begin. I am starting this GoFundMe to help with funeral expenses and any help along the way for both Cannons mother & father with permission. If you can help in any way please do."
Update 8/12/2020, 1:26 PM ET:
GoFundMe organizer and family member Christina Prezioso says that the online donation page has been temporarily paused, but that any interested donors can call the family's funeral home directly to make donations.
In a Facebook statement, Prezioso writes, "I have a lot of people sending me messages about wanting to continue sending donations for Cannon Blake Hinnant. The GoFundMe is paused and it takes a few days for the funds to be released. Over $5000.00 were raised to help with funeral arrangements."
"All of you that are asking how to donate, i contacted Shingleton Funeral Home," the post added. "They said you can call them and make your donation over the phone with a debit credit card. This way is alot easier to hurry and get the funds straight to the funeral home without any fees from GoFundMe & a waiting period."
"The Number to Shingleton Funeral home is 252-243-3148, if you are in the area or a business that I have spoken to, they also accept checks if you would like to go by there," the post concluded. "Sweetest lady on the other end of the phone. Thank you all for supporting this family and keeping Cannon in your thoughts and prayers. As a parent I cant imagine what they are going through, but I know that seeing the support they have received is greatly appreciated. Thank you to everyone that donated and shared."