There was no mistaking where Polk County Sheriff Grady Judd stood in regard to guns and self-defense following a home invasion Wednesday afternoon in north Lakeland, Florida, which culminated in the homeowner shooting the intruder.
"The homeowner did exactly what he should have," Judd said, according to WFLA-TV. "He had a gun, he knew how to use it, it was loaded, and he shot him a lot. He gave him an early Christmas present. Only Santa Claus gets to come in your house — and Santa Claus is invited."
What are the details?
The homeowner told deputies the intruder threw a flower pot through glass French doors to get inside the home from the back porch — after which the homeowner shot the intruder three times, the station said.
Deputies said that upon their arrival, the homeowner handed them the gun and directed them to the intruder, who was lying on the living room floor, WESH-TV reported.
"I'm proud of our homeowner for defending himself," Judd added to WFLA. "It's called a 'Castle Doctrine.' He has the right to protect himself and his home from unknown intruders."
'He's lucky to be alive'
Steven Stillwell, 42, was rushed to a hospital, where he was listed in critical but stable condition, WFLA reported.
"He's lucky to be alive," Judd told WTVT-TV, adding that the break-in occurred around 1:00 p.m.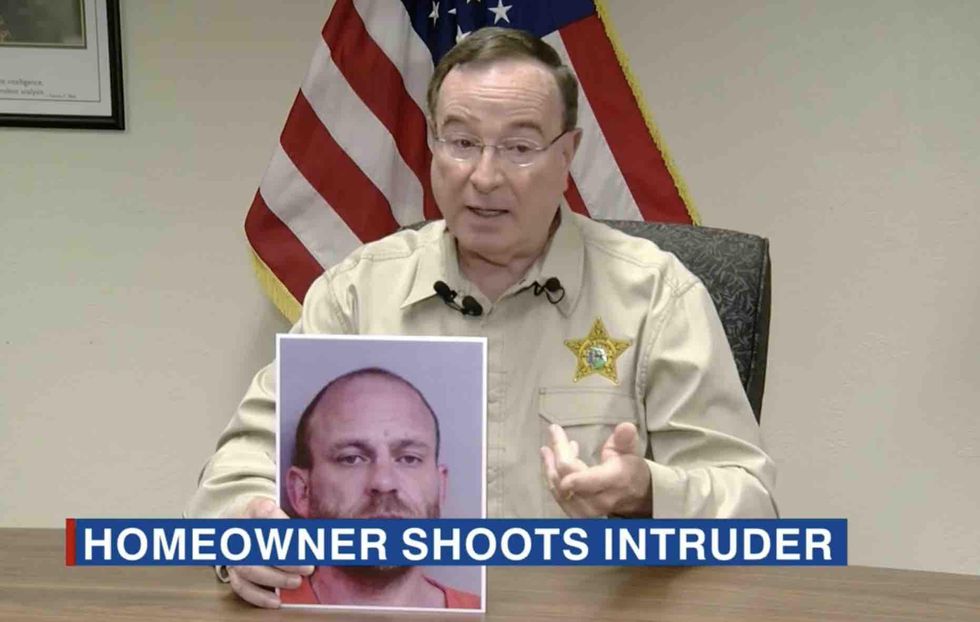 Image source: WFLA-TV video screenshot
What's more, deputies told WFLA that Stillwell was seen on surveillance video running into the back yard and standing on the porch, that evidence showed Stillwell was shot inside the home, and that someone had broken the glass to enter the residence.
In addition, investigators told WESH a shotgun belonging to Stillwell was found in the homeowner's back yard.
The homeowner's firearm was legal, deputies added to WFLA. The homeowner, who lives near Gibsonia-Galloway Road, does not know Stillwell, WESH reported.
'A person's home is his refuge'
The sheriff's office considers the homeowner to be the victim in this case even though he shot the intruder; therefore, the homeowner's name is not being released, WFLA said.
"The castle doctrine is very clear in Florida law," Judd added to WESH. "A person's home is his refuge."
The homeowner's attorney confirmed his client lives with his wife and young child but was home alone at the time of the shooting, WFLA added.
Charges are pending against Stillwell, WESH reported, adding that sheriff's office officials said he has an extensive criminal history that includes 14 felonies.
'I tell folks to get a gun'
Judd emphasized the importance of protecting yourself since police can't be everywhere at once.
"I tell folks to get a gun, learn how to use it safely, and load it," he told WESH. "You can dial 911 all day long, but when that guy's coming through the back door on you, we can't get there in time."