UPDATE: Aug. 31, 1:20 p.m. EST: Chase Bank on Tuesday told TheBlaze it has apologized for the credit card cancellation letter that Flynn posted to his Telegram social media page over the weekend. The bank also told TheBlaze it "made an error" in sending the letter.
Original story below
Retired Gen. Michael Flynn — former national security adviser under former President Donald Trump — has implied that "woke" Chase Bank canceled his credit cards over "reputational risk."
What are the details?
A series of recent Telegram posts from Flynn ignited the controversy: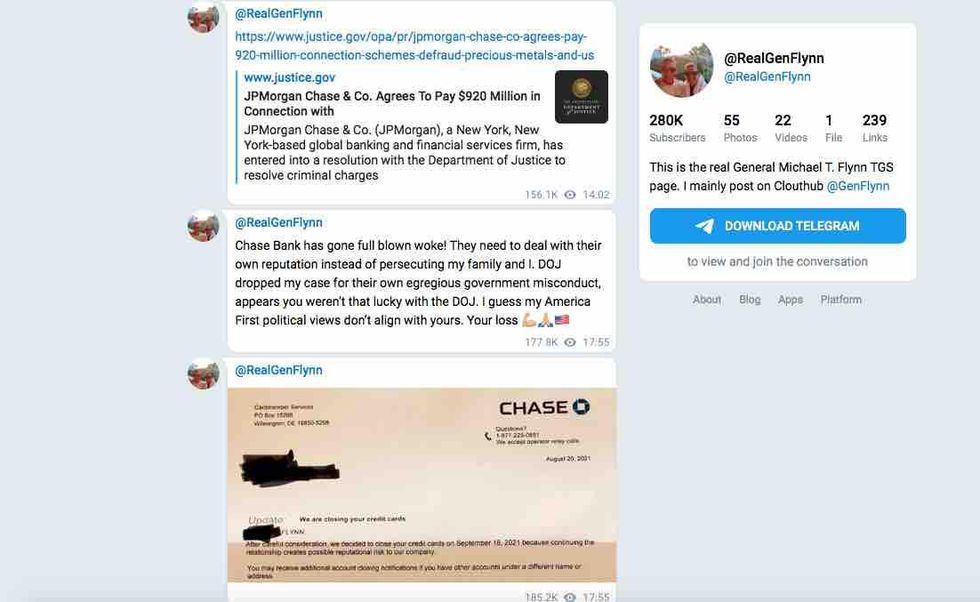 Image source: Telegram
The top post is a link to a DOJ press release from last September, stating "JPMorgan Chase & Co. Agrees To Pay $920 Million in Connection with Schemes to Defraud Precious Metals and U.S. Treasuries Markets."
The middle post says: "Chase Bank has gone full blown woke! They need to deal with their own reputation instead of persecuting my family and I. [Department of Justice] dropped my case for their own egregious government misconduct, appears you weren't that lucky with the DOJ. I guess my America First political views don't align with yours. Your loss."
Underneath is an image of a letter purportedly from Chase with what appears to be the blacked-out name and address of the recipient: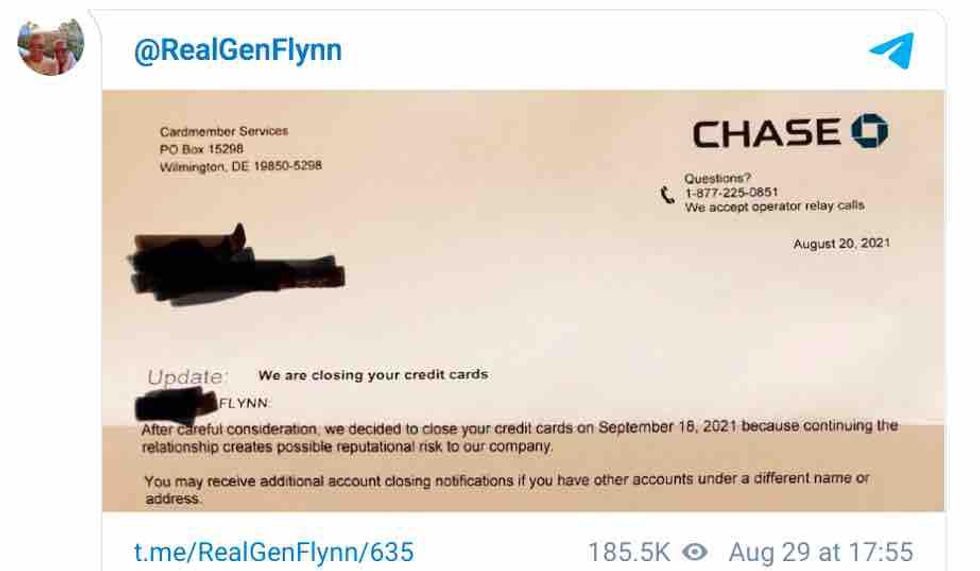 Image source: Telegram
The letter begins: "Update: We are closing your credit cards," and the next line shows apparently blacked-out text with only the name "Flynn" visible.
The letter continues: "After careful consideration, we decided to close your credit cards on September 18, 2021 because continuing the relationship creates possible reputational risk to our company. You may receive additional account closing notifications if you have other accounts under a different name or address." There is no more text visible.
With that, claims came down that Chase canceled Flynn's credit cards:
A Chase Bank representative on Monday told TheBlaze, "We are declining to comment" on the Flynn matter.

Anything else?

Flynn had pleaded guilty to lying to the FBI over conversations he had with a Russian envoy, but he then withdrew his guilty plea and asserted his innocence after his new legal team produced evidence suggesting he was targeted. Trump then gave Flynn a full pardon last November.
In December 2020, U.S. District Judge Emmet G. Sullivan — who was presiding over the criminal case against Flynn — dismissed the case while emphasizing that Trump's pardon doesn't mean Flynn is innocent.
And this past March, another Flynn brother — John "Jack" Flynn — and his wife filed a $75 million defamation lawsuit against CNN, alleging the cable network falsely accused them of being supporters of the QAnon movement.
This story has been updated.