For example #11,367 of woke outrage in 2018, we bring you Forever 21's unfortunate misstep of using a white model to advertise a "Black Panther"-themed sweater.
The ad showed the blue-eyed, blond-haired guy sporting a sweater that comes with the message, "Wakanda Forever!"
Forever 21 faces backlash after featuring white model wearing 'Wakanda Forever' sweater on its website… https://t.co/t0H8qTSXfE

— Yahoo (@Yahoo) 1545242706.0
The "Black Panther" movie focuses on a fictional African nation called Wakanda which uses "Wakanda Forever!" as its rallying cry — and some Twitter users weren't at all happy with Forever 21's model choice:
"I mean I don't know what to say other than white people is it really that hard? first it was black boy in a monkey shirt now this...."
"What white nonsense is this?"
"Boy are y'all stupid! This opens up that you're creative team is full of unsuspecting individuals who don't have a clue. A white male in #Panther attire is stupid..."
"gtfo. come on. just the idea of wearing that shirt feels like it would be appropriation. forever21... get POC models. for that sweater? it never should have been a white dude."
"Hey @Forever21, in what universe did you think it was OK to feature a white model in Wakanda gear? Granted, chances are you knew it wasn't OK, but still. As a former #21Men brand specialist for the company, I'm highly offended."
"They even had to get the whitest white person alive."
How did Forever 21 respond?

Forever 21 on Tuesday issued an apology and pulled the ad from its website, The Hollywood Reporter said.
"Forever 21 takes feedback on our products and marketing extremely seriously," the company said in a statement to the outlet. "We celebrate all superheroes with many different models of various ethnicities and apologize if the photo in question was offensive in any way."
Other Twitter users were outraged...over the outrage
As you might expect, other Twitter users were outraged over the outrage — and said so in no uncertain terms:
"What exactly did they do wrong? Suppose you're all for knocking any PoC kid wearing a Superman outfit or dressing as Captain America too, eh? It's a f***ing sweater about a fictional place created by two white guys. No culture or color OWNS IT."
"Black kids wear Spider-Man attire and that's a white superhero, was there backlash for that? No. Stop it."
"I'm calling BS on this one. There's no issue here. Either Forever 21 is using this to generate publicity or this is liberalism run amok."
This user offered another ad to drive home the point: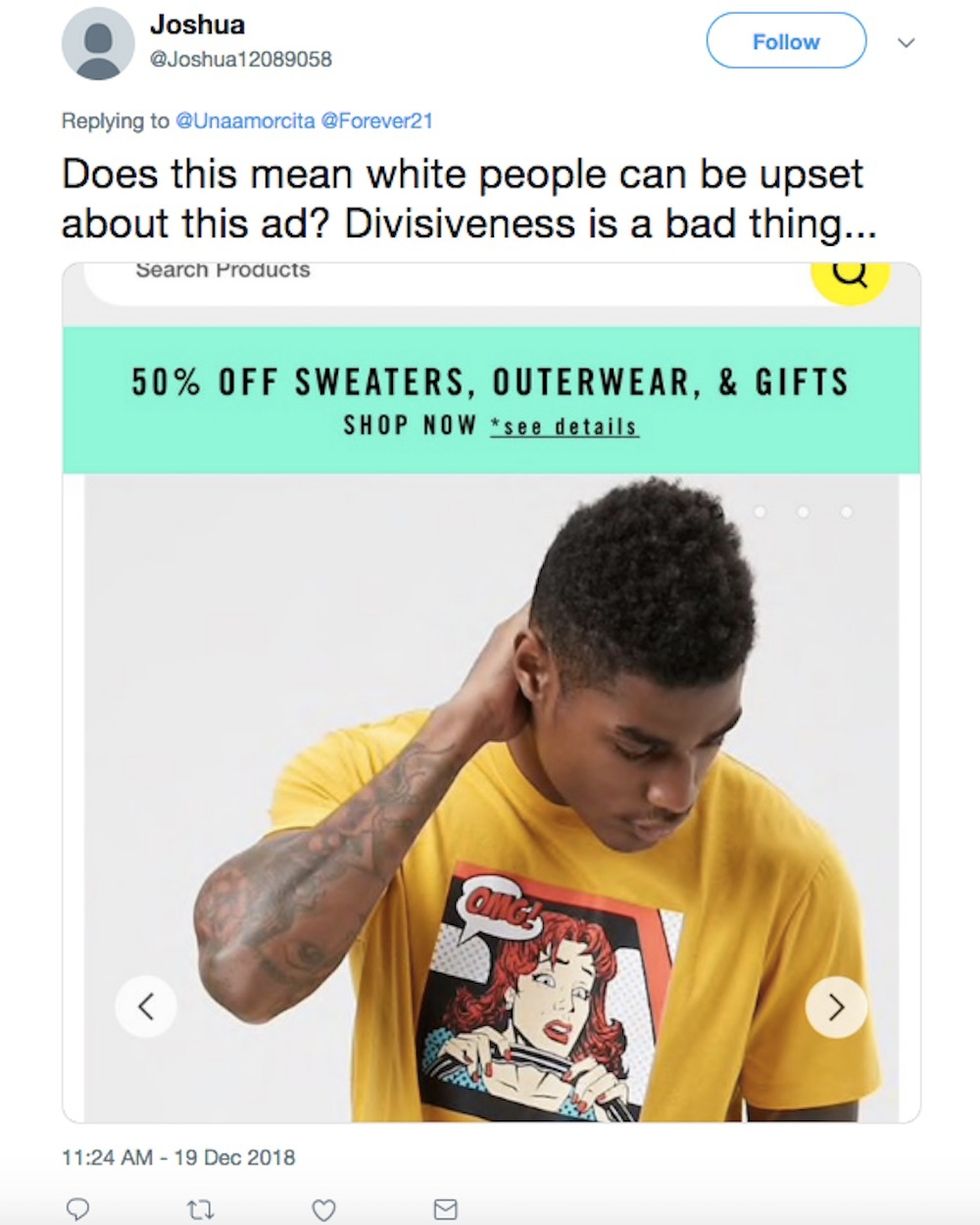 Image source: Twitter
And this user summed up things with more than a bit of verve:
I'm still wearing #Forever21 . Ya pressed over not a got damn thing. Has everyone forgotten #Wakanda and it's peopl… https://t.co/Ulkk0zU1ZV

— Totdollaz 🦄 (@Totdollaz 🦄) 1545180011.0
Here's a video report on the dust-up: