Gabriel Nadales told Fox News he used to be a member of Antifa before he was even 18 years old — and that the violent leftist group that purports to battle fascism is simply a "gang" of "anarchists" and "socialists" that will physically harm "anybody who stands in their way."
Antifa members did just that over the weekend, as video caught the hooded, masked, black-clothed street fighters beating up independent journalist Andy Ngo in Portland, Oregon, and sending him to a hospital.
'Mob mentality'
Nadales told Fox News that while he didn't end up hurting anyone during his stint with Antifa, at the time he considered himself an anarchist and said he participated in "a lot of vandalism."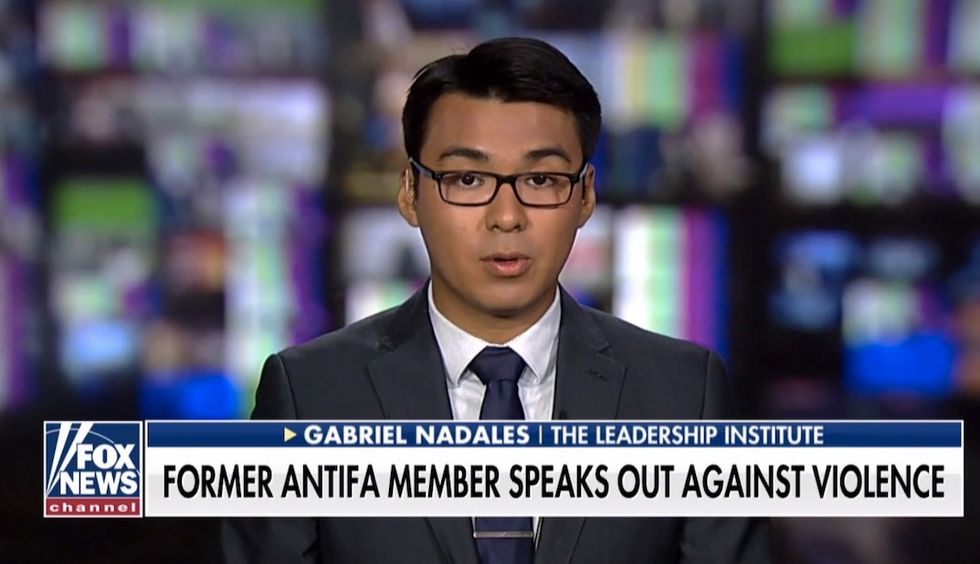 Image source: Fox News video screenshot
As for the group's penchant for physical violence, Nadales added to the network that it's the only card they can play since they have "no way of arguing" with others.
He also decried the group's "mob mentality" and said that was likely behind the attack on Ngo.
"I'm willing to bet that a lot of the people who attacked Andy didn't even know who he was" Nadales told Fox News. "They just saw one of their members attack, and then they just piled on and started attacking him" as well.
Acid attack in D.C.?
He also commented on an alleged Antifa threats of an acid attack at a free speech rally in Washington, D.C., this weekend and told the network the person behind the threats must be arrested.
"It's an incredible problem," Nadales told Fox News, adding that the root of the Antifa problem is on college campuses where "extremist professors" feed the Antifa "mentality" to their students.
What turned Nadales around?
The former Antifa member — who now speaks on college campuses for the Leadership Institute — told the network his thinking began to change after realizing there was no room for discussion among Antifa members.
"Every time I raised an objection about the things that we were doing, they told me to shut up or get out," Nadales told Fox News.
And on the other hand, even though he disagreed at the time with conservatives, Nadales told the network "they were very understanding and ... always willing to just engage me in conversation. That's something that Antifa and the left seriously [lack]."