New Jersey Governor Phil Murphy (D) used federal COVID relief funds to launch a website for non-binary and transgender Garden State residents, WKXW reported.
Separate searches within the Transgender Information Hub website for "COVID," "vaccine," and "American Rescue Plan" conducted by TheBlaze April 15 netted zero results.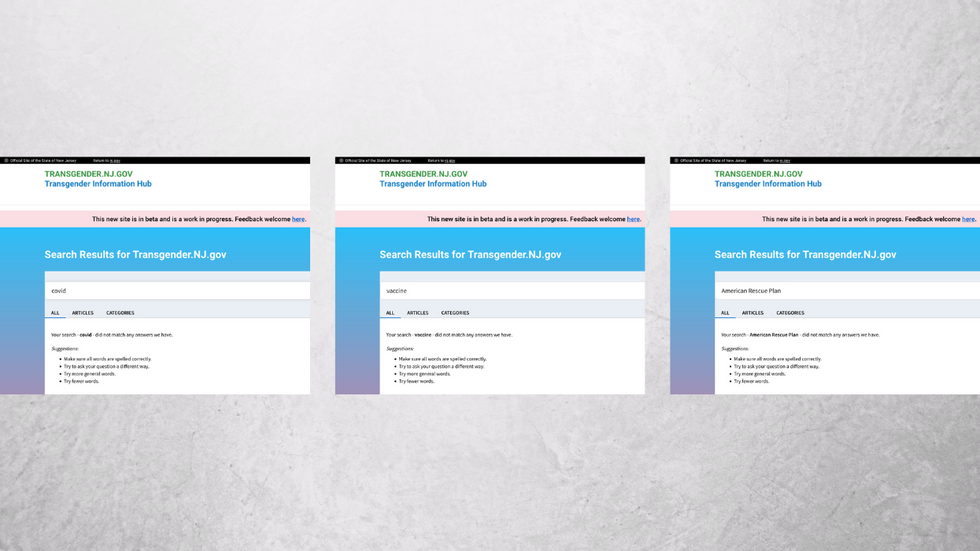 "Across the country, the transgender and non-binary community often face barriers to accessing needed services. In New Jersey, we must ensure that we are leading the nation by making a concerted effort to streamline and simplify access to important services, programs, and protection," Gov. Murphy said in a statement celebrating the site's launch.

The TIH's launch on March 31 was meant to coincide with the Transgender Day of Visibility. The TIH remains in beta as a "work in progress" as of April 15.
The website is funded via the American Rescue Plan, according to a statement from Gov. Murphy's office. It is part of a boarder Resident Experience Initiative meant to "improve how New Jersey delivers benefits and services to residents."
Sen. John Kennedy (R-La.) described President Biden's $1.9 trillion "American Rescue Plan" as an "orgy of pork," as TheBlaze reported in 2021. In addition to funding $1,400 stimulus payments to many citizens, the bill provided $350 billion for state, local, and tribal "government relief."

The TIH site features three simple tabs. One is dedicated to name changes and updating identification documents. A second addresses support and resources. The last is focused on legal protections.
The TIH's "updating IDs" tab contains six articles. They detail how to legally change your name, how to update your name on a driver's license, how to update your gender on your driver's license, how to update your birth certificate, how to update your name and/or gender on your social security card, and how to update your name and/or gender on a U.S. passport.
The website's "support and resources" tab contains four sections with one article each. Those articles address mental health support, medical support, legal help, and "resource and support for parents and families."
A single article addressing where to get medical help contains a link to a directory of LGBTQ-friendly healthcare providers and links to three New Jersey healthcare facilities focused on transgender patients. No mentions of COVID, treatments for COVID or vaccines for COVID are contained on that page.

TIH's third and final tab contains one article each on the following topics: how to get legal help, civil rights and reporting discrimination or harassment, rights of transgender students at school facing bullying or harassment, and protections to "gender-affirming care" in New Jersey.
The state of New Jersey encourages people to offer feedback on its new TIH website at this link.

Like Blaze News? Bypass the censors, sign up for our newsletters, and get stories like this direct to your inbox. Sign up here!