A heckler called Supreme Court Justice Amy Coney Barrett an "enslaver of women" during Barrett's remarks on stage Monday at the Ronald Reagan Presidential Library — but Barrett offered a gem of a response that had the audience cheering and applauding.
"Fortunately as a mother of seven, I am used to distractions — and sometimes even outbursts," Barrett said following the heckler's childish interruption.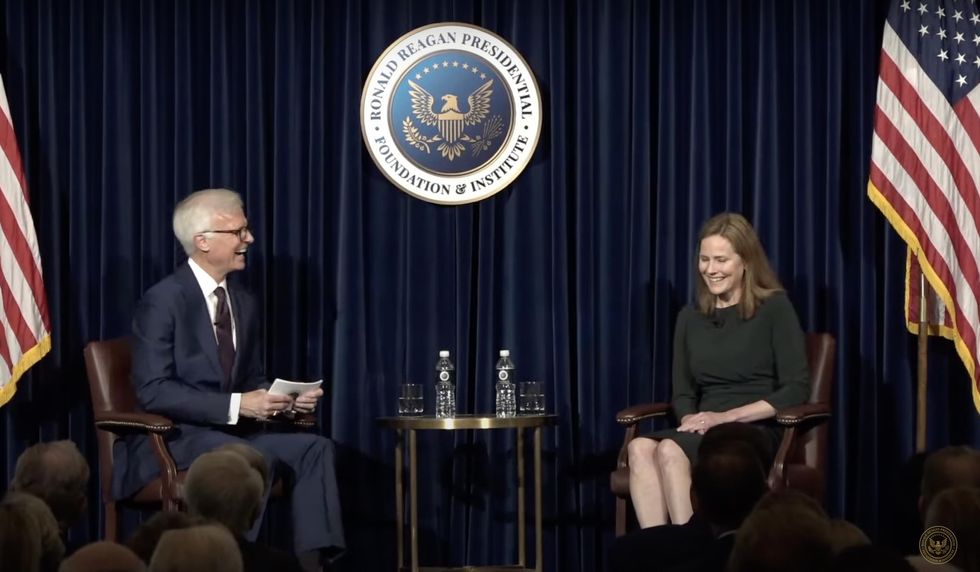 Image source: YouTube screenshot
Barrett had been answering a question about the media attention she received in 2018 as a potential SCOTUS nominee following former Justice Anthony Kennedy's retirement announcement.
Here's the clip. After the heckling, the audio and then the video cut out for about 90 seconds, presumably to deal with the interrupting party. Just after the 18:35 mark, the audio returns; at the 18:42 mark, the video returns — after which Barrett offers her priceless response:
Onstage at the Reagan Library with Amy Coney Barrett youtu.be
Anything else?
Frederick J. Ryan Jr., chairman of the library's board of trustees, conducted the 45-minute interview with Barrett. It covered a number of topics, Fox News said, including Barrett's nomination during the administration of former President Donald Trump, her personal life, and anticipated court decisions on abortion and gun control.
Barrett urged Americans to "read the opinion" prior to drawing conclusions about court rulings, the cable network said.
"Does [the decision] read like something that was purely results-driven and designed to impose the policy preferences of the majority, or does this read like it actually is an honest effort and persuasive effort — even if one you ultimately don't agree with — to determine what the Constitution and precedent requires?" Barrett suggested, according to Fox News.
As to advice she could offer a new justice, the cable network said Barrett spoke about the transition to being in the public eye.
"I think one of the difficult things that I experienced that I wasn't really fully prepared for was the shift into being a public figure," Barrett said, according to Fox News.
The event at the Reagan library took place the same day that Republican U.S. Sen. Mitt Romney said he'd vote to confirm Judge Ketanji Brown Jackson to the U.S. Supreme Court, despite voting against her nomination to the U.S. Court of Appeals for the D.C. Circuit last year.