President Donald Trump's Fourth of July celebration in Washington, D.C., was met with obligatory outrage courtesy of a cast of Hollywood leftists who called the event everything from "sociopathic" to "authoritarian performance art" and a "partisan display of autocracy."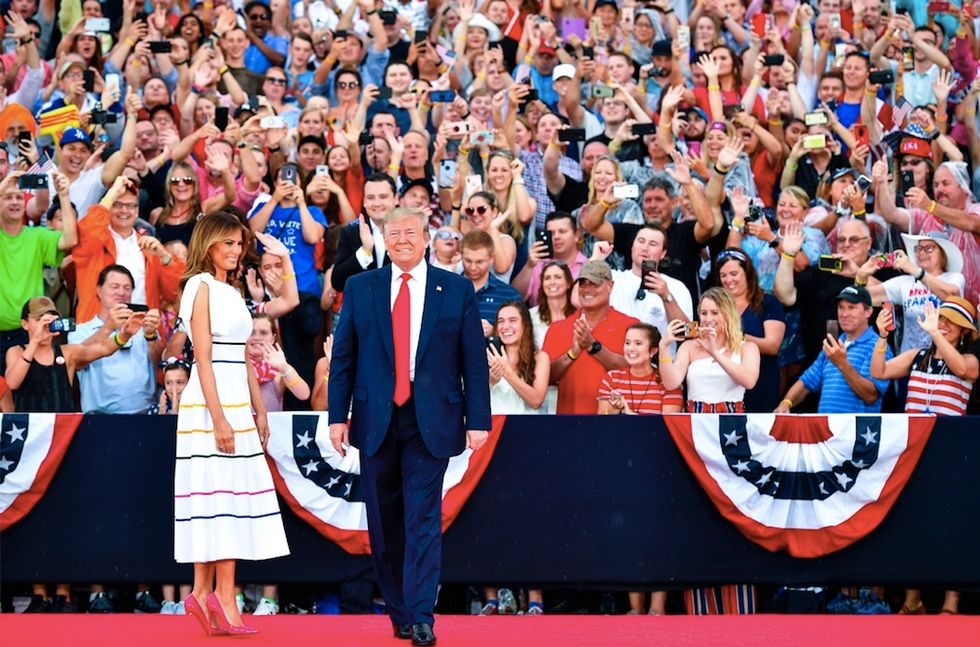 MANDEL NGAN/AFP/Getty Images
Shall we dive in?
Legendary director Rob Reiner — a card-carrying Trump hater — was not thrilled about the event:
In the face of a humanitarian crisis, that this malignant narcissist would steal taxpayer dollars to stage a partis… https://t.co/JhrDHNcjVg

— Rob Reiner (@Rob Reiner)1562167201.0
Nor was fellow Hollywood leftist Alyssa Milano:
These taxpayer dollars, which should be used for much needed park improvements, are being used for Trump's vanity p… https://t.co/0KTH1iufW3

— Alyssa Milano (@Alyssa Milano)1562180332.0
Good ol' Bette Midler, another avowed Trump hater, called the event a "middle finger" and wanted the president to pack his bags:
Dear @realDonaldTrump, Donnie??...the budget for your middle finger #SalutetoAmerica was a VERY generous $15million… https://t.co/tlq6FjzNzS

— Bette Midler (@Bette Midler)1562272704.0
Actor Don Cheadle piggybacked on an Esquire piece on Trump's celebration, calling it "authoritarian performance art":
President Trump's Fourth of July Military Parade Is Authoritarian Performance Art https://t.co/SKeqkftjvj

— Don Cheadle (@Don Cheadle)1562113909.0
"Star Wars" actor Mark Hamill had this to say:
"This statement appears to be not quite a direct quotation by Eisenhower, but rather a paraphrasing of the general-… https://t.co/q1daM0MdeO

— Mark Hamill (@Mark Hamill)1562189533.0
Fake news, again
Hamill, along with comedian D.L. Hughley, tried to get in some jabs over the event's reported sparse attendance:
Trump finally got his tank-and-military-jet festival — but rain drenched the tepidly attended event.… https://t.co/QgPqfP0tNU

— DL Hughley (@DL Hughley)1562326975.0
Wait a minute... I think I found a #4thofJuly show I really like! 👍🤣 #RainOnTrumpsParade #BoycottDonTheCon https://t.co/s84i4BqZbj

— Mark Hamill (@Mark Hamill)1562279325.0
Uh, fellas?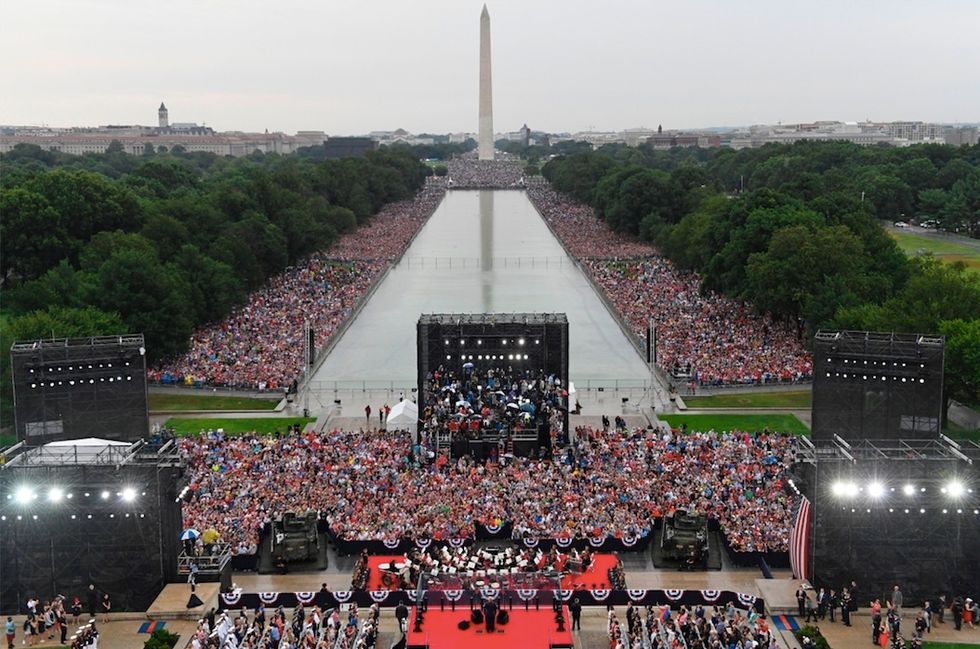 President Donald Trump speaks during the "Salute to America" Fourth of July event at the Lincoln Memorial in Washington, D.C., July 4, 2019.SUSAN WALSH/AFP/Getty Images
(H/T: NewsBusters)